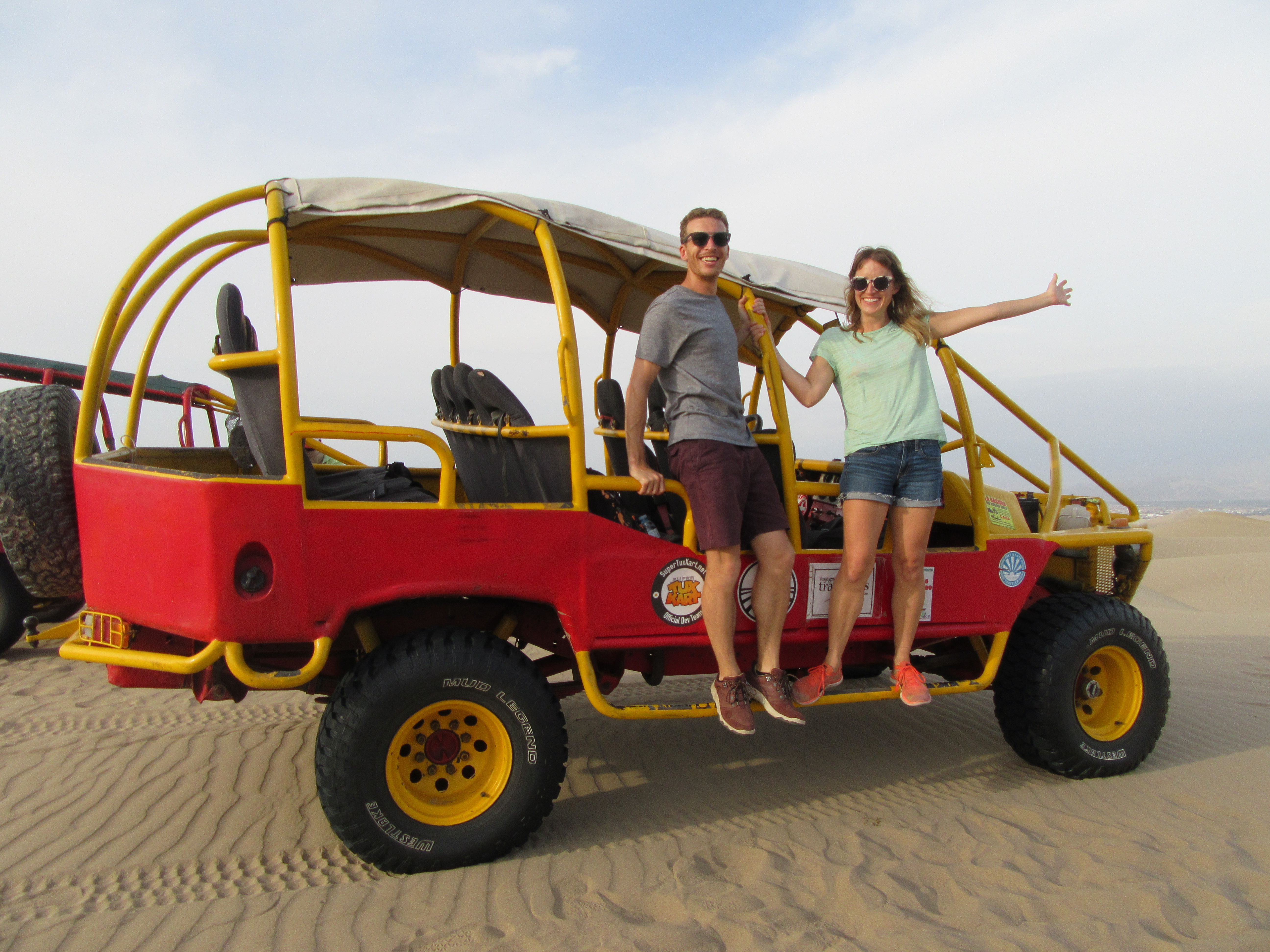 After two weeks floundering around the Andes, trying desperately to get to out, southern Peru feels like I'm an astronaut returned to earth. Hot climate, English everywhere and real attractions to visit, not just the local market, town square and mall. We have decided to fly out of Lima at the end of our trip so we only spent one day in a real city before moving on to Ica and Huacachina. Huacachina is an oasis and tourist hangout 15 minutes outside of Ica. After weeks of soulless business hotels in the rain, we deserved a pool and a fru-fru cocktail.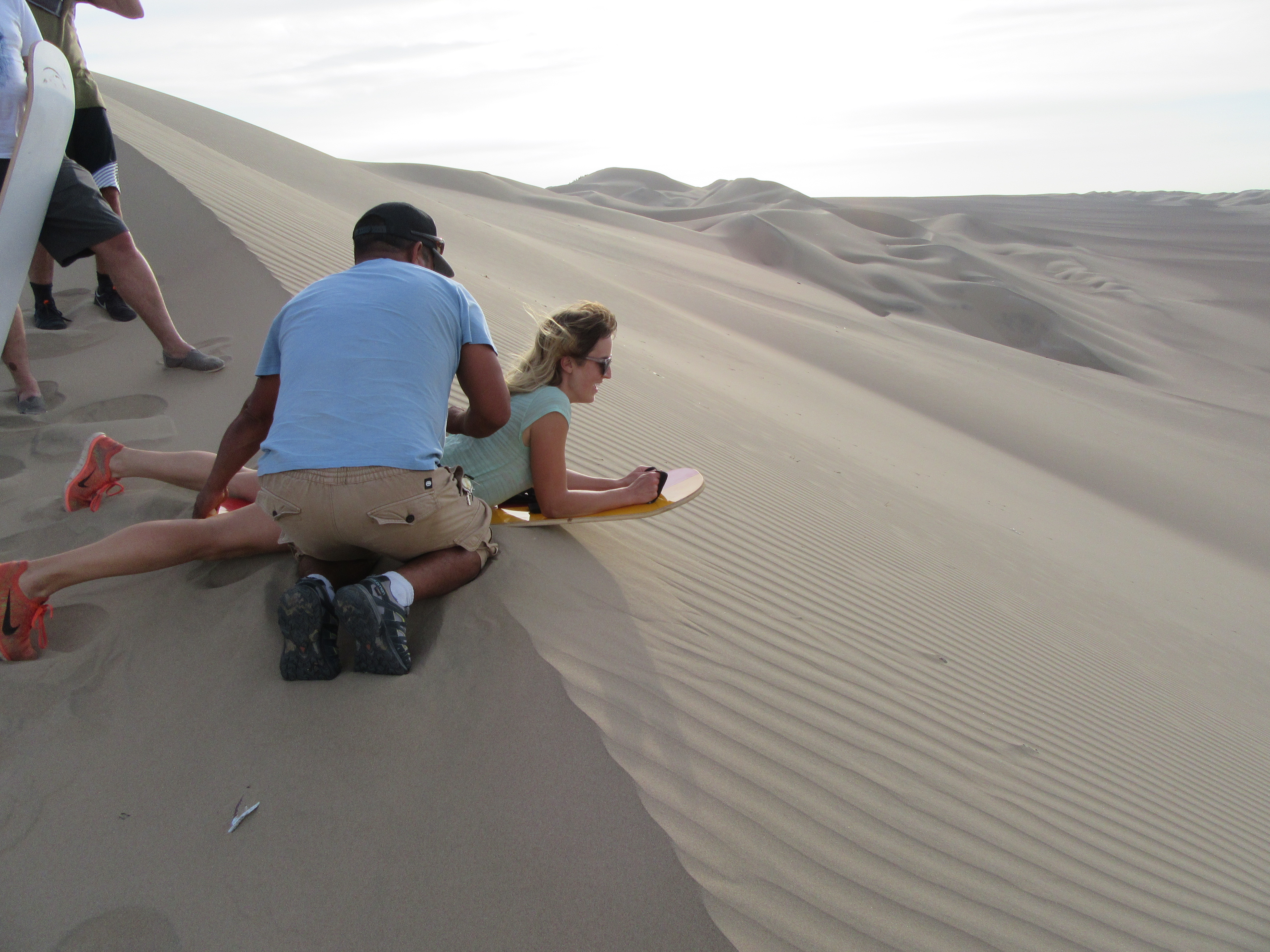 There are only two things to do in Huacachina- lounge by the pool and go on a dune buggy tour. I tend to stay away from tours for financial reasons but this one looked too fun to turn down. Our buggy was filled with a group of friendly Portuguese travelers who were taking a whirlwind trip through Peru as a group of ten friends. The buggy drove us up and over massive white sand dunes like an off-track roller coaster. The buggy stopped three times to let us sandboard down steep and lengthy slopes. While it was possible to stand on the board like a snowboard, we all preferred to go down on our bellies as it increased the speed and prevented any of us from breaking a clavicle (again). It was touristy as hell and I loved every minute of it.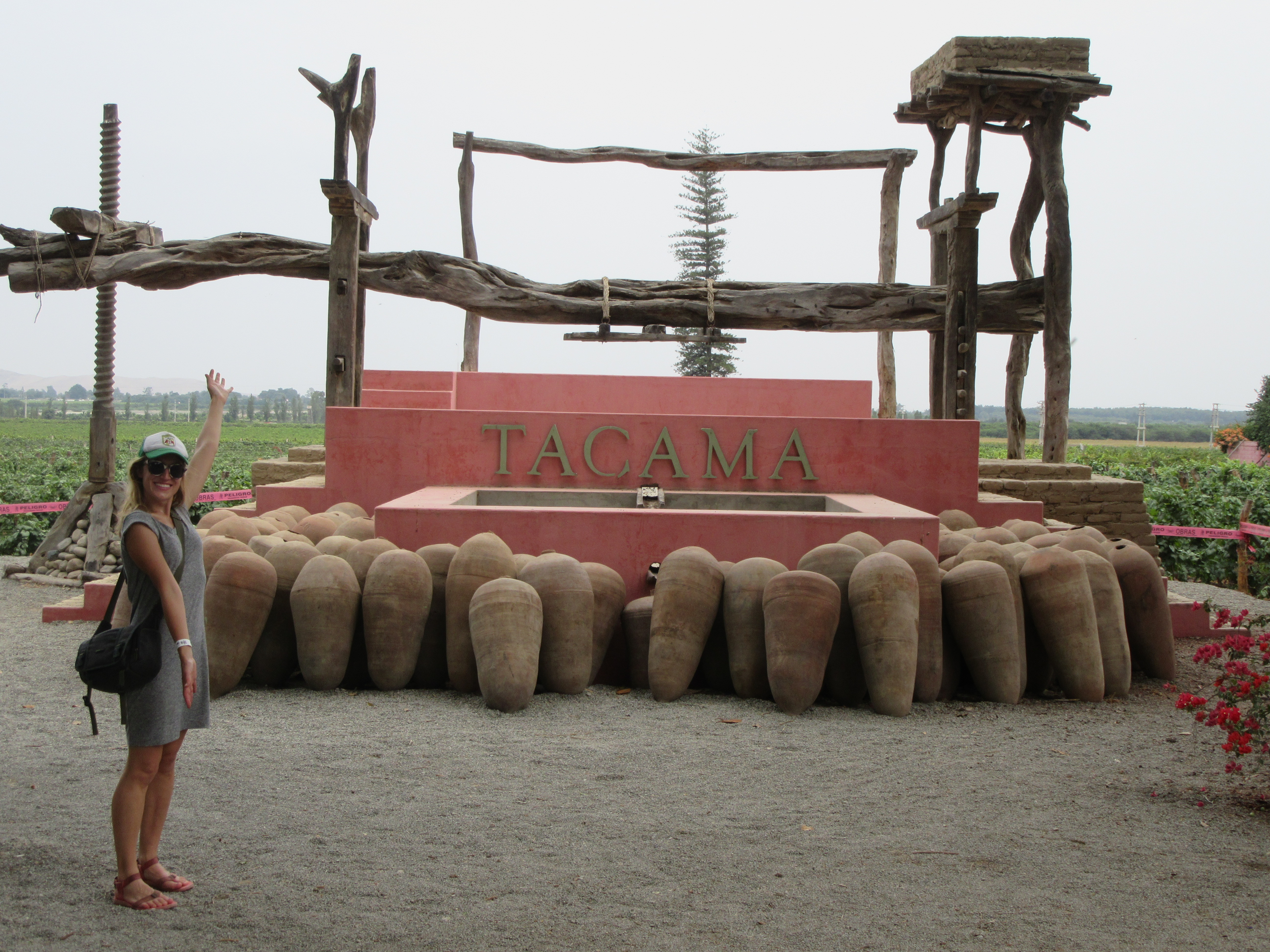 Only a few things could have torn me away from the pool. It just so happens that wineries are one of those things. Ica is known in Peru for its wine. The scattered oases are the perfect environment for growing grapes used for wines and piscos. We decided to check out Tacama the oldest winery in South America founded in the 1540's. The winery is located in an old Spanish hacienda and felt surprisingly out of place after the dusty city of Ica. We opted for the free tour learning about the history of the plantation as well as how different types of wines are made. I am clearly a beer blogger at heart as I was proved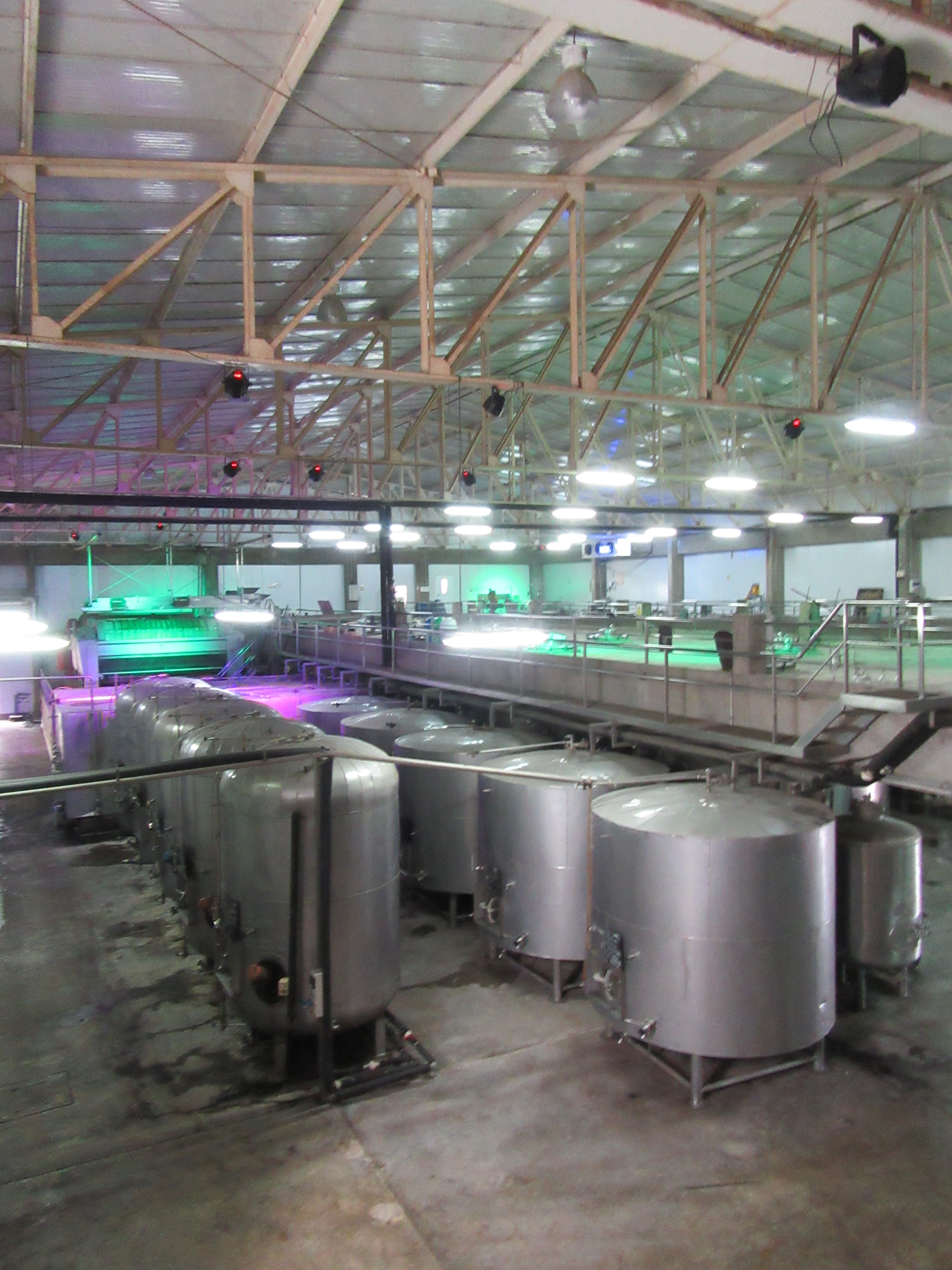 embarrassingly ignorant of wine production during this tour. After the tour we ordered a bottle of their cheapest red and enjoyed a drink in the garden.
After our stay in paradise we forced ourselves to move on to Nazca, home of the world famous Nazca Lines. The town of Nazca is nothing special. One hawker-filled street with overpriced restaurants surrounded by a nondescript town. We only stayed in town one night and that was the right amount of time. All around Nazca are people wanted to sell you tours. The most popular (and expensive) are the 30 minute flights over the Nazca Lines. Other agencies want to take you sandboarding or drive you around to ruins and museums for a shockingly high amount of money. I was only in this town to see the Lines so we decided to take public transportation to the two viewing towers out of town, saving ourselves some serious soles.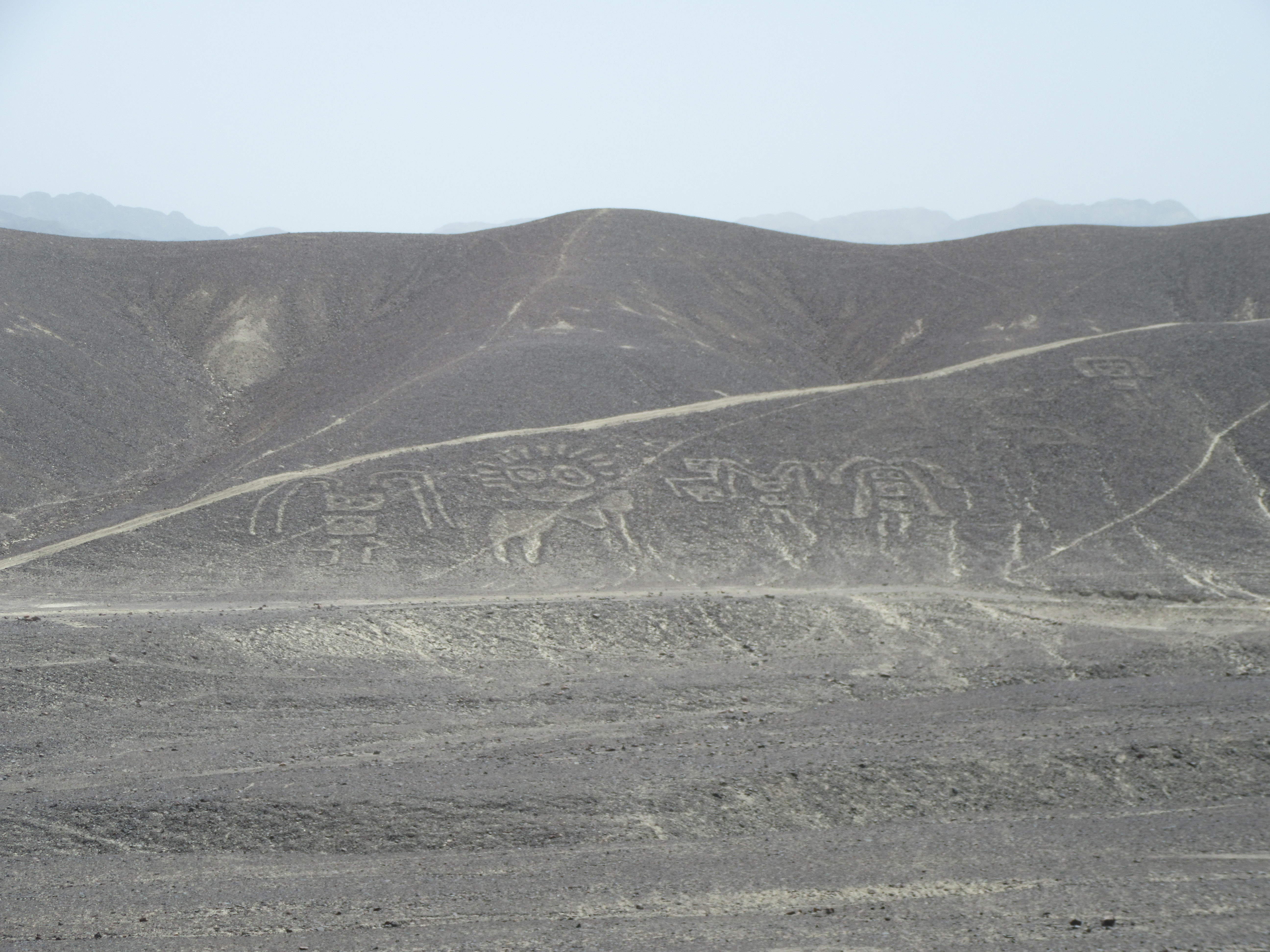 The Nazca Lines date from 400 B.C. to 400 A.D. They are archaeological mysteries as no one knows exactly why these hundreds of images in the desert where made. The most famous lines are animals or people but there are many others known as "runways" which stretch off into the distance while remaining perfectly straight. The most mysterious thing about these images? They can only be seen from the air. The first tower we went to showcased the older pictographs created by a pre-Nazca civilization. Humanoid figures of gods were created on the hillsides by moving the darker volcanic rock aside to reveal the lighter soil underneath. Thanks to the dryness of the region and the oppressive heat protecting the ground from erosion, these simple lines have remained in place for almost two and a half thousand years.  I wanted to know more about these depictions of men or gods; they all had great mohawks which must have held great secrets.
The second tower loomed over the more recent and famous pictographs created by the Nazca people around 400 A.D. The majority of the Lines can only be seen by air with the exception of four right by the highway. The Tree and the Hands were the most clear and we could see the entire image after our climb. I thought the images would be larger and we would only be able to see bits of them from the tower. I was ecstatic to see the full outlines. I have heard about these structures since elementary school; how exciting to see them in person! Of course many of the lines are much larger than the ones we saw. The famous Hummingbird is the size of a football field. By the time we boarded our night bus to Arequipa, I was chomping at the bit to leave Nazca but I wouldn't have skipped it as seeing the Lines was an archaeology nerd's treat.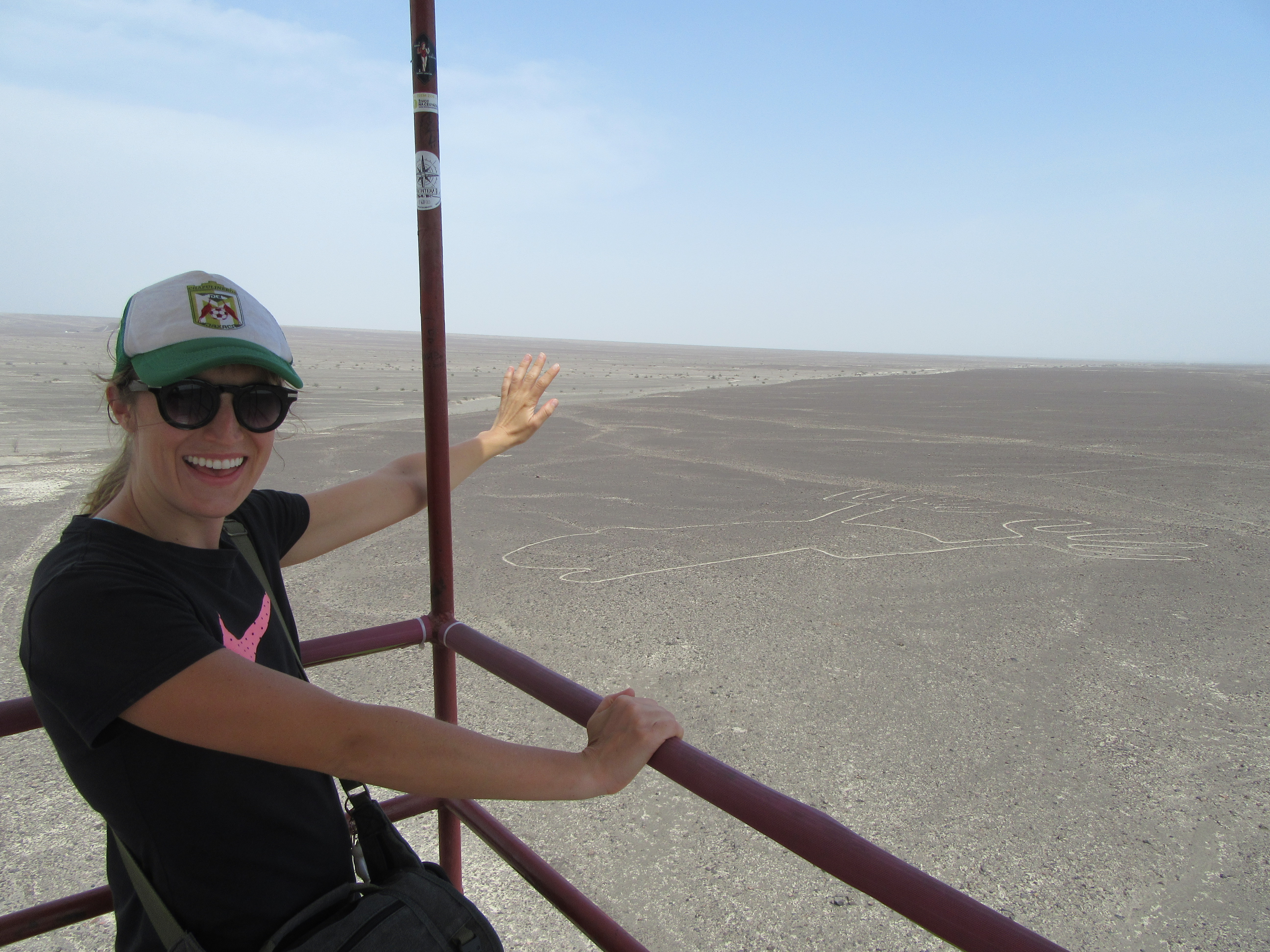 After viewing the Lines, we went out for ceviche in Nazca, which may have made me sick. The table next to us held a gaggle of young Peruvians drinking bottle after bottle of Cusqueña Negra. When in Nazca, drink what the locals do!
---

Cusqueña Negra by Backus
Dark Lager / 5 % / ? IBUs
Cusqueña is the "higher" end beer in Peru. It comes in four varieties; golden lager, dark lager, red lager and wheat lager. I wish I was joking. The dark lager seems to be the most popular with young Peruvians wanting to upgrade from Crystal. My time traveling has taught me to be leery of popular dark beers in South America and this one might be the worst of all. It's clearly the exact same as the regular macro lager but with large amounts of sweet malt poured in. It is overwhelming sweet but not like a soda or enjoyable treat, just like someone pouring brown sugar into a Budweiser. Undrinkable.
Final score; Zero out of five nights I should have spent in Nazca.