Baños is a party town. This green oasis in the cloud forests of Ecuador is where locals and tourists alike enjoy extreme sports and sticky taffy in a magical location. Eric and I didn't have much time in Baños, as we had to hustle to catch a 8 hour bus to make sure we'd catch our flight to the Galapagos in time. We made the most of our two nights in Baños by exploring it's famous hot springs, vistas and beer bars.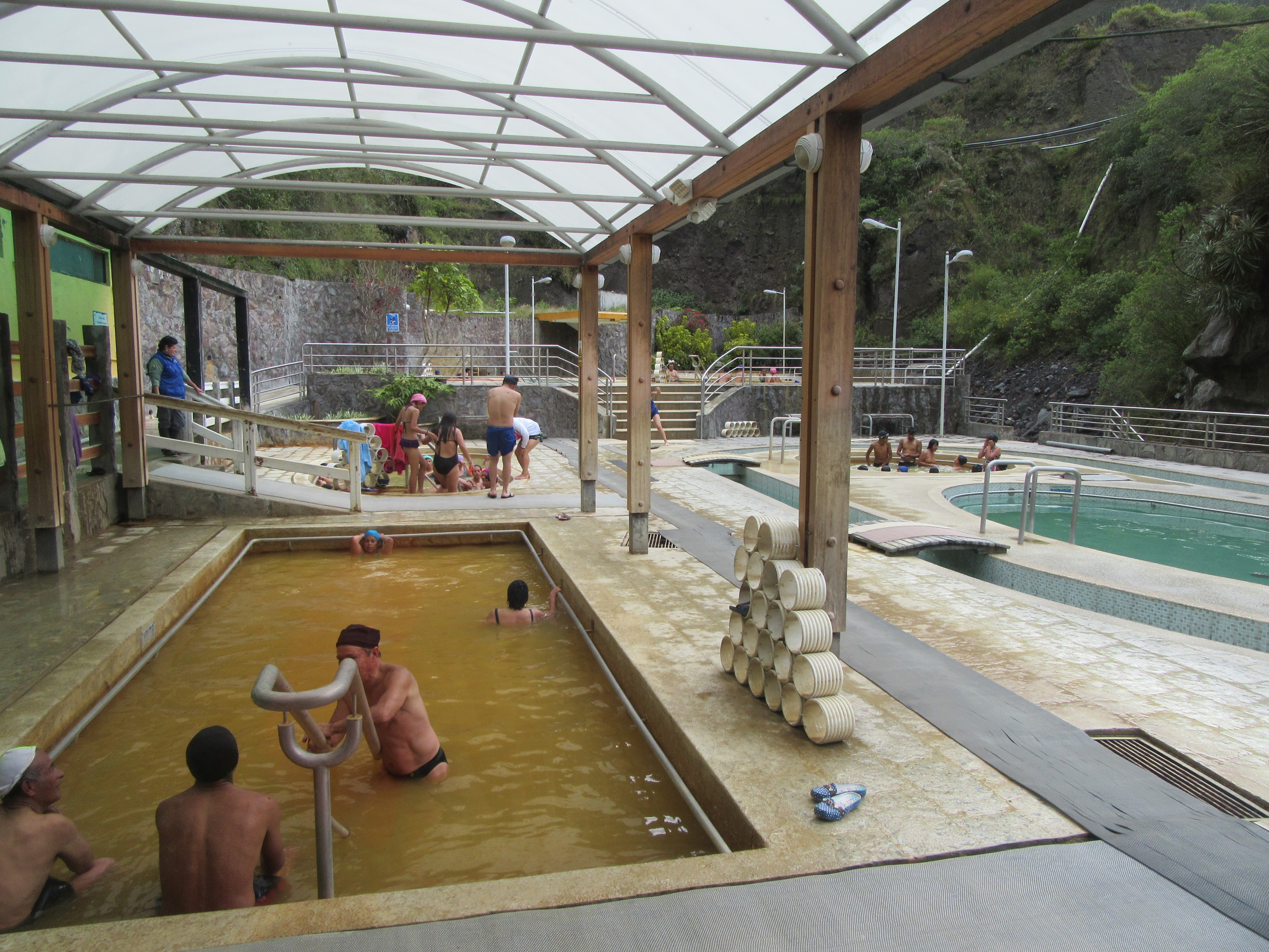 Named after the hot springs with rumored healing properties, Baños sits in a valley under the Tungurahua volcano. This volcano is very active, with evacuation routes painted on every road in town. Nevertheless with it's backpacker vibe, it's easy to forget that the city was entirely evacuated in 2009.
Eric and I started our day with a dip in the Piscina El Salado hot springs. I felt wholly ridiculous in my mandatory bathing cap, but the large group of school kids on their PE break made made me feel like I could pull the look off after all. The Piscina El Salado hot springs is just outside of Baños town proper and has around ten pools of various temperatures. The majority of pools are freezing cold, a fact not helped by the downpour. Eric was brave enough to take a quick shower in the river, while I stayed in the warmer pools which were about as hot as your average hot tub.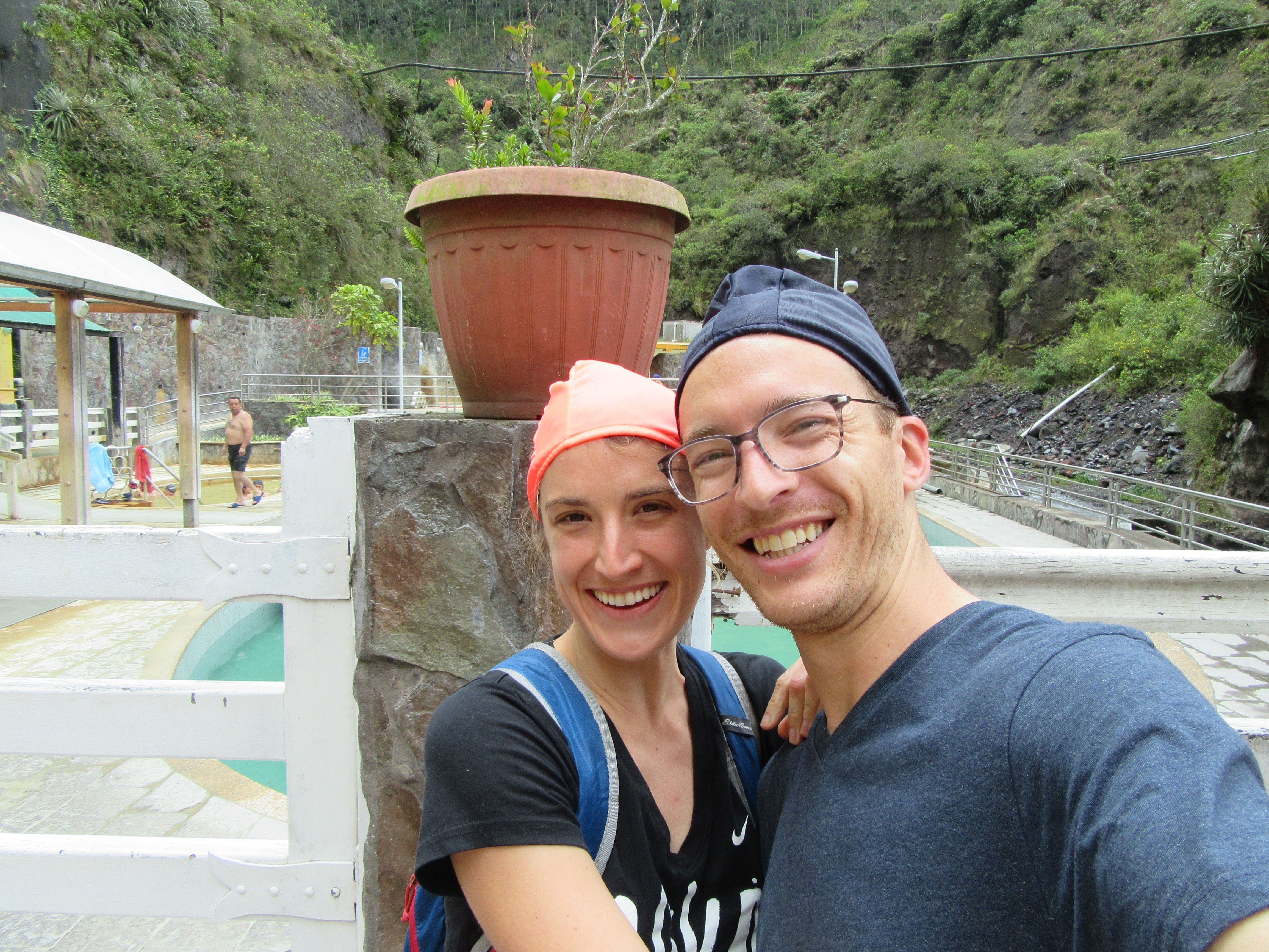 We stuck around in the springs until the rain passed and then decided for go on a hike to Bellavista, where a glowing white cross overlooks the city. The hike was sweaty, sticky and often unclear. Eric and I ended up walking the perimeter of a pig farm before deciding that we had gone too far. All our effort was worth it however; the view at the top was spectacular.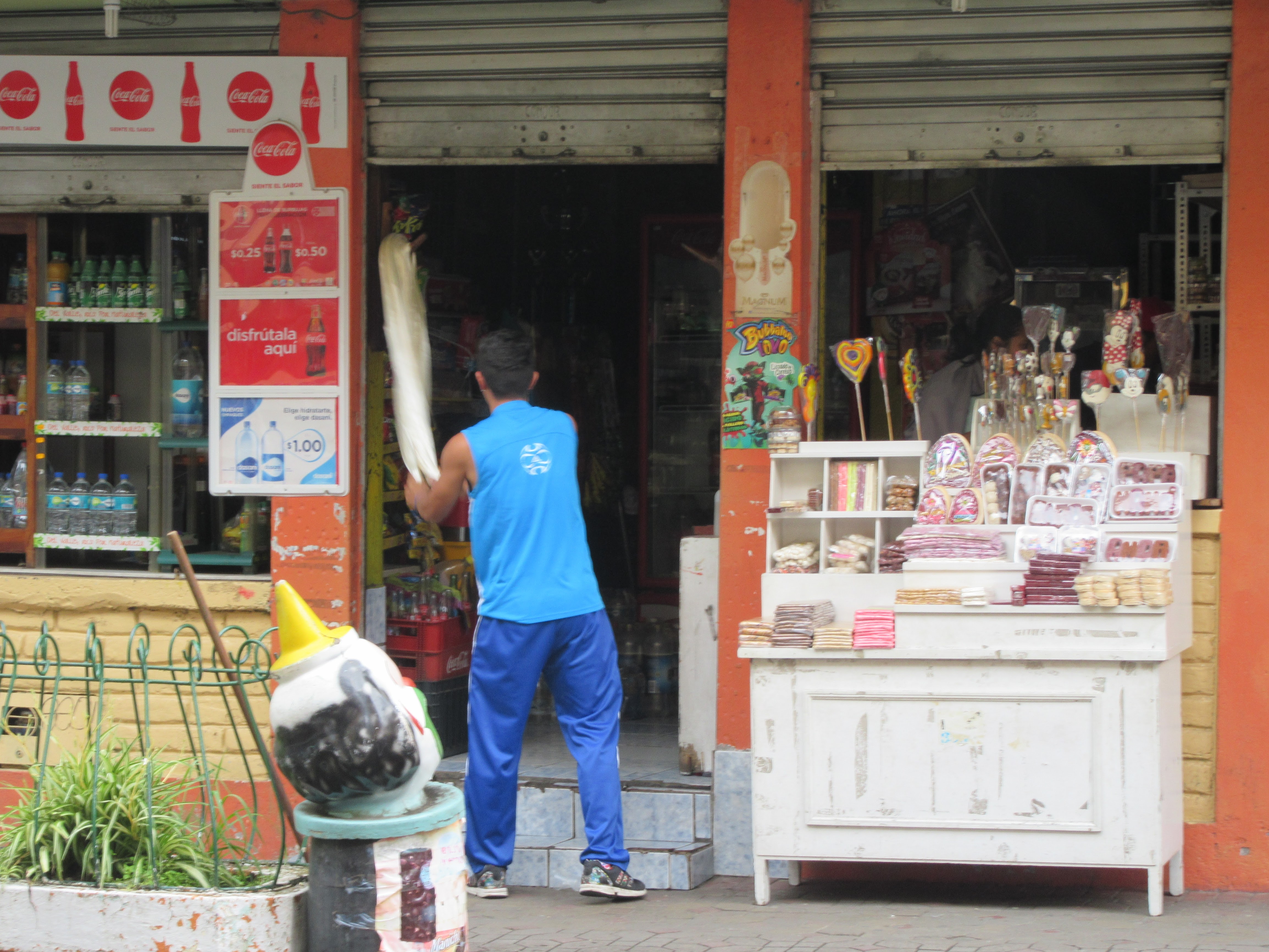 After a full day of outdoor adventures, we decided to treat ourselves with a couple of craft beers from Baños' only brew pub, The Stray Dog. The Stray Dog had six different beers on tap, with pairs of beers produced by different breweries. Eric tried the Irish Red from Roche's Brewing Co  in Canoa and I had a Vanilla Stout from Shaman Brewing in Quito. Each pint was $4 which is about what I would pay back home in the States. Clearly these beers are marketed as a part of a luxury lifestyle. I wouldn't mind this as much – despite my strict daily budget- if these beers were a consistently good product that I couldn't find anywhere else in the country. Many craft beers in Ecuador seem to be created for status and status' sake alone. The quality is low and the price is outrageous. This is a shame because I know they're so many talented and passionate brewers in the country. It may be time for me to review some bottom self macros for a little while.
---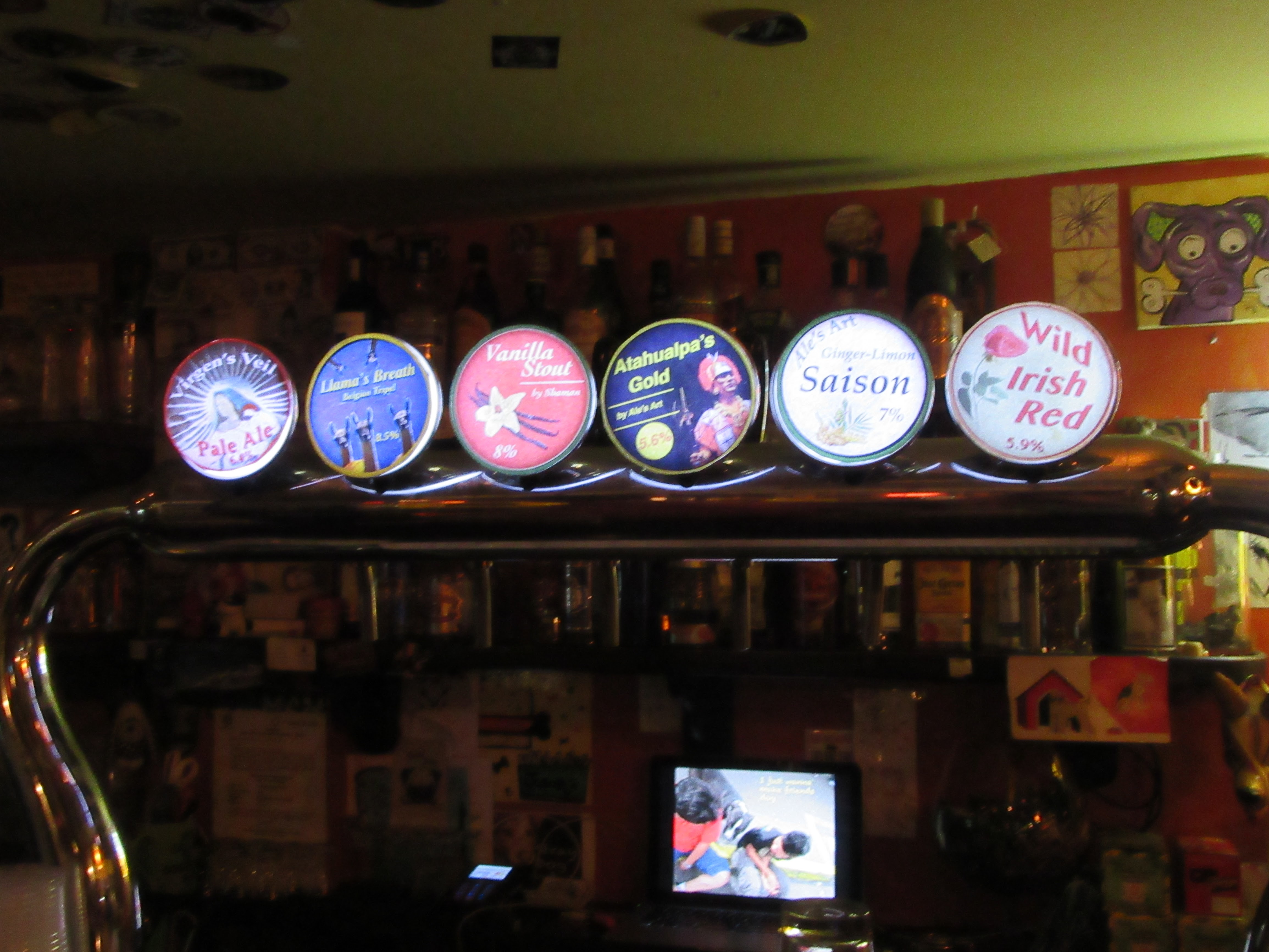 Irish Red by Roche's Brewing Co.
Red Ale / 7% / ? IBUs
This beer reminded me of a homebrewer who pulled off the recipe of an Irish Red pretty well but still managed to mess up a handful of times. It was too coppery and missed the right notes for the style.
Final Score : Two out of five zip line tours.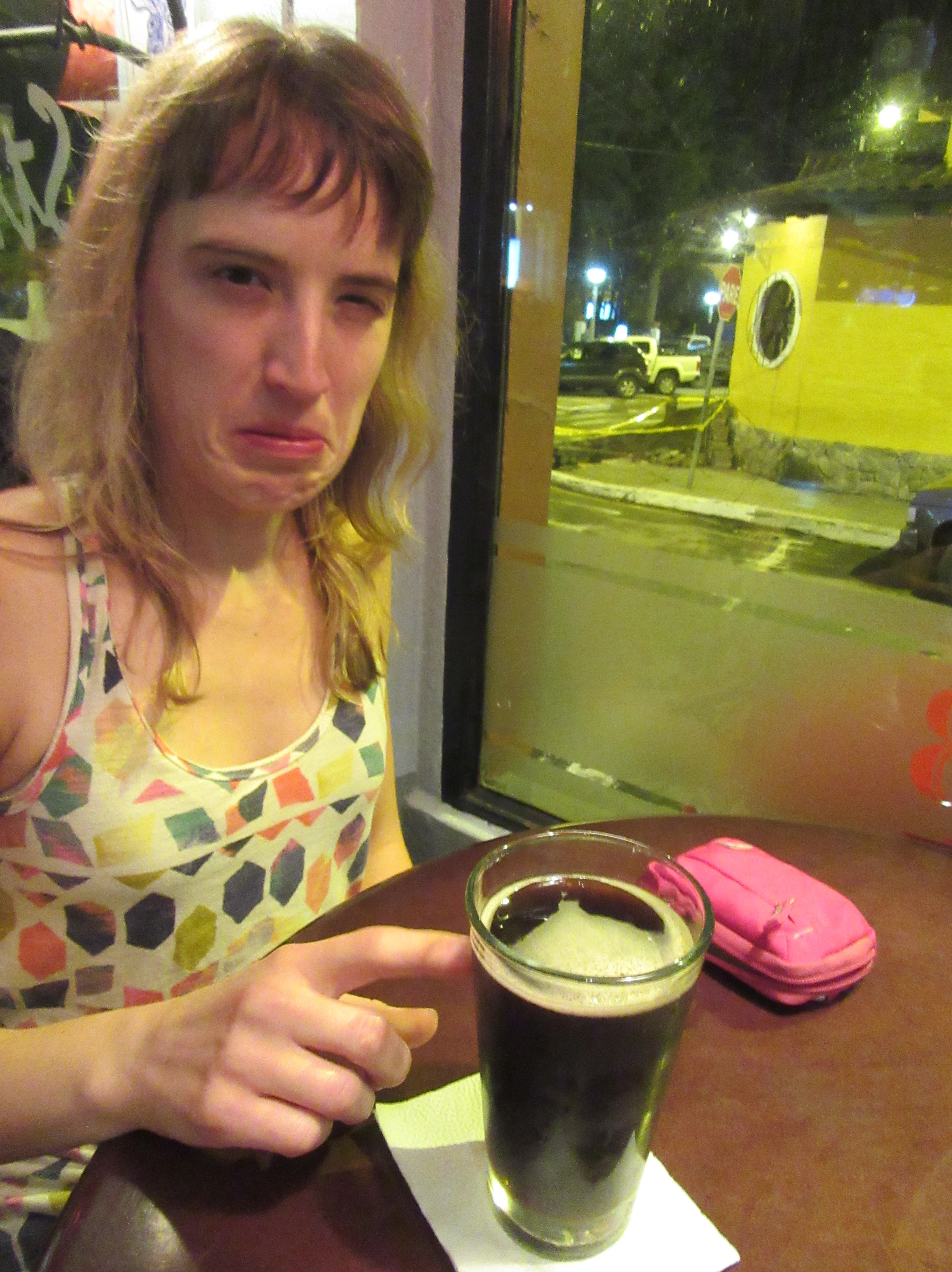 Vanilla Stout by Shaman Brewing
Stout / 8% / ? IBUs
There may have been something funky with our kegs. But regardless, where should I start with this "stout"? First of all, it was sour. Stouts shouldn't be sour, certainly not a vanilla stout. The vanilla flavor was overpowering and artificial. The whole thing was a sour, sweet, coppery mess. Any flavor that can be found in a beer to ruin its flavor was found in this beer.
Final Score: Zero out of five all night party vans haunting my dreams.