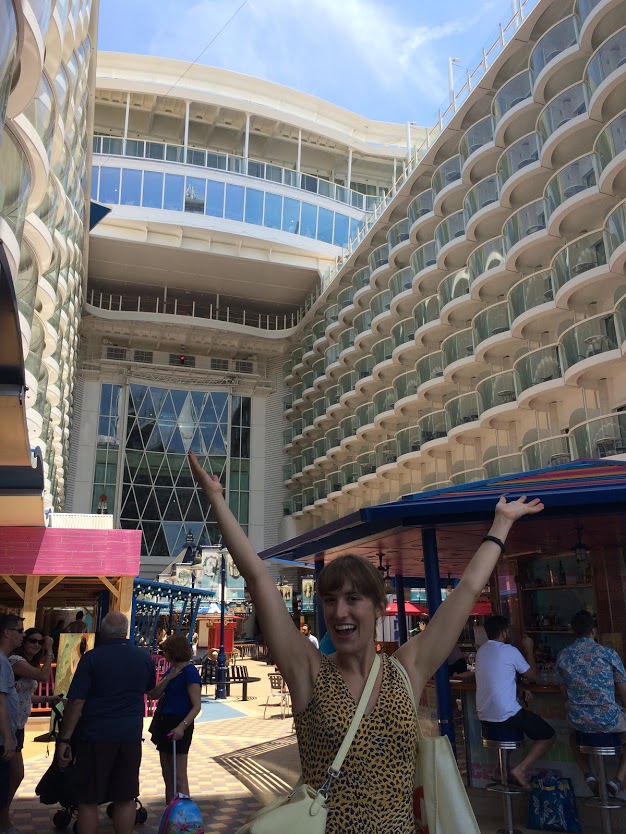 According to a recent survey, two thirds of Americans have never been on a cruise. Until quite recently I was a member of the majority and had never stepped foot onto a cruise ship. My mental associations of cruising were either of the Titanic—old-school glamorous, expensive and deadly—or of the Carnival ship that broke down—gaudy, cheap and deadly amounts of poop floating around. Thankfully the experience was nothing like either.
This May, I ventured to Florida to take my first cruise. If you know me, you know that I am more of the cheap and dirty backpacker type. However, I was blessed with an amazing opportunity to spend time with Eric's fabulous family while relaxing in the sun. How lucky am I?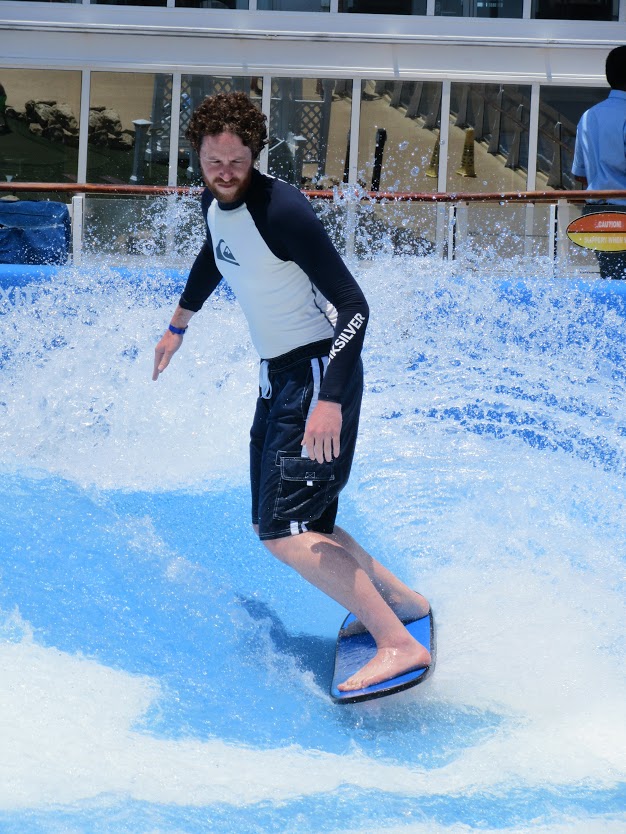 It was only fitting that my first cruise would be on Royal Caribbean's Allure of the Seas, largest cruise ship in the world at the time. The ship can hold up to 6,296 passengers and 2,384 crew members. Some of the amenities on the ship include: a Starbucks, spa, gym, rock wall, ice skating rink, two wave riders, carousel, casino, two pools and twenty five different places to eat. It is a floating city. Often I would forget that I was on boat at all, only to be reminded by the jaw dropping view of the ocean from outside of my window.
The experience of cruising was unique from anything else I have tried. If you are a travel curmudgeon like myself, give cruising a shot before your dismiss it! For the 66% for Americans who have yet to cruise, I have prepared the following helpful guide for first time cruisers.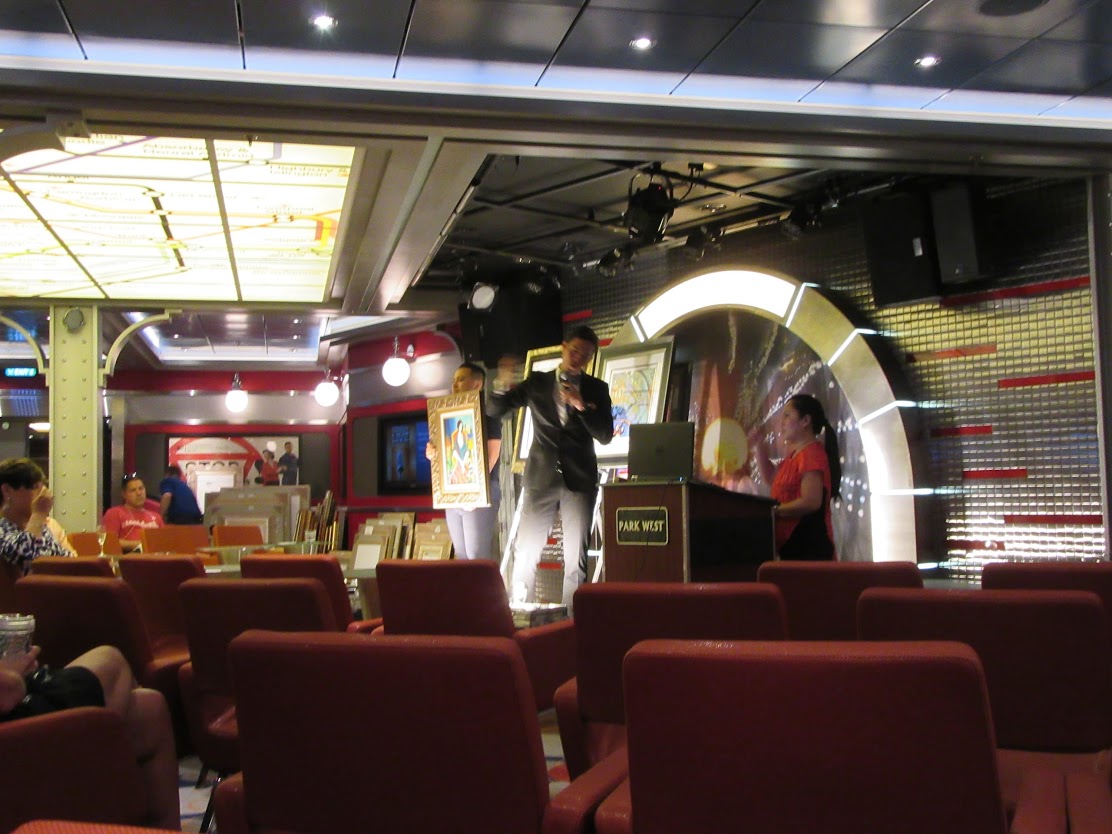 It's like a floating Las Vegas Strip.
Take out the sleazy sex of Vegas and stick it in the middle of the ocean. All of your food, entertainment, gambling, clubbing, gaudy decor, pool time and drinking needs can be found on the ship. Good thing you don't need to go anywhere else because (surprise!) you can't. I would recommend picking the most bizarre event from the "Cruise Compass" each day and doing it. A gaggle of Angers and I crashed the "art" auction on day one at sea. Not only did I get a headache from two glasses of the cheapest champagne at sea, we also got to witness a well-dressed Romanian man desperately try to sell five Thomas Kinkade works for $1,000. Watching people drop hundreds of dollars on dog themed art was better than anything on TLC.
Food is everywhere and resistance is futile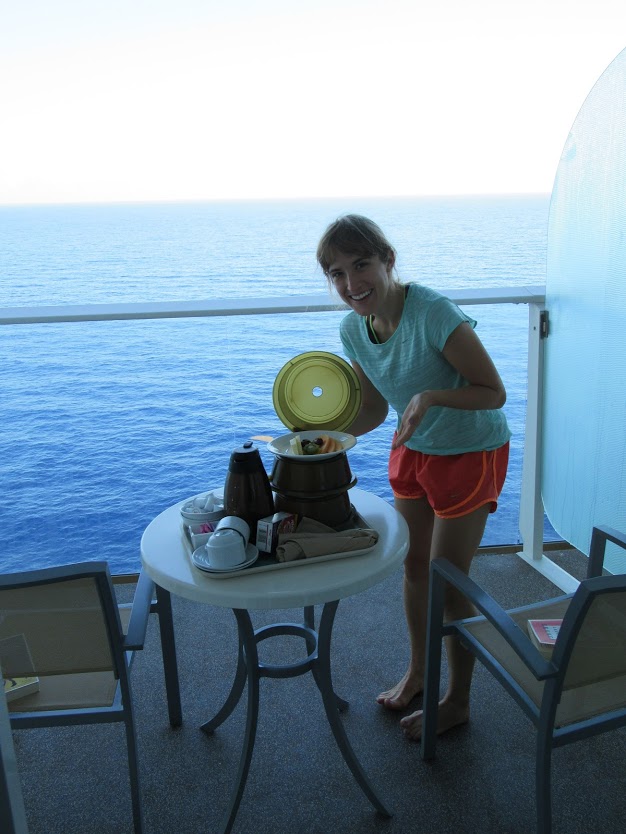 I am not good with self-restraint. There is a reason I am training for a marathon, other than being smug all the time; I like to eat. I'm going to be honest, I was terrified that I would gain a bunch of weight on this cruise. Free food? Everywhere? How could I not indulge!? I want to take this moment and say that this is not a guide to not gain weight on a cruise, think of it as a guide to not care that you are gaining weight on a cruise.
Katie's steps to avoid eating too much while at sea:
Room service is included!
Your lovely cruise staff will deliver you an fresh pot of coffee at anytime, day or night! The view makes the coffee much more enjoyable and having a light breakfast delivered saves you from the anxiety of a 9 AM buffet line. Plus, you feel classy AF.
One thing in the buffet is worth it.
For me this was the bran muffins and fresh fruit. Run past the lines of your be-khakied co-cruisers and grab what you know is good. Buffets are no place for idle experimentation! Save that for the dinner binge.
There are no soft serve machines on board.
Just forget about them. They do not exist. Don't even go looking for them.
It isn't gluttony if you're wearing sequins.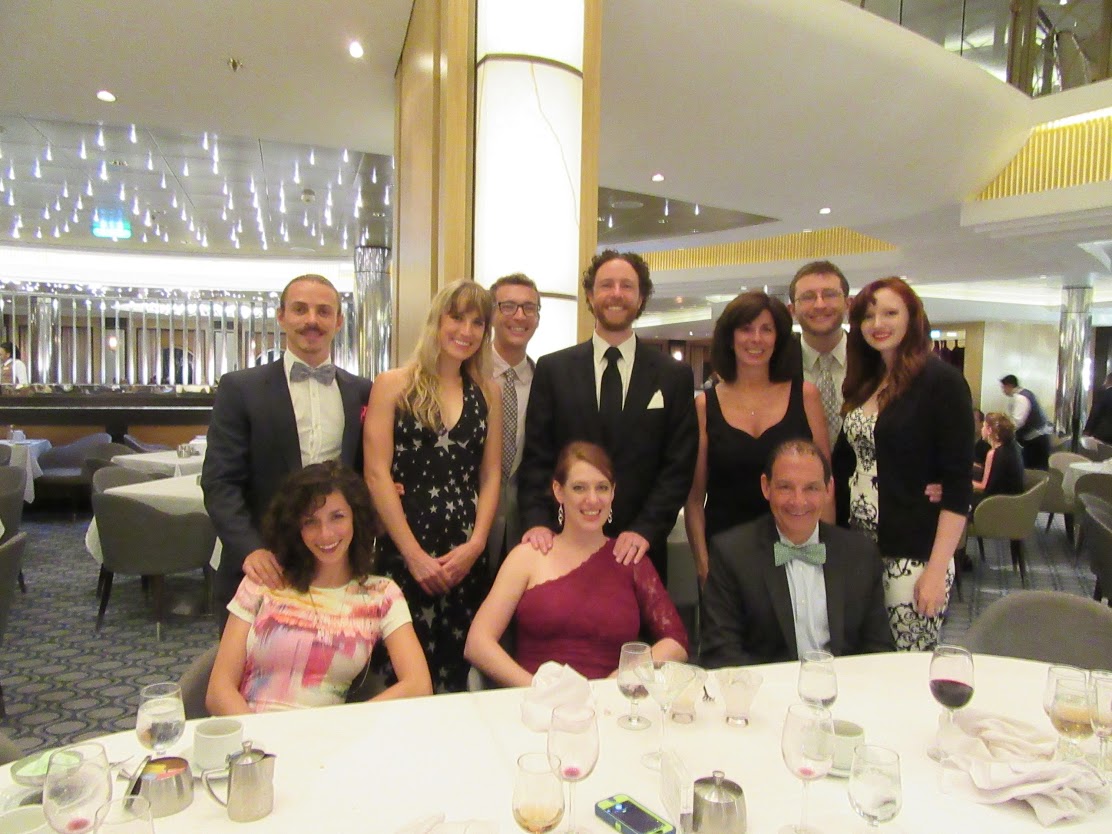 Formal dinners are magical places where you can dine like rich people from the 1920's. Prime rib, baked Alaska* and chicken cordon bleu appear unironically in the wild. Dining rules are thrown out the window, replaced with what I presume to be Maritime Law. Want a main-sized appetizer? A sampler round of mains? The bread basket to become just another plate? Just ask! In a pro move our table inquired if there was any Indian food in staff mess hall, only to be presented with bowls of daal and fresh fried bhaji every night in addition the regular menu. I have no hints to eat less at these meals. Just take all your photos before the binge and try not to pop a sequin.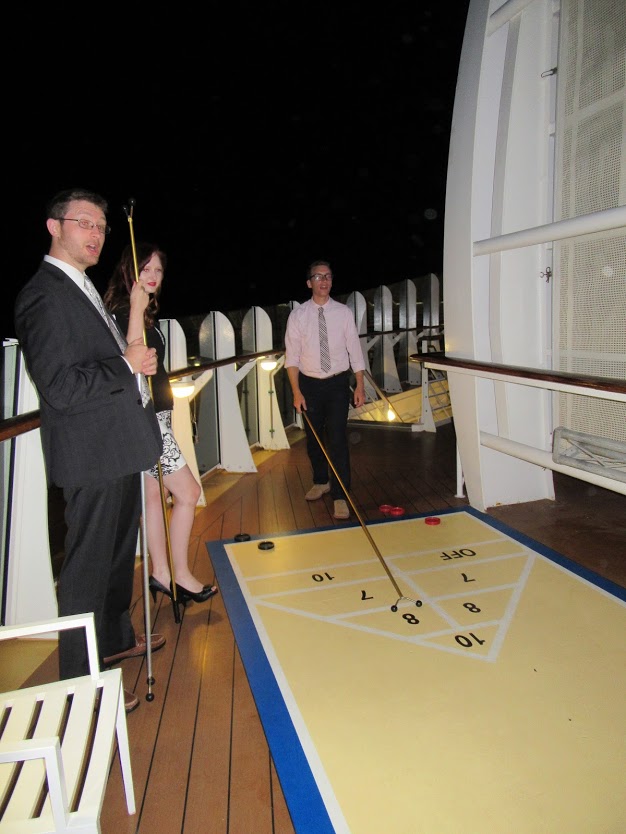 There are no wrong answers
One of the worst things about traveling out of a backpack is the battle between exhaustion and FOMO. Sure, you spent 10 hours on a train with a strangers baby on your lap**  but you can't miss this next temple or you'll spend the rest of your life crippled by regret! Cruises are not like that. You could go to that show or nap by the pool, wake up early for the sunrise or sleep in, party all night or go to bed at ten with a food baby. The possibilities are endless! Cruises are unpretentious excuses to relax all week; enjoy it.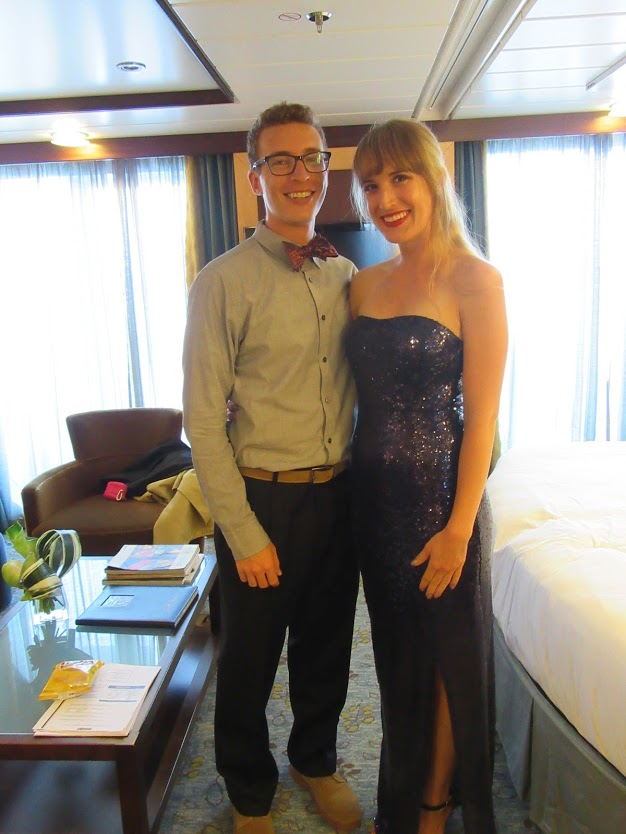 You get what you pay for (or mooch off of)
Cruises offer services at every price point. It's not, as I might have imagined, a free for all once you're on the boat. There are more perks available for those who are in suites or have higher loyalty status. For example, Eric rolls at an Emerald level and I think my level could best be described as peasant.  Without getting into details, let's just say Mike and Rachel are at a much higher level than either of us.  This higher level opens up private cabanas, secluded beaches, and special lounges and restaurants. Cruising can be a claustrophobic experience and paying for  mooching off of suite perks helped me escape the crowds and relax. I think it was when I was standing on the helicopter pad with a glass of champagne when the familiar thought struck me, "Crap. I never should have majored in history."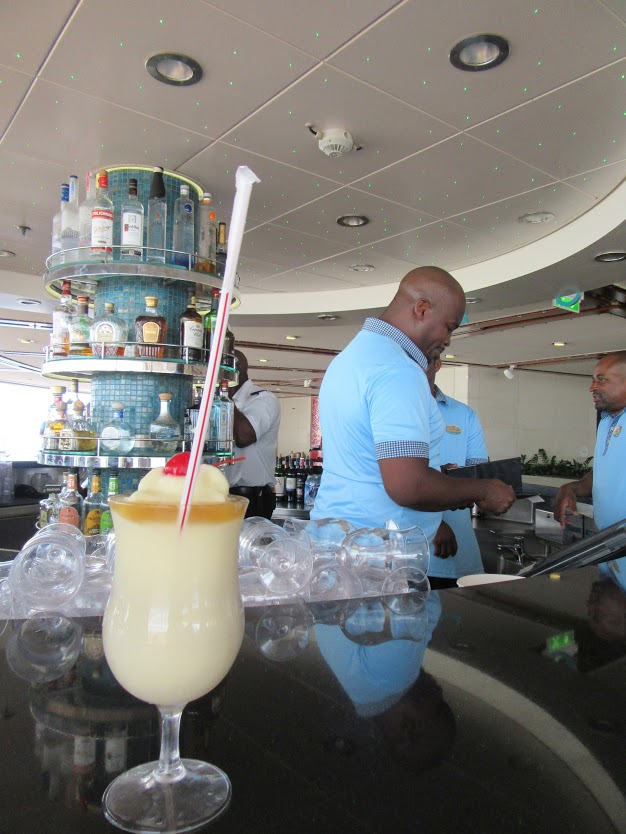 Drinking isn't worth it
Apologies to all my readers who are wondering, "isn't this a beer blog?"*** Sorry, no one goes on a cruise for the beer selection. The Allure of the Seas isn't lacking for places to get a drink. Any of the 25 restaurants will sell you alcohol; you can order through your TV, you can even sip a Sierra Nevada Pale Ale in a bar which floats between the "mall" level and then two floors up to the "garden" level. Finding a place to drink isn't an issue, finding something good to drink on the other hand is. Selling alcohol is the key to turning a profit for the cruise lines.
When Eric and I asked a bartender what his cheapest beer was, he looked at us like we asked him how to swim to shore. Turns out most beers were six dollars a bottle with the exception of the tall boys of Bud and Bud Light. Most of the surrounding cruisers stuck to wine with dinner and boozy slushies with everything else. I embarrassed myself thoroughly when first I forgot the name of a Piña Colada—something rum-y and pineapple-y was my request—and then again when I sipped the straight rum off of the top of the drink before mixing. Amateur move. Don't waste $12 on these concoctions, find a friend to take you to the Diamond Club Lounge instead.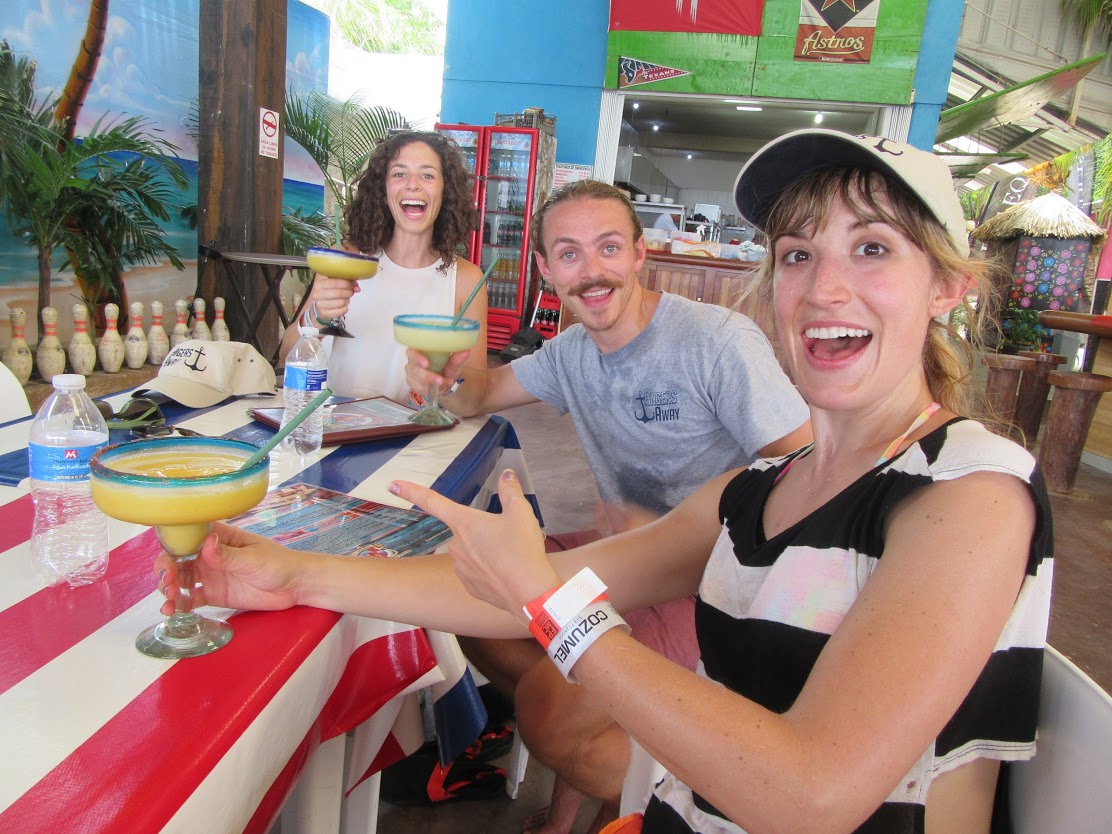 Going on a cruise? Take my advice and try out everything or do nothing; you'll have fun either way. Enjoy those two bottles of wine per cabin you're permitted take aboard and avoid overpriced sugary booze bombs. Most importantly, travel with people whose company can make everything fun, even traveling the world in a floating food court.
*Not like The Sims.Tragically.
**True story
*** Come back next week to read my critique of Eugene Oregon's beer scene.