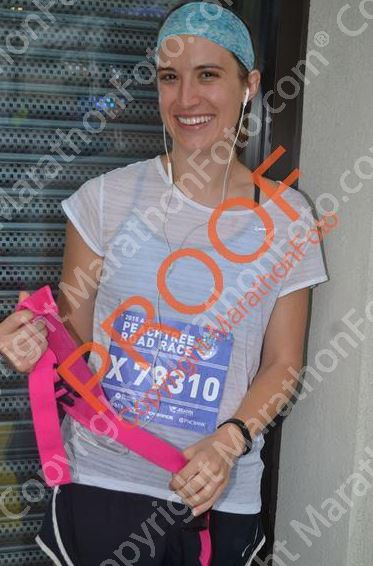 This weekend I and 59,999 of my closest friends ran the Peachtree Road Race. The 10k (6.2 miles) is the largest road race in the world with participants putting their name in a lottery in order to run it. I was happy to be selected and experience this Atlanta tradition first hand. The race starts in Buckhead running south along Peachtree Street and ending in Piedmont Park. I had been looking forward to the race for weeks as I fielded questions and gathered advice from friends and co-workers who have ran before. The race has 60,000 registered runners and 25 heats for amateurs, labeled A through Y. In the weeks before the race friends asked what heat I was placed in, telling me that too late of a heat could make or break the experience. I wasn't too worried and didn't look up my heat until I picked up my race bib. I was placed in heat X.
The late heat meant that I started a full hour and a half after the race officially began. I wasn't concerned about the nine AM start time; I knew with this many people on the course I wouldn't be setting anything close to a PR. My real doubts began to sink in when I woke up and heard the rain lashing against the window. Not again! I had ran the Georgia Publix Half-Marathon in a downpour earlier in the year and I'm still traumatized by the experience. Bribed by a free banana to get out bed, I made my way to the MARTA station only to see lightning flashes from the train. Crap. Lightning is one of those safety issue that is rarely ignored by race organizers. I arrived in Buckhead and quickly learned that the race had been delayed. Starting with P, all heats where held at the starting line. I had nothing to do for the next hour except stand in the rain wishing I owned a poncho.
I finally began to run at 9:45, dodging around the hordes of people practicing the Atlanta shuffle while carrying golf umbrellas. The Peachtree Road Race is famous for being half run and half party. I could tell that this had been the case for earlier runners as trash floated by me throughout the run. When it rains in Atlanta, it it doesn't mess around. I ran the majority of the race with rainwater up to my ankles. This was made worse as the only places where I could run without throwing elbows was the drainage ditch on the left side of the road. I completed the 6.2 miles in under an hour then nabbed my snacks and swag from the perpetually perky race volunteers. After that I made my way home for a well deserved shower beer. While my race experience was miserable, I would like to run the race again next year. It's a great way to start an eating holiday like the Fourth of July and the race looks like it could be a lot of fun. I just need to start a little earlier next year.
---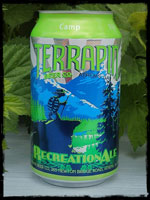 Recreation Ale by Terrapin Beer Company
American Pale Ale / 4.7% / 42 IBU
This is a clean, refreshing session ale which was brewed to camping and enjoying in the great outdoors. The qualities I look for in a camping beer have a lot of crossover in what I want from a shower beer: slightly hoppy with a minimal malt flavor. It's cloudy in color with a light mouth feel. Perfect to drink in a rainstorm or to help you recover from one.
Final score, three out of five victory pints.
---
Welcome to July 2015! A new year for beer distribution in the state of Georgia. Consumers can now buy beer direct from the brewery, although the process is still very constrained. Read more about the new law here from the Atlanta Journal Constitution.