This weekend I joined Eric on a quick trip to Denver to crash an Anger family reunion. I had a wonderful time learning about "Rocket", how gigantic bullfrog tadpoles can grow, which Pokémon Pinball game is superior, getting pitched luxury chocolate milk, and pondering how the Sierra Training Post can sell so many brightly colored sweatshirts for so cheap? The weekend flew by and I was more than happy to enjoy their mild weather relaxing in the backyard. While I didn't have a chance to make it out to a brewery, one of the best parts of running a beer blog is everyone wants to share their favorite beers with you. My hosts even went on a beer quest to track down a hard to find summer masterpiece.
FATE Brewing Company is located in Boulder Colorado, and was recently listed as one of Ten New U.S. Breweries to Watch. During the summer, FATE releases its Laimas Watermelon Kölsch Style Ale. I've had watermelon beers before, but never have the flavors  worked as well as this one. In a brilliant Pinterest style move, sliced watermelon was added to the side of the pint glass as a garnish. I dipped mine directly into the beer, crossing my fingers that I would continue to be invited over in the future.
---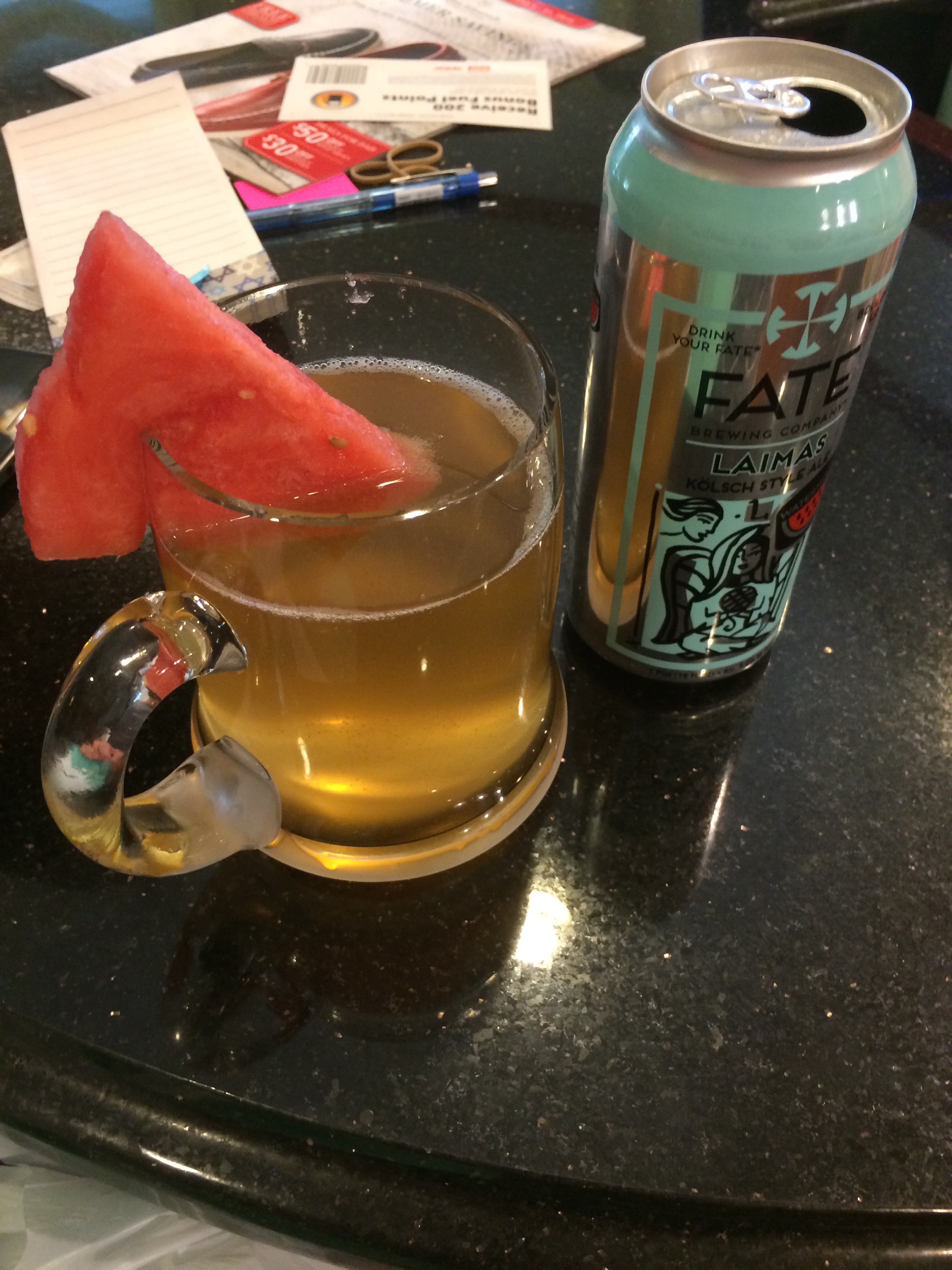 Laimas Watermelon Kölsch by FATE Brewing Company
Kölsch / 5% / 20 IBUs
This is a light refreshing beer which is pleasant to drink in the heat. The watermelon pairs perfectly with the lighter German style. Unlike a few other watermelon beers, the flavor of the fruit comes across tasting natural.
Final score; four out of five Rocky Mountains in the distance.