To celebrate my last long weekend of winter, Eric and I decided to visit the quaint town of Asheville, North Carolina. I must confess that I first heard of Asheville a few months ago when I was listing the top beer towns as Portland, Denver and San Diego. My West Coast was showing. My conversation partner was aghast that I hadn't even heard of Asheville as the East Coast beer capital. So I promised to visit as soon as possible, hence the Martin Luther King Day long weekend road trip.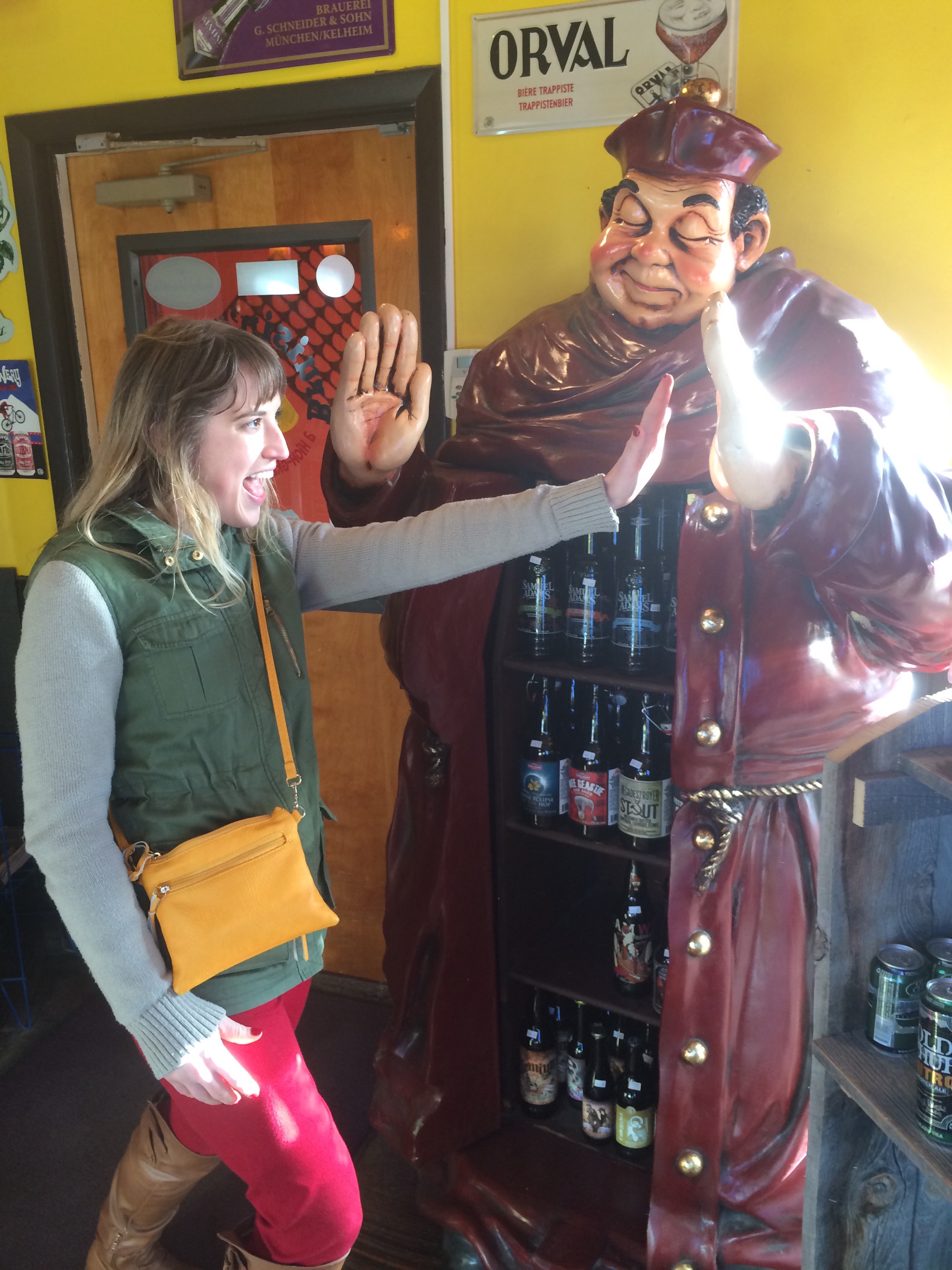 For all of my west coast readers, Asheville is in Northwest North Carolina. It is a three hour drive from Atlanta. The drive up even cut up through South Carolina, which is a shame because I wanted to add to my embarrassing state total of 12. The drive is beautiful and hilly. I would have loved to see the hills in the fall when the leaves are changing.
The town of Asheville is a quaint small town with architecture that includes; tiny castle-like towers, public art and street musicians. The place reminded me of a larger version of my university town of Corvallis, Oregon.  The whole town is extremely walkable allowing you to park your car and explore the city by foot.  The city is famous for its beautiful scenery and its proximity to the largest house in the United States, The Biltmore Estate. The Biltmore was built between 1889 and 1895 by George Washington Vanderbilt II. According to Yelp and Trip Advisor, the Biltmore is "unmissable" and the "most visited destination in the US" but neither hiking nor beer can be found in that big lonely house so we decided to give it a pass. It's also important to mention that the entrance fees to the Biltmore are $50 dollars a person. That's five entrances to the Pinball Museum or 20 pints at a brew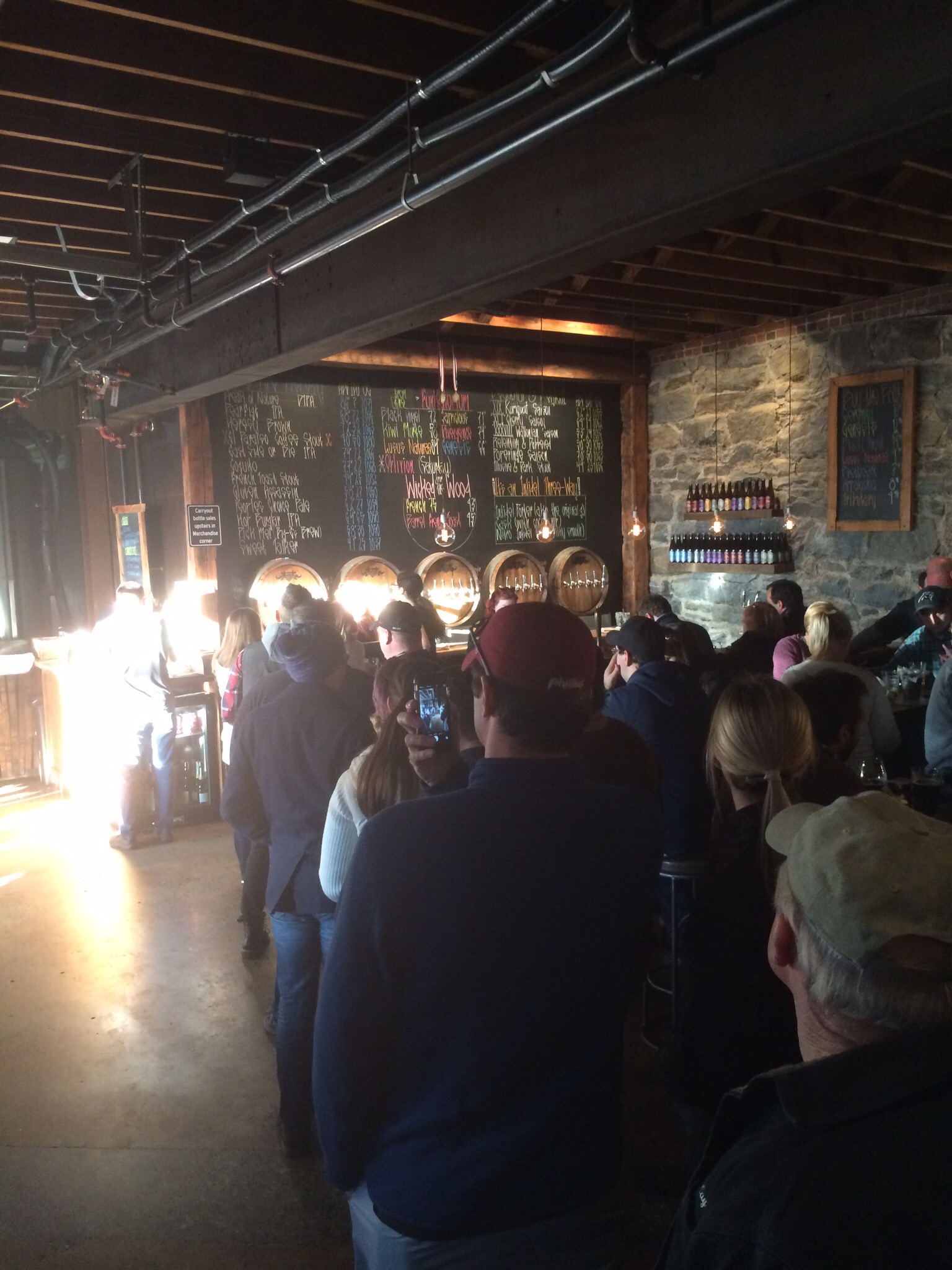 ery or one million (approx.) hikes! It just doesn't seem worth it me.
We arrived in Asheville and gorged on hippie Mexican food from Mamacita's Taqueria. I had a sweet potato, kale and quinoa burrito which filled me up while causing me to hate my hipster self just a little.  After a walk around the city to admire the art deco architecture (I particularly enjoyed the Jackson Building), it was time for a refreshing pint. First stop was Wicked Weed Brewing. Wicked Weed specialises in sour lambic style beers. Lambic has long been one of my favorite beer styles, (yum yogurty) so I knew I had to check this place out. Wicked Weed was packed with a line out the door. I experienced my first Microbrew bouncer. We didn't get to eat anything an instead enjoyed the outdoor patio, which had a great "trapped in a L.L. Bean catalogue" ascetic. After bragging on instagram about our trip, a friend and fellow beer instragramer  you need to follow, Rhett recommended me run to Burial Brewery to try their Skillet Donut Stout.  How was I to say no?
Burial Brewery is a much smaller outfit. It's a true microbrewery without the trappings of the brew pub setup. I loved the feel of this place with fairy lights and poetry on demand. It was my version of a romantic night out, except I prefer haikus on demand. As much as I loved the place, the beers were disappointing. The stout had an over powering flavor of bitter coffee and the rye was too aggressive to drink more than a few sips. After finishing our beer (but not our poems), Eric and I turned in for the night.
After resting up at the hotel*, we woke up bright and moderately early to go on a hike in the Blue Ridge "Mountains".  Full disclosure, I am a West Coast (Best Coast) snob. If someone tells me about the beautiful scenery east of the Rocky Mountains I perform a long and drawn out eye roll. It's easy to be pretentious and sassy about the superiority of West Coast scenery when you find hiking guides like this online. 1.65 miles is listed as "Moderate/Strenuous", is this a joke? Is it straight up hill? Why did I move again? Anyway, as I just had minor leg surgery a few days before, we decided to stick with the "more difficult" John Rock Loop. The loop ended up being a perfect length for a cold dry day. There was even an impressive view from the top. Nice work East Coast!

Check back here later for part two of my Asheville rants and raves. Moogs, Pinball, more Mexican food and more beer, thanks for reading!
---
Kiwi Mort by Wicked Weed Brewing
5.8% / ? IBUs / Sour Ale
This is the beer for the person who really enjoys a crisp cold glass of Pinot Gris. This fruit ale was aged in white wine barrels and the flavor comes through very clear. Both the sweet and sour flavors are strong but they work flawlessly together.
Total score, four out of five funky flavors.
---
Oblivion Sour Red by Wicked Weed Brewing
8.5% / ? IBUs / Sour Ale
Do you believe in love at first sip? That's all it took for me to get lost in the aroma and flavor of this blackberry and cherry sour ale which is aged in cabernet barrels. The sourness adds complexity and never allows it to get too sweet.
A perfect score for this most romantic of beers.
---
Skillet Donut Stout by Burial Beer Co. 

6% / 60 IBUs/ Stout
I am not a natural cook. I've been know to mess up something as simple as a cup of coffee. Overly strong and bitter coffee is a surefire way to ruin a morning. Now take that too strong mess of a coffee filter and pour a cheap stout through it. This is the flavor of the Skillet Donut Stout. I couldn't even finish it.
One cold one.
---
*I don't usually stay in hotels. I am much more likely to crash a couch or rent an Air BnB then to pay over a hundred dollars a night to rent a room. Since the trip to Asheville was planned only a week ahead of time, I had to make due with traveling the old fashioned way, Trip Advisor. I found a hotel, The Country Inn and Suites for only $65 a night. For that price, I didn't even mind that it was a chain. I didn't expect much, but I was blown away by the cleanliness of the room, the friendliness of the staff and the existence of a breakfast buffet. If you don't mind driving 15 minutes into town, I highly recommend this hotel.
Bonus – The hotel is next to a Goodwill Outlet if you want to see where Drake started.