This is the last in my backlog of drinking in the West.  Regular readers (Hi Mom!) can look forward to reading about my upcoming trip to Asheville, North Carolina this weekend. Now back to your regularly scheduled programing.
---
As a Portland native who hasn't lived in the city full-time within the last decade, I am always shocked that it has turned into such a tourist destination. Not that Portland doesn't deserve tourists. (It does. It's beautiful, charming, delicious!) It's that I personally see the city as home, not a destination. This is changing as I repeatedly have friends ask me for travel recommendations. I confess right now, I love writing long recommendations. I mean, look at this blog for heaven's sake.  Anyway, recommendations, I always advise that people take a day trip out of the city. Portland is only an hour and a half away from Cannon Beach or a half hour away from my personal favorite, the Columbia River Gorge.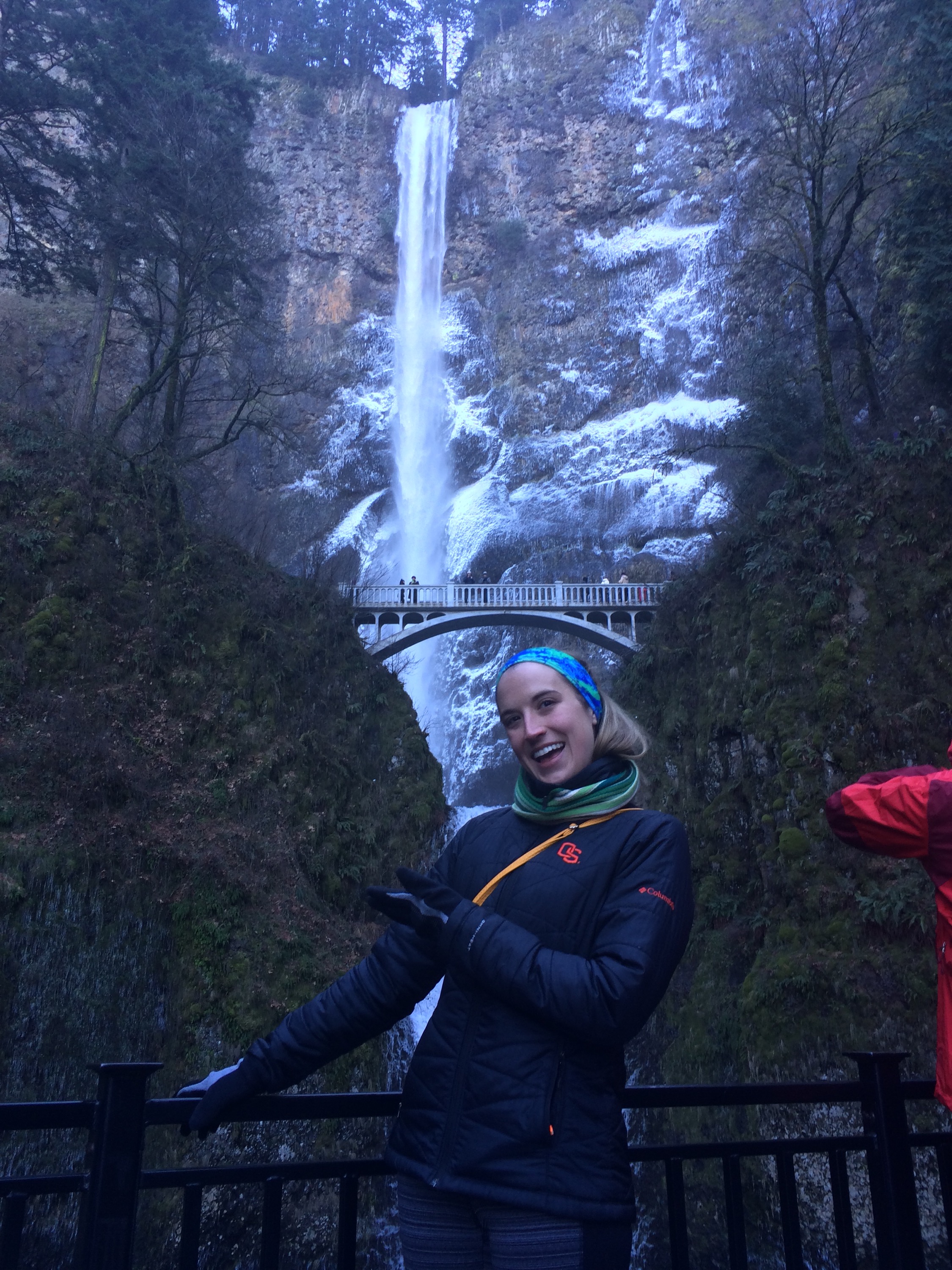 The Columbia River Gorge is a National Scenic Area between Oregon and Washington long the Columbia River. The canyon between the two states runs for 80 miles and reaches heights of 4000 feet. The hiking along these peaks is incredible. I highly recommended Dog Mountain during wildflower season. If hiking isn't your pint of beer then visit Multnomah Falls. It's a quick drive from Portland and your can walk to the peak or just to the 100-year-old bridge.  It was too cold for a real hike this trip, so we snapped some pictures of the partially frozen waterfall instead.
After the chilly photo-op, we continued on to Hood River, a resort town 50 miles outside of Portland. Hood River is famous for world-class windsurfing as the Gorge is perpetually windy. Hood River is also home to one of Oregon's many big name breweries – Full Sail Brewing.  The ninth largest brewery by sales volume in the United States, Full Sail Brewing is a Hood River institution. You might know them for their adorable  stubby 11oz bottles. My parents and I had lunch at their brew house which has a beautiful view overlooking the river. I indulged in salmon fish and chimps while we sampled a few of the beers.  I've decided to rate the beers including my parents opinions because, I believe that is the true meaning of Christmas. Or something like that.
---
Powder Stash by Full Sail Brewing
5.0% / 50 IBUs / Pale Ale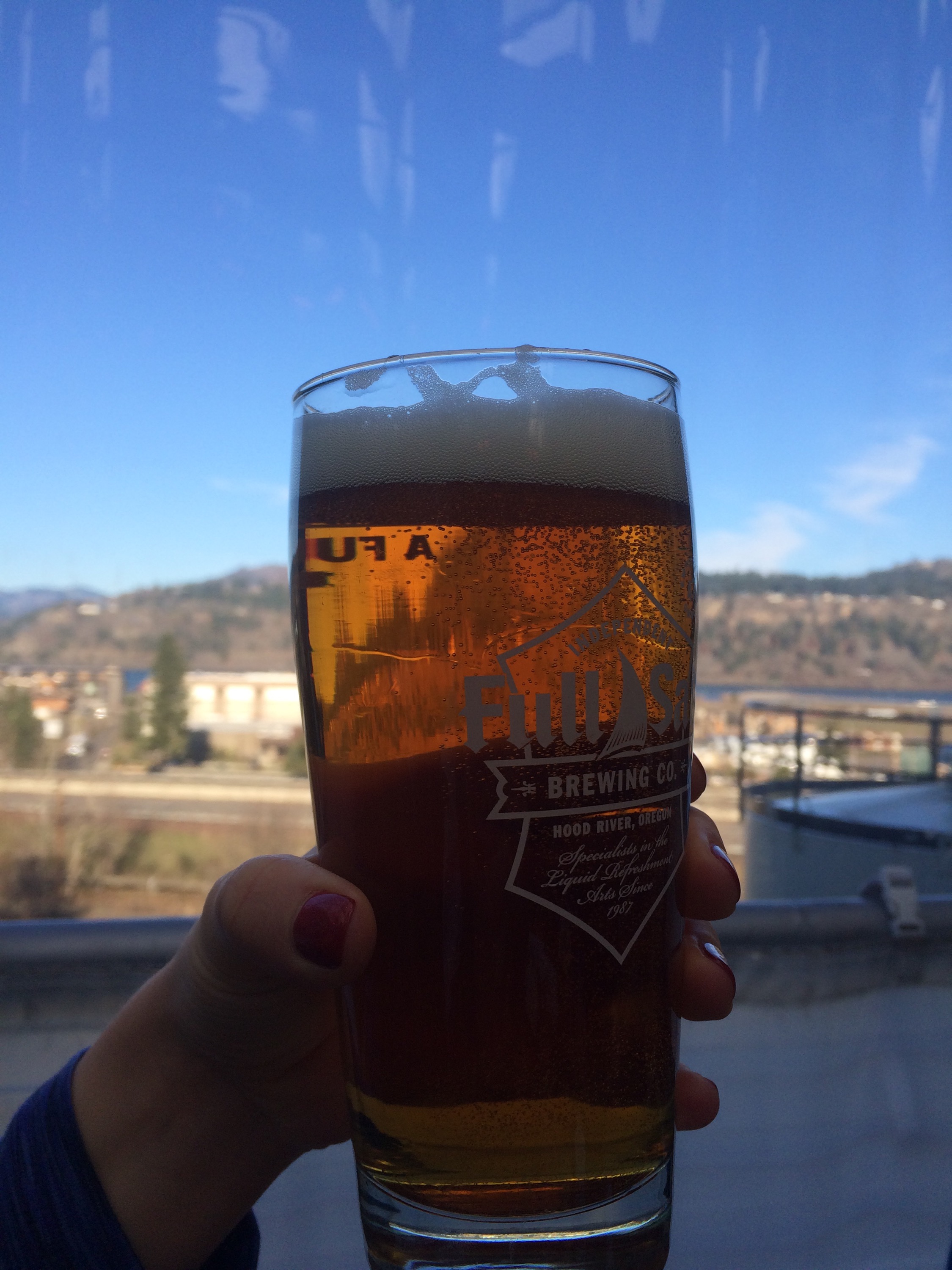 I tried the Powder Stash. It is seasonal American style pale ale which is dry hopped and brewed with light malt.  This beer had really smooth citrus notes to it. This beer would be perfect after a full day on the mountain. I crave flavors like this after skiing, not sitting still on a cold clear day. This was a bit of a miss-order on my part but the brewers knew what they were going for and did it well.
Final score, three out of five cold ones.
Full Sail Session IPA by Full Sail Brewing
5.1% /  47 IBUs / IPA
My Dad sampled the Session IPA. He was surprised by the light color and was looking for a more traditional IPA.* Dad reviewed this beer as missing the hoppy flavor. My Mom described the beer as "rubbery" which was a strikingly apt review.
While I respect that this beer doesn't join the Northwest trend of over hopping the final score is only two out of five cold ones.
Sessions Fest Red Lager by Full Sail Brewing
6.2% / 26 IBUs / Red Lager
The clear winner was Mom's choice, the Session Fest. Beer would never be my mother's first choice of a beverage so it was a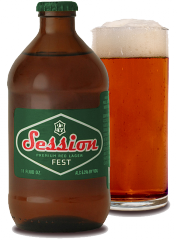 pleasant surprise to all of us that she picked the winner. Mom thought that the beer was smooth and caramelly, with no unpleasant aftertaste. She also suggested that the beer needed cranberries to float on top. BRILLIANT. Do you hear me Full Sail? Someone needs to offer this woman a job in beer innovation.
Session is a bit of a misnomer for this beer as the ABV is much too high. This is a great red lager which remains super drinkable despite its strong flavor and lower carbonation. Final score four out of five. It loses one glass for lack of cranberries.
---
*Want to know the difference between an IPA and a Session.  Have questions about the numbers and percentages I list in front of my reviews? Check my quick guide to beer terminology!