Blog three out of four in my Christmas Vacation backlog. I am currently back in the ATL and I promise to explore some southern brews ASAP!
---
I was lucky to have two weeks home in the City of Roses this holiday season. I visited with friends and family, read, and discovered that once you drive Ponce in rush hour, big Portland bridges don't scare you anymore. In addition to all that good stuff, I drank plenty of great beer. More than I care to admit or have time to blog about if I have to be honest. If you want to know the full extent of my hop fueled debauchery, friend me on untapped. I'd love to know what you're thinking and drinking.
One of the greatest things about the holiday season is seeing old friends. One of my longest friendships has been with my dear friend Jenna. We've known each other since elementary school and used to live only a few houses apart. Jenna is a home brewer, Night Strike volunteer and fellow blogger. In fact, it was her blog Bitesize Brews that inspired me to start my own blog. Check out how cute we are!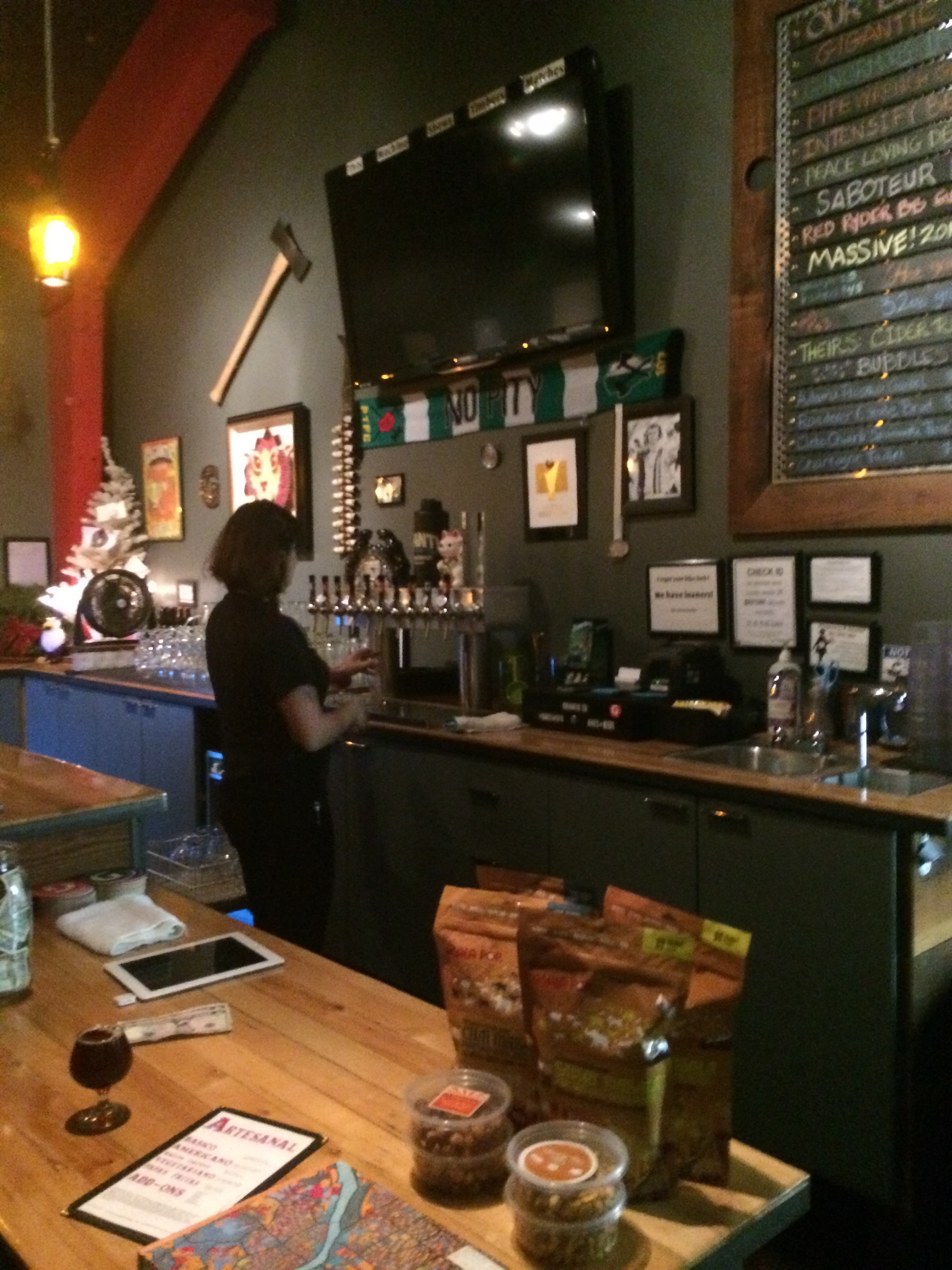 Jenna took me to a new-to-me startup brewery in her neighborhood called Gigantic Brewing. Gigantic Brewing is an example of why I love the city of Portland so darn much. You can stumble upon incredible microbreweries within each neighborhood.  Despite the name, Gigantic Brewery is located in a small garage and sells no food, only fresh brewed onsite beer by the pint, glass or growler. Imagine that with Georgia's antiquated liquor laws! According to their website, Gigantic only does two things; "make the best damn IPA in Portland, Oregon and produce seasonal, exciting, flavorful beers, most of which will be brewed only once". I can't say for a fact that their IPA is the best in town, but I can vouch for the excitement of drinking them! The beer I choose to sample was the Gigantic IPA. Can I describe it as Portland in a glass? Jenna sampled (and I sipped) the Pipewrench Gin Barrel IPA, this a the Gigantic IPA Aged in Ransom Old Tom Gin barrels for 3 months. It was floral, strong and retained a strong juniper taste.
After some quality reconnecting time in Gigantic, Jenna and I decided it was best to get a bite to eat… and maybe another beer. We ventured to H.U.B., Hopworks Urban Brewery. H.U.B. is my favorite medium sized (micro macro?) brewery in Portland. They call themselves an "Eco-brewpub which means that they prioritize sustainability in their brewpubs and all aspects of the brewing process. Hopworks is one of the first breweries I recommend to friends visiting Portland. They have a great variety of seasonal and on cask. They also brew an award winning organic IPA. Does anything get more Portland then that?
I had a wonderful time catching up with friends and getting tips and tricks of the barstool blogging circuit. Be sure to check our Jenna's blog at bitesizebrews.com!
---
Pipewrench by Gigantic Brewing
       8% / 80 IBUs / IPA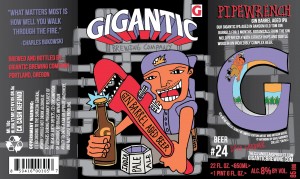 Floral scent with a distinct flavor of juniper. I personally couldn't taste the oak from the aging barrels. This was a great spin on a heavy bitter IPA. The normal Gigantic IPA has at rating of over 100 IBUs and this process mellows the bitterness while boosting the floral flavors.
---
H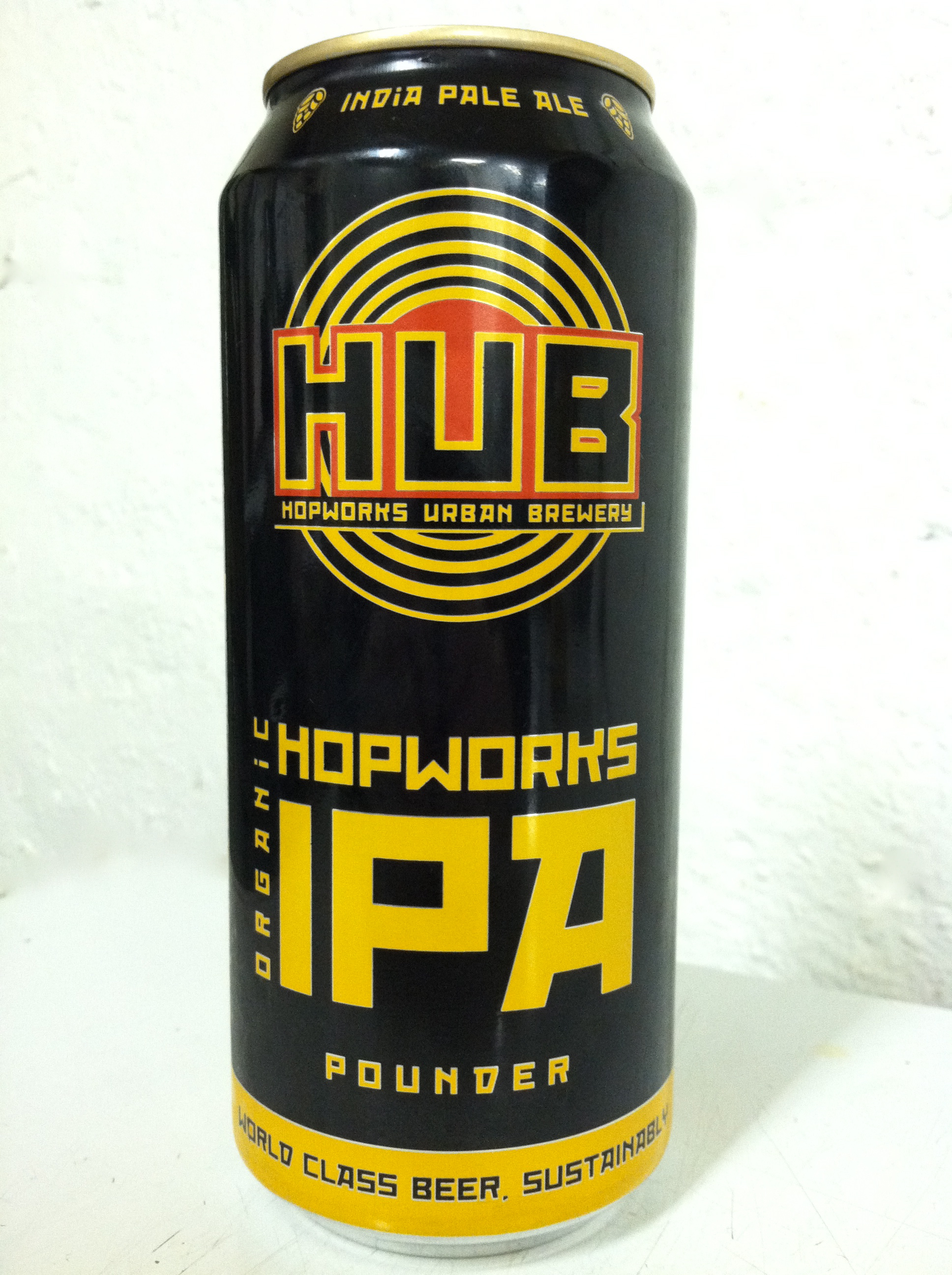 H.U.B. Organic IPA by Hopworks Urban Brewing
6.6% / 75 IBUs / IPA
Much tamer then the Pipewrench, this organic IPA has a citrus aroma with out much of a citrus taste. It's a great beer to recommend to those who don't believe IPAs can be refreshing.