This is post two of many of my winter break catch up. Please enjoy and have a happy new year!
---
After a brief stop over in Denver, it was time to head up to Beaver Creek for some of the nicest skiing I have every experienced.  I started skiing last winter when I lived in Vancouver, British Columbia and I had to take advantage of the student ski pass rate.  Sure, I spent an entire winter kinda lonely, falling down the Canadian mountainside but it was worth it as I forced myself into being a bottom of the line, functioning skier.   Beaver Creek is a gorgeous resort which lacks Whister's diversity of terrain but more than makes up for it with the quality of the snow. After a full day of skiing blues and a handful of blacks, I decided that it was time to reward myself with some refreshing pints of local beer.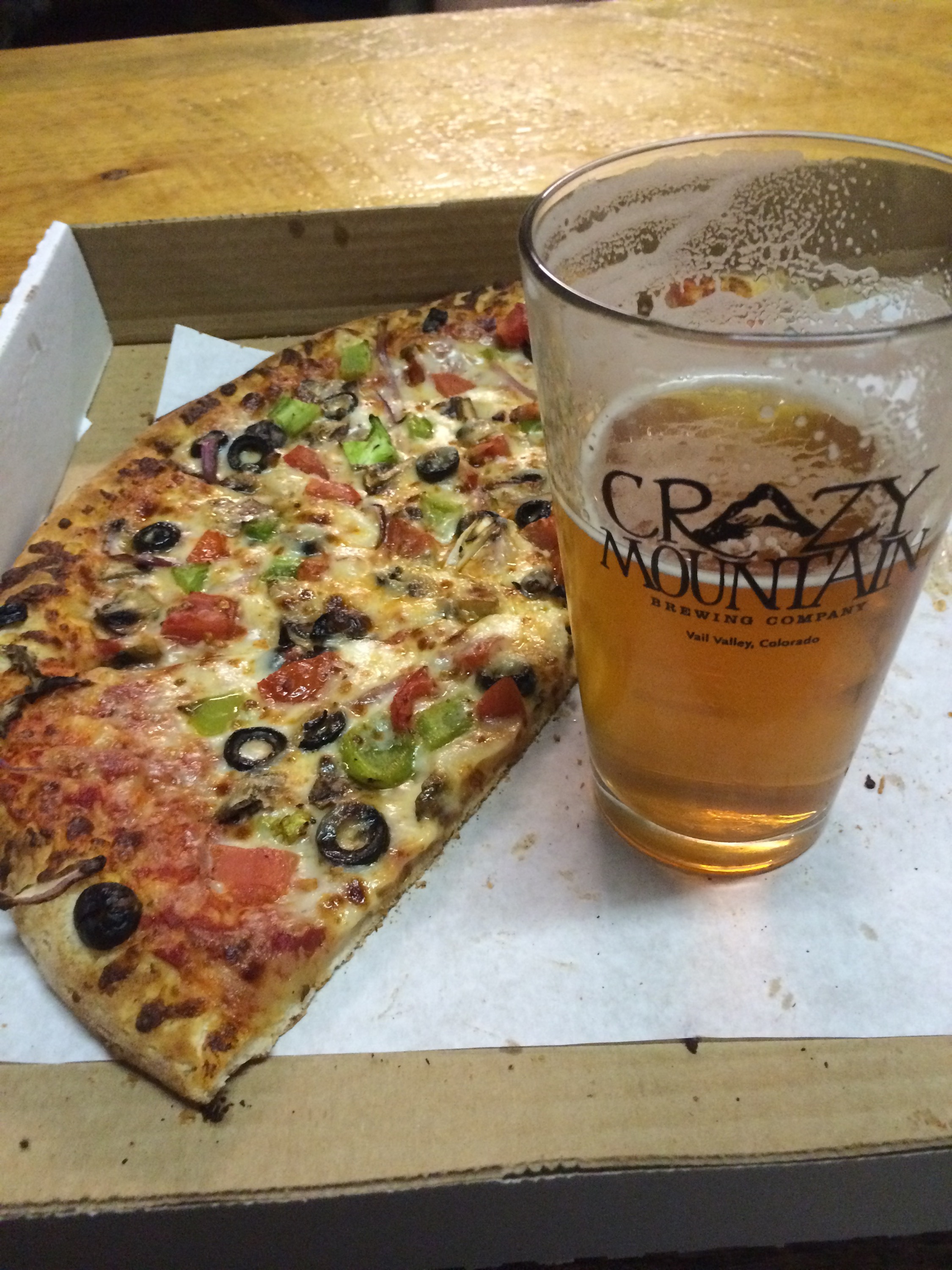 The closest brewery to Beaver Creek Resort is Crazy Mountain Brewing in nearby Edwards. On a side note, have you ever wanted to feel like a heroine in a 90's teen romcom? Like Macklemore in the Thrift Shop music video or  Marcus Mariota in every room he has ever entered? Then I have a tip for you! Bring a pizza into a brewery tasting room. You will never get more looks of total and utter lust. In fact, I might just start bringing a pizza everywhere. That's the true way to make friends and influence people. Anyway, Crazy Mountain Brewing. We decided that a tasting flight paired perfectly with a veggie pizza and exhausted ski legs.  We sampled a full flight with all ten beers which were currently offered at the taproom.
Sticky Fingers Fresh Hop / ? IBUs / 6.3%
Bridge Street Holiday Ale / ? IBUs / 6.5%
Lava Lake Wit / 15 IBUs / 5.2%
Scenic Route Kolsch / 25 IBUs / 5%
Rocky Mountain High Pumpkin Pie Ale / 20 IBUs / 6.5%
Mountain Livin' Pale Ale / ? IBUs / 5.7%
Drink A Peach / 65 IBUs / 7%
Lawyers, Guns & Money Barleywine / 80 IBUs / 10%
Cara De Luna Black Ale / 25 IBUs / 5.5%
Snowcat Coffee Stout / 57 IBUs / 5.9%
---
While all of the beers were fun to sample, two stood out. The Lava Lake Wit and the Sticky Fingers Fresh Hop Ale.
I found the Wit to be cloying; I hated the way it smelled. It was over the top with "herbs and spices". This is particularly damning from me. The first beer I ever loved at 19 (I mean 21…) was the Oregon Trail Wit, brewed out of my college town of Corvallis Oregon. Not even my nostalgia could save this beer.
On a positive note, the other stand out beer was the Fresh Hop Ale. It was everything a nicely hopped beer should be and it was a stand out of our taster flight.
Two out of five cold ones for the Wit. It was sticky sweet and smelled / tasted like my fanciest bath water. I wanted to give it a 1/5 but my option was swayed by my drinking buddy who loved it.
Four our of five pints for the Fresh Hop Ale. This beer tasted alive. It fills your mouth with a strong hop flavor. This was one of my favorite beers of the night. It was fruity, peppery and the smell reminded me of a freshly cut lawn. If your lawn was 90% hops.