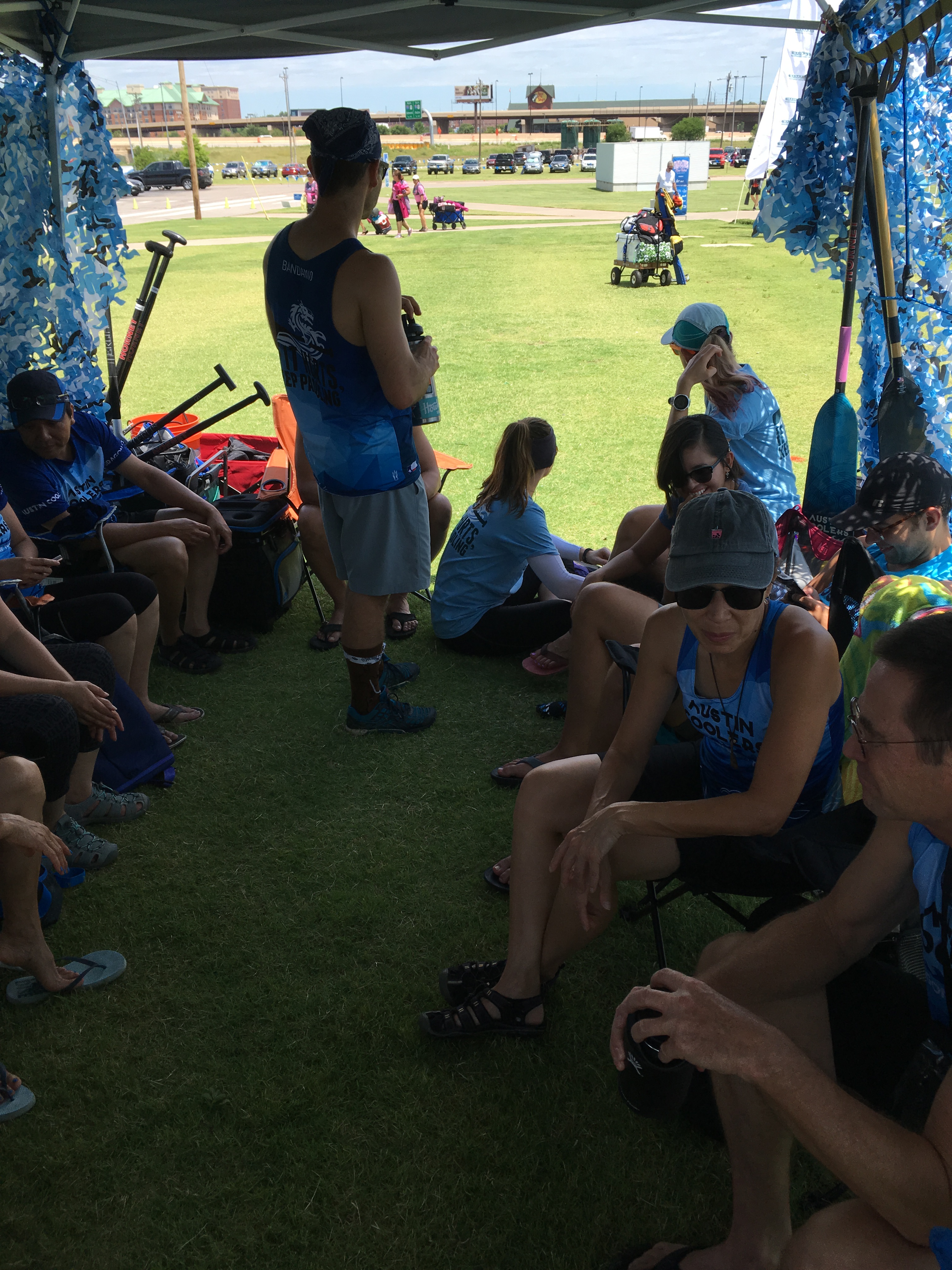 "I can't believe you need to practice for dragon boat" was the remark that my friend gave after hearing about Eric and my new hobby. "Isn't it just driving around a small boat with a remote control?" Surprise: it isn't. Dragon boating is a 2,500 year old Chinese sport in which large teams of paddlers race a canoe-like boat sitting two to a bench. Despite being a sport which is popular all over the planet, the first item on many dragon boating FAQs is "Do I have to be Asian to join?" Portland hosts several large races every year and I have always wanted to try it out. After moving to Austin, I found the local team on Facebook and dragged Eric to go with me. We've been hooked ever since.
The Austin Coolers Dragon Boat team has been around for years and is the only team, amateur or otherwise, in the city. Perhaps for this reason the team welcomes people of all ages and abilities. Eric and I hadn't ever paddled before joining the team; I had kayaked around the Pacific Northwest but nothing ever resembling the fast paced sprints of dragon boating. I had heard of dragon boating for years thanks to the Portland Rose Festival which features an international race. I wasn't brave enough to try out the sport at the time.  After moving to Austin, I mentally went through a list of sports I might be able to join and meet some friends. I am thankful that I remembered my interested in dragon boating or you would be reading a blog about CrossFit right now!
The Austin Coolers has been Austin's only recreational dragon boat team since its creation over a decade ago. The team spun off of the Houston Heat team, hence the terrible, very engineers-think-it's-funny name. The Coolers host new paddler practice every few months which are open for everyone to come out and try the sport. If you like it, pay the affordable annual dues and show up to practice three times a week to make new friends!  While only twenty-two paddlers fit on a boat, about 30-40 people show up to an average practice. Dragon boating is easy to learn yet impossible to master. The first few months of practice I thought dragon boating was a quick and easy activity. This was because I had the form completely wrong! Now that I am slowly improving my form, I hurt after every practice and realize how much I have yet to perfect.
Eric and I can make the majority of the Austin Coolers six races this year. When one race opened up on a wedding-less weekend, I jumped at the chance. The race took place in Oklahoma City, a place I had wanted to visit since moving to Austin, thanks to the three cousins I have there and, of course, Prairie Artisan Ales.
Oklahoma City is a flat, boring six hour drive from Austin. Other than Dallas, there isn't much to see as you drive though Northern Texas, past the sociopath's private tiger zoo and then onto Oklahoma City. OKC is a strange place; it would be easy to miss it despite being the second largest city (by area) in the United States. The downtown core is small, with dilapidated buildings interspaced between some expensive and trendy areas.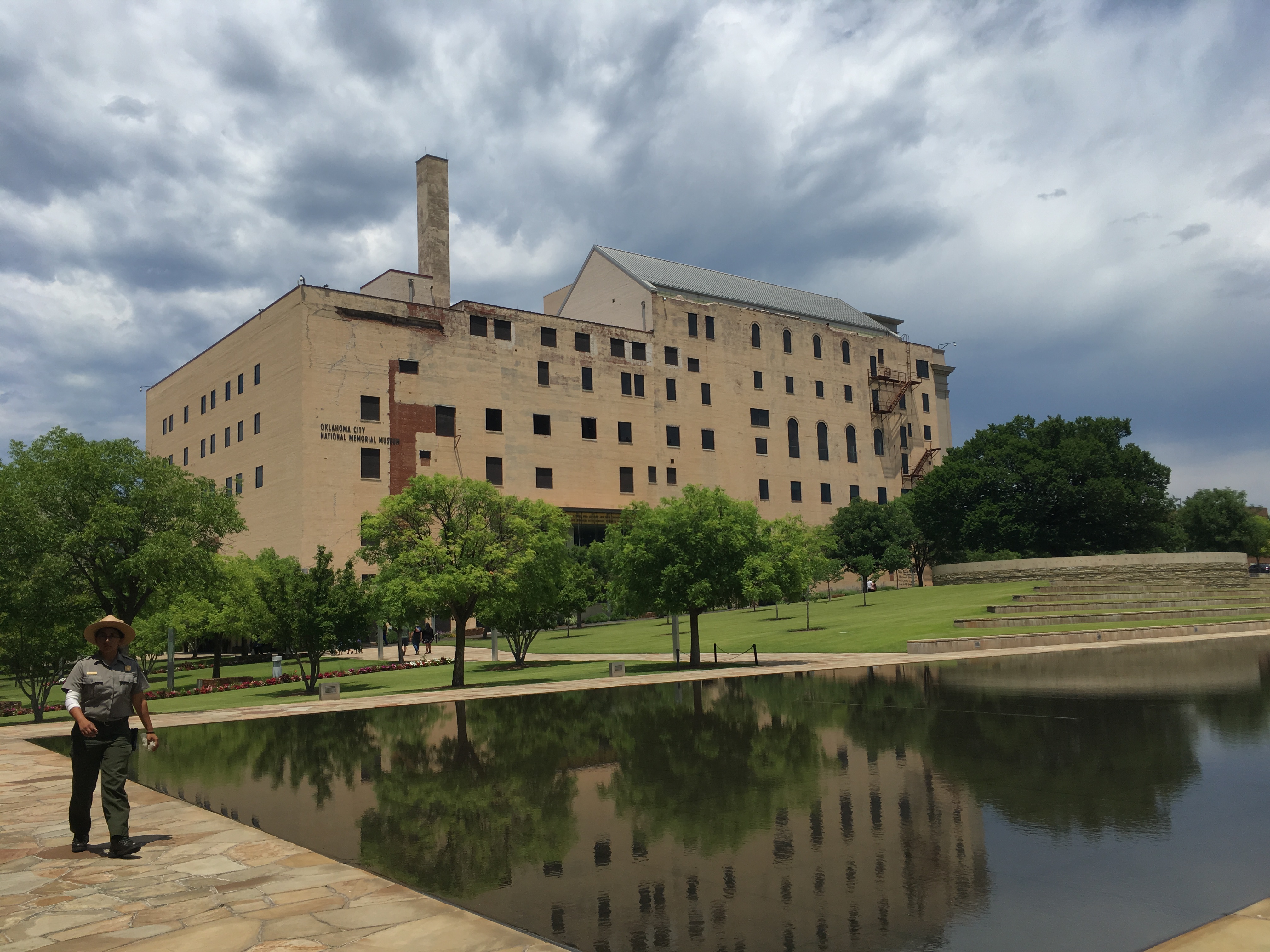 We got in late on Thursday giving ourselves a full day on Friday to sightsee before Saturday's races and Sunday's return trip home. On Friday we woke up and had trendy coffee shop brunch.* Small batch roasted coffee in my belly, I was feeling excited to take on the day. We walked around the downtown core admiring the art deco government buildings and the compact but beautiful Myriad Gardens. The touristy neighborhoods of Oklahoma City are all in close proximity to each other. After the gardens we window-shopped and explored Bricktown, Downtown, SOSA Midtown, and Automobile Alley. Despite the ease of walking from neighborhood to the next, we were the only ones on the sidewalk and many of the areas of town looked like they were abandoned. We stopped in at the Oklahoma City National Memorial. I wasn't expecting to be so moved by the Memorial to an event I hardly remember, so the rush of emotions upon looking at the reflecting pool surrounded by chairs surprised me. I work in a bland government office and I understand that these people could have easily been my co-workers going about their days, waiting to go home to their families.  I wish I would have returned to see the Memorial illuminated at night.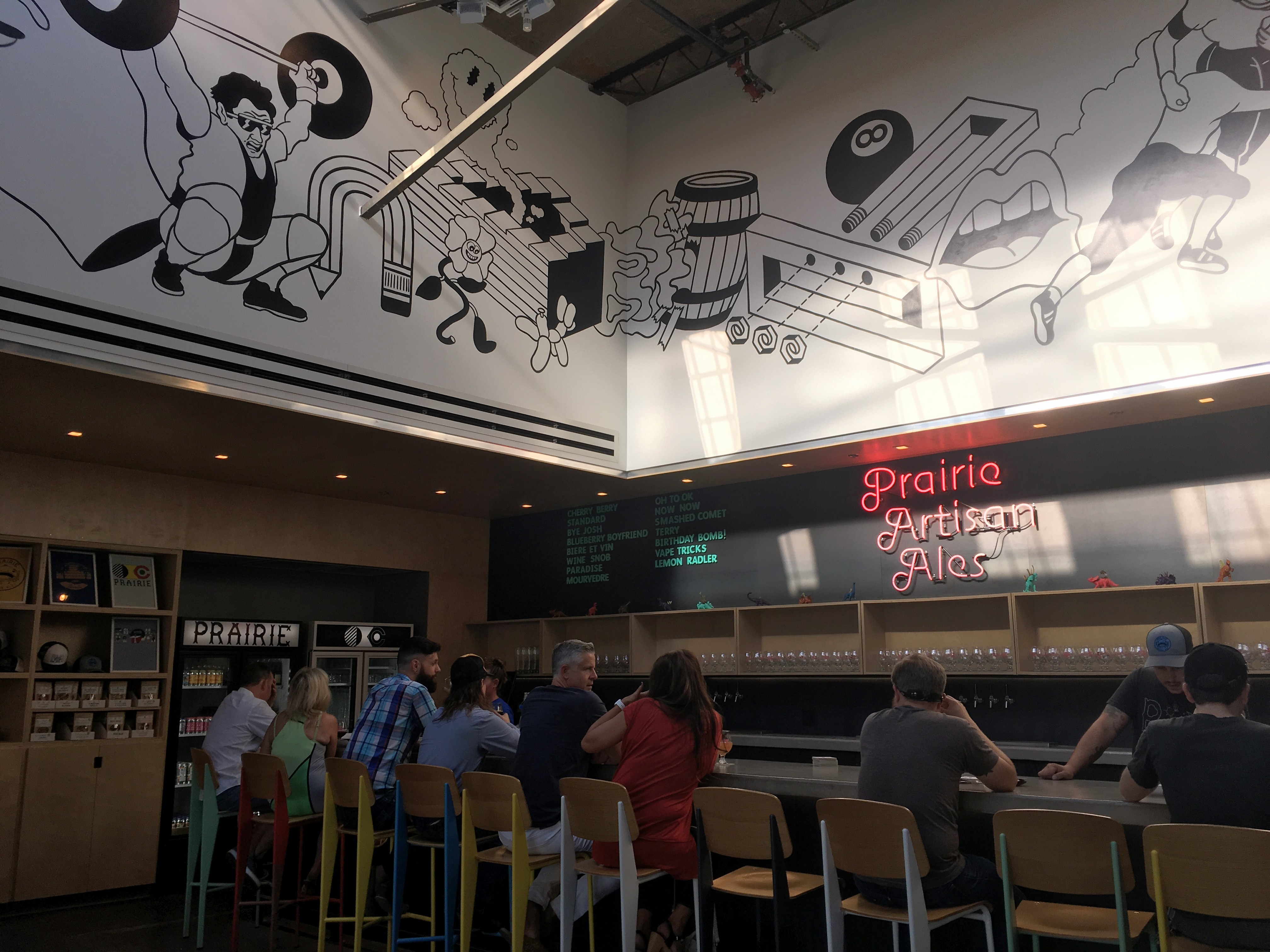 At the end of a long day of walking and sightseeing, it was time for a beer. Not just any beer but a beer from Prairie Artisanal Ales. Started in 2012 Prairie Artisanal Ales produce strong (both in flavor and ABV) beers that are consistently distributed all over the country. No doubt you've seen their Bomb! on the selves of your local beer aisle. I had high expectations for Prairie based on what I had tried from them in the past. I began to be a little concerned after entering their small tab room in the back of a space shared with offices and boutiques. Pretty soon I discovered that this was a small taproom that had opened less than a year ago. The majority of Prairie's beer was actually brewed in Krebs, a small town 133 miles east of OKC. Tap houses had just recently become legal in the state of Oklahoma and Prairie produced and distributed where land was cheaper. Prairie Ales remains proudly Oklahoman even after a 2016 buyout and they continue to make aggressively good beer. We wanted to try as much as we could but even with the four once pours, the strength of Prairie beers made that difficult. We sampled five different beers: sours, IPAs and one wild ride of an Imperial Stout. We cut ourselves off early to prepare for the next day's race.
The Oklahoma City Stars and Stripes Regatta is an annual event held at the Riversports Center, an Olympic training center for rowing. This venue was far superior to the artificial lake in Dallas we raced at earlier in the year. A Regatta is a fancy name for an all-day race of club teams in crew, Dragon Boating and race kayaking competing in short distance races. We competed in three races: a 200m, a 500m and a 300m with flag catch. As the Coolers has more female than male paddlers, I only got to compete in the flag catch, the 200m qualifiers and 200m finals.
The Texas dragon boat scene is pretty small. We race against the same two teams from Dallas and three teams from Houston over and over. The Coolers are pretty good for a Texas team and we took home the silver medal in all three events, including a nail biting 200 meter race where we just barely lost to our Houston Hokelele rivals. Watch our near win!
The trip was a great opportunity to see family and explore a city that I never thought to explore. Oklahoma City might not be on your travel bucket list, but that shouldn't keep you from visiting. With its affordable downtown and influx of trendy stores and restaurants, Austin better watch it's "weird"** back.
*Vegan cauliflower breakfast sandwiches anyone? If want to learn more about this mind-blowing sandwich or any of my other travel tips to Oklahoma city please check out my Frugal Beer Snobs Guide to Oklahoma City.
** Austin is no weirder than your average strip mall.
---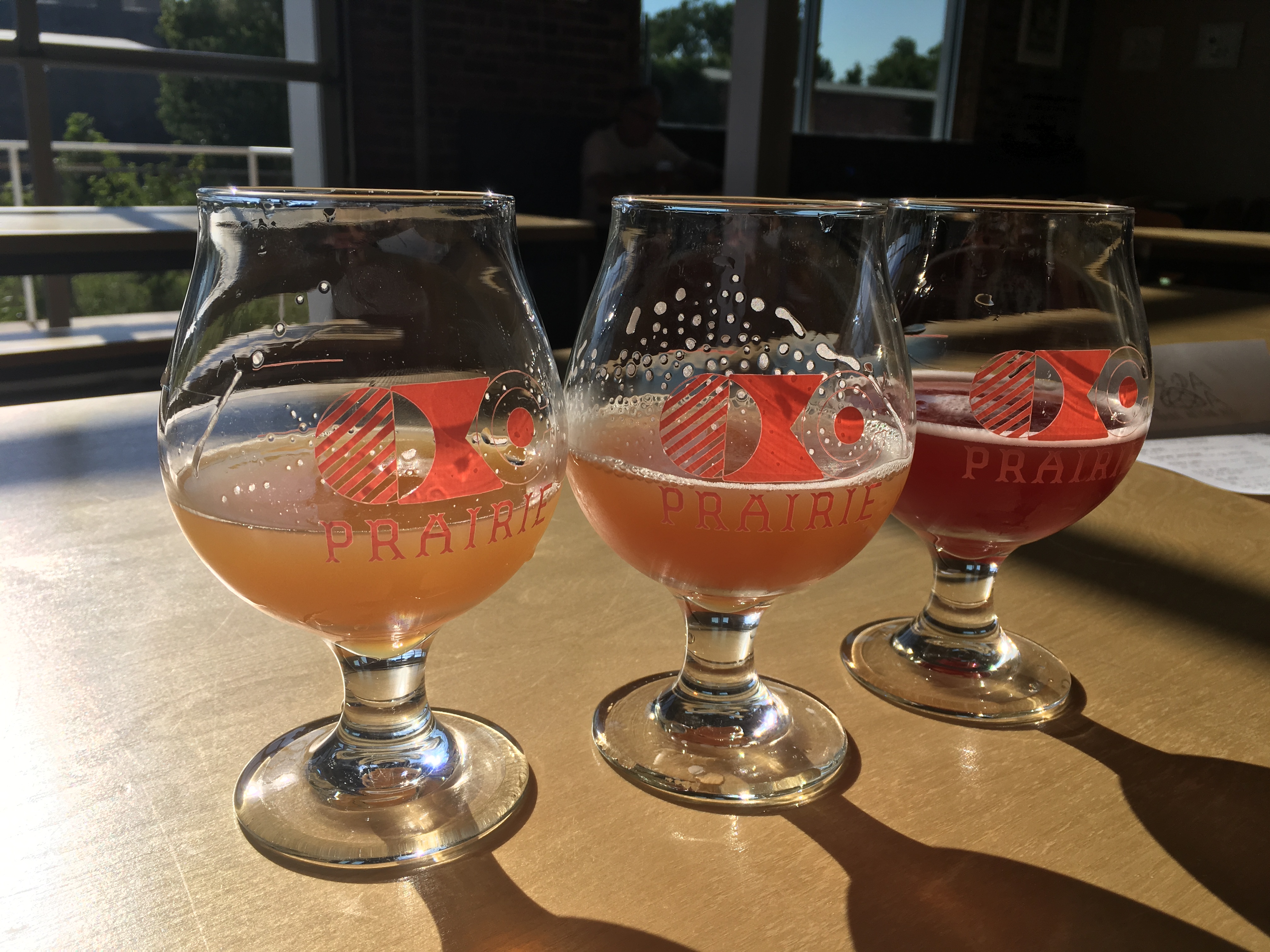 OH to the OK by Prairie Artisanal Ales
New England IPA / 6.7% / 117 IBUs
How can something so dry be so juicy? Yes it's another New England Style IPA, and yes I love it instantly. This beer really stands apart from the crowd of NE IPA's with it's dry, almost white wine like mouthfeel. When you look at the numbers this should be a bitter, boozy beer but the drinking experience is pleasant and unique. Impress your wine snob friends with this one.
Final score: Five out of five dramatic nighttime thunder storms.
Blueberry Boyfriend by Prairie Artisanal Ales
Sour Ales / 5.9% / ? IBUs
Oh baby this is a delicious beer. You know it's good when men and women order it at a beer bar in Bricktown without so much as a grimace at the silly name. This beer was more of a musty sour than a tart sour with no artificial blueberry flavor. It was light and subtle. The type of beer that I crave on a hot day.
Final score: five out of five Dragon Boat victories.
Terry by Prairie Artisanal Ales
Imperial Stout / 13% / ? IBUs
Prairie is know for their heavy hitting, high ABV Bomb! beers. Terry is an Imperial Stout taking a page out of their classic line up. This beer was difficult to drink; a four ounce pour was more than Eric and I could split between the two of us. The beer drank hot, both in alcohol and in slight chili flavor. The beer did have a very pleasant orange zest smell and the bitterness of the coffee came out in the aftertaste. This was a fun beer to sip at the end of a meal but not one that I'll find myself returning too.
Final Score: Three out of thirty-eight cousins visited.