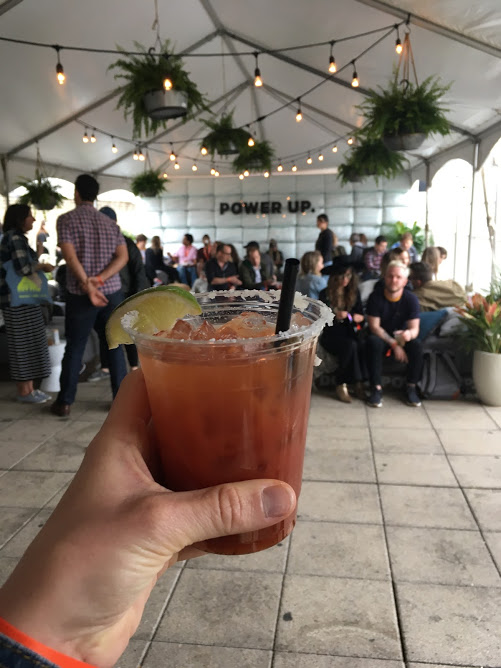 When an out-of-towner thinks  Austin, they think South By Southwest (SXSW). The annual festival of technology, movies, food, gaming and music has become a defining institution for the town and its residents. I knew a few people who have gone in the past and told tales of a non-stop party somehow reimbursed by their respective workplaces. Although I work in technology, I knew my office had no need to pay for someone to spend two weeks downtown networking.
Hey have you guys heard of this cool thing call the government? Imagine paying your taxes via HamilCoin my yet-to-be-created cryptocurrency. Sexy.
The prices of Platinum all-event badges clock in at over a thousand dollars. I took one look at that and wiped the idea of attending out of my mind. I was then surprised to discover that many of the best events of SXSW were "unofficial"; all a shlub like myself had to do is trade my personal email, (next year I'm creating a dummy email) for invites to parties, concerts, giveaways and more. As the event grew closer I began to ask my friends and co-workers about South By. Had they ever gone? Can you really get into places without a badge or credential? How hectic is it? I got the same responses from everyone whether they where 25 or 65. "Don't go. It's a mad house. The entire city is run over by tourists. It's not the same as it used to be. You'll never find a place to park."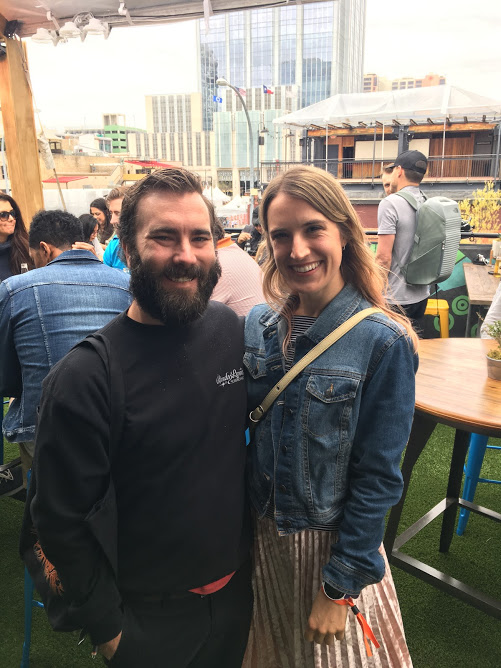 Well tricks on you everyone! Not only do I live a twenty minute walk from the action but I am also not a local. I might fit the description now, having lived here for over six months, but this is my  first time at SXSW and I planned on soaking it all in, lack of badge and local street cred be damned.
I texted my cousin Eric (popular name) who I can always count on being up for a spontaneous adventure.  He booked his plane ticket for the first weekend without skipping a beat. I shared my advice of RSVPing to everything he could find on Twitter and then just walking around the festival, seeing what we could do.
Our weekend started with a brief night out on Friday. Here I learned somehow South By had been under hyped. With no more credentials than a drivers licence, the three of us entered a trendy art gallery that had been made-over into an open-bar party / interactive museum sponsored by—no joke—Land 'O Lakes butter. I got myself a fancy cocktail from the bar and hobnobbed with other guests. I was worried the events would be a non-stop pitch from other attendees; this only happened once or twice. Most people there wanted to have a good time and unwind from whoever had been yelling "blockchain" at them all day in the convention center. Most parties switch from free to cash around 8pm so we headed home just beginning to understand what a long weekend was ahead of us.
For the next 48 hours we never paid for any food or drinks. We explored Austin like tourists and wandered around on a constant search for the next new thing. Instead of giving a play-by-play of the weekend I'll just stick to the highlights.
Catered meals and all the canned coffee you can carry
SXSW knows that giving away free booze without free food would be a disaster. So trust me when I say we ate well all weekend. The variety of the food fluctuated as did the classiness.  The Philadelphia house gave away Tasty Cakes and canned cold brew coffee. Capital Factory had catered box lunches and cold brew coffee on tap. Finally, Vox Media had a catered event with some of the bougiest restaurants in town, and, you guessed it, more canned cold brew coffee. By the end of the festival our fridge was pack with delicious cold lattes ensuring everyone could get their buzz on at the office.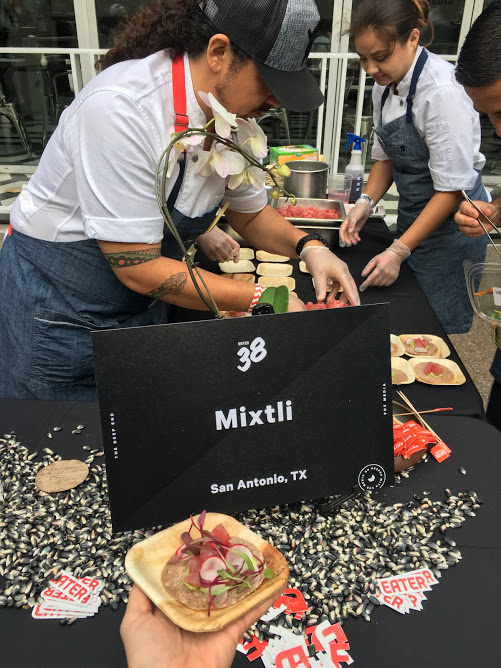 Endless Photo-ops
"Youths today with the selfies and the cellphones, all you need to lure them in is a nice background and a photographer," murmurs some ad exec on the penthouse floor.
I plead – guilty.  Whether it was a ball pit at the Mashable House or a set that made you look like you where dining in a private yacht, I took plenty of silly photos. SXSW is mostly an exercise in marketing after all.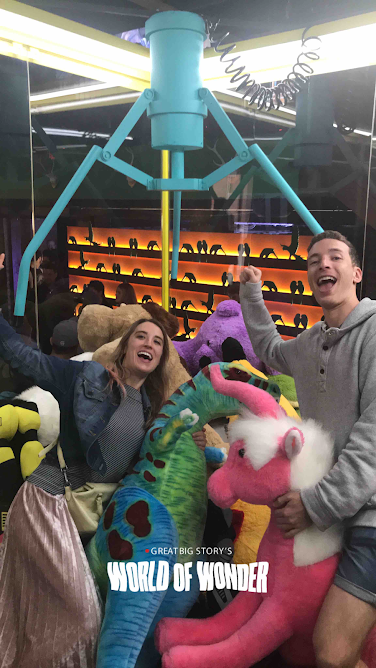 Parties sponsored by cities and countries
Now this took me off guard. I expected parties and installations by big tech corporations. What I didn't expect was to munch on a free veggie brat while sipping my free flat white courtesy of the nation of Australia and Hugh Jackman. An incomplete list of countries and cities I saw with a presence at South By include: the Netherlands, the EU, Scandinavia, Peru, Brazil, Belgium, the United Kingdom Music experience, Tulsa, Atlanta, DC and Philly. These places had traditional snacks (Tim Tams, stroopwafels) and local musicians. The BBC covered this trend brilliantly.
Gatorade
Who would have thought that Gatorade would host one of my most memorable experiences at SXSW? The sports beverage company took over a bicycle shop making it look like a small convenience store that only sold Gatorade products.  Upon entering we completed an AR (augmented reality) scavenger hunt and got ushers though a secret door designed to look like a fridge. Once inside, their was a host of VR (virtual reality, think headset) games and other rad interactive experiences. I had never used a VR machine with higher processing power than a phone so I was blown away with the experience of Peyton Manning yelling at me while I poorly lobbed footballs. Don't forget about hydration! Gatorade might have lacked the open bar and fancy food, but the care they put into the experience transported me into their brands version of Disneyland. Well done!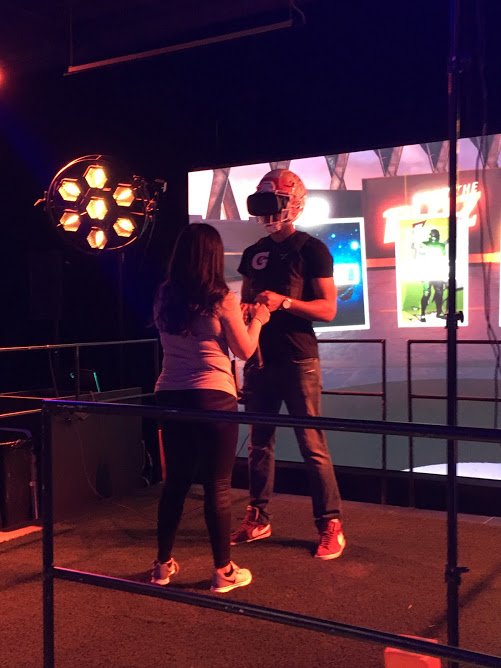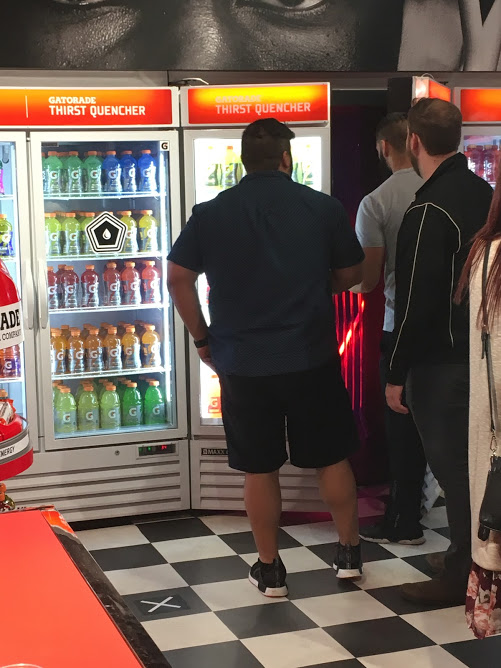 Visiting Westworld
All the other events I have mentioned so far need little more planing than searching the hashtag #SXSWRSVP on Twitter the night before the festival. Getting my invitation to the most hyped experience of the festival took me a lot more finesse and skill. Nevermind, all it took was me stalking Twitter and immediately jumping on the opportunity to register for the "Live without Limits Experience". Little did I know that I had just scored tickets to the hottest event in town.
If you are like me and have never seen Westworld, the premise is this. Imagine Frontierland with human-like robots who you can befriend, kill or sleep with.  The freedom is yours! In the SXSW Live Without Limits Experience, all the robots are actors (duh) so to quote Cuzco – "No touching".
Eric and I arrived at the converted bar on East Cesar Chavez to be greeted by a bunch of very attractive models wearing all white. They offered us some juice and a black cowboy hat. Because bad guys, like blondes, have more fun. After around twenty minutes at the lounge, our bus arrived to whisk us out of town and to the city of Sweetwater, a location HBO spent over four months renovating and filling with actors to complete the experience. Once arriving in Sweetwater, Eric and I had 90 minutes to explore. I had an awkward chat with a host about potatoes which was blessedly broken up by the sounds of men and women yelling in town. A gun fight had broken out where a guest going undercover as a host has killed another guest. This caused the entire simulation to restart with men in white helmets walking around town. About this time Eric and I watched a samurai slowly walk by and we thought to ourselves "maybe we should have watched this show in advance?"
After the gun battle, I watched Eric get a straight razor save, picked up a letter addressed to me at the Post Office—the Sheriff was warning me that my reputation proceeds me—and had a mighty fine old fashioned from the saloon. All the actors were impeccable and as the number of actors equaled the number of guests, it was easy to be swept along. Then suddenly, about 45 minutes after we arrived, all the actors broke character telling us to return to our bus. Over by the entrance we saw a bunch of cameras, boom mics and photographers following around a few people. I looked them up after they walked by and it turns out Evan Rachel Wood and Jeffery Wright kicked us prematurely out of Sweetwater. Rude!
Here is Vanity Fair's write up on the event, because SXSW is the type of place where a humble beer blogger like myself will be invited to the same events as Vanity Fair reporters.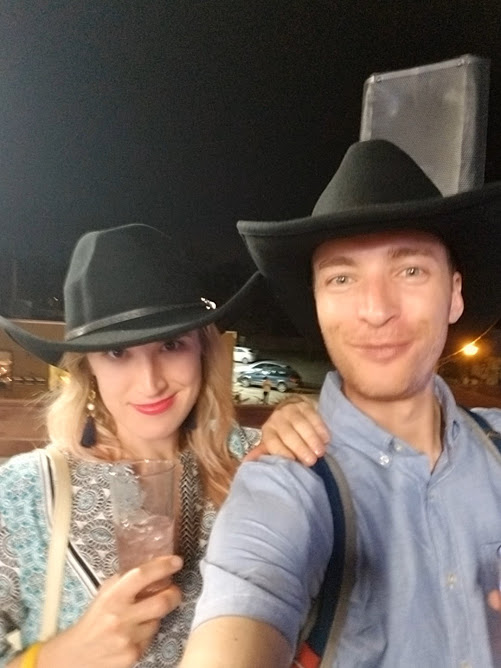 ---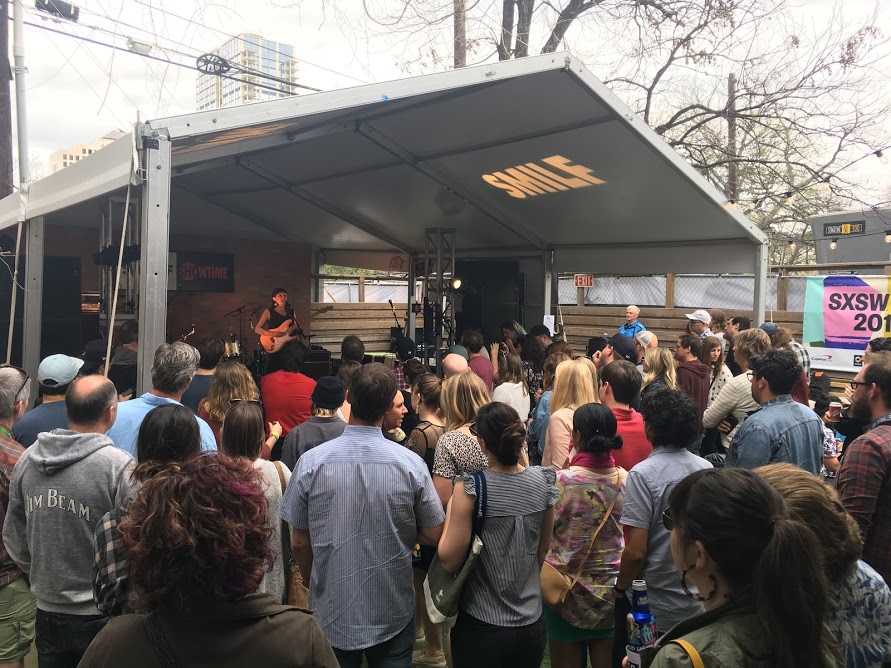 Somehow after all of those events and (cousin) Eric's departure we decided to try going out the next weekend for the musical part of South By. The music festival is known to be a place where artists get discovered. This combined with my honestly pathetic knowledge of music in general, made it so I didn't know any of the hundreds of bands who performed all over town. That didn't stop us from taking in as much free music as we could handle. We saw country music at the YETI store, rap at the Tulsa house, we ate Tim-tams while watching folk at the Australia house, singer-song writers at the Showtime experience, punk at a boutique Volcom had made into a skate park and finally ended our night at a party thrown by our neighbor at a dental office. Austin looks very different during the second weekend; gone are the hoards of men in button up shirts hunched over their phones and the town was transformed into a diverse mecca of style. Austin is a very segregated city, which you notice even more after the population shifts for just one weekend. That all being said, I think I had more fun the first weekend at SXSW Interactive. The amount of effort brands put into their "experiences" was wild and over-the-top. I can't wait to see how they try to beat it next year! If I haven't turned into a jaded, bored Austinite by then, that is.
---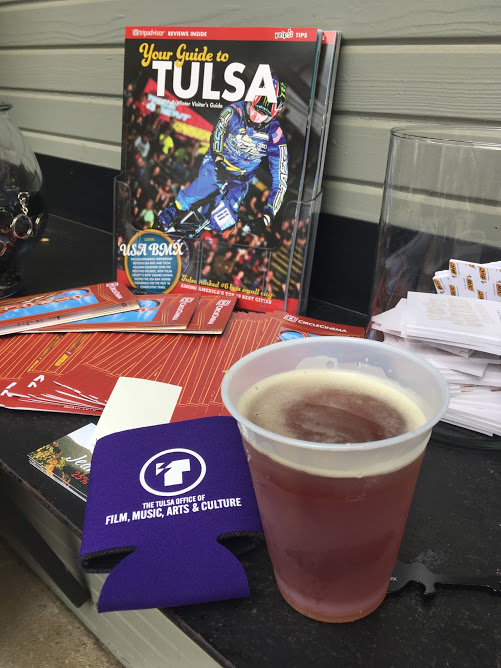 As crazy as it sounds, I didn't drink much beer over the ten days of SXSW. With bars offering up such interesting cocktails, I wanted to take advantage of drinks I wouldn't normally try. I did try one local beer at the Tulsa Experience – yes Tulsa, Oklahoma sponsored a house – to review.  Isn't this a beer blog after all?
Thirsty Goat Amber by Thirsty Planet Brewing
American Amber / 6.5%/ 30 IBUs
I've heard about this brewery ever since moving to Austin. This Thirsty Goat Amber is a mainstay craft option that you can find even in the small macro-lager loving convenience stores. I don't often enjoy ambers so I shied away from the beer until now.  I was surprised by the high ABV while writing this blog. The beer was very light in body and flavor. It was slightly bitter without much else to it. I'm a big flavor kinda gal—which certainly doesn't mean "better beer"—so for me at least, this was a disappointing pint.
Two out of five "Immersive Brand Experiences"