Welcome to my final "What We Ate" post. For a trip where I was complaining about the food so much, this list is making me nostalgic-ly hungry. Not for Guinea Pig though, one try was more than enough of that. 
Cremoladas
What started on a whim in the heat of the day in Chiclayo turned into a full blown addiction in Huanchaco. Cremoladas are frozen fruit slushies that are lighter than ice cream but made with the hyper ripe local fruits. I've had flavors ranging from lime to cappuccino but coconut and mango (we're in peak mango season) is nearly impossible to beat.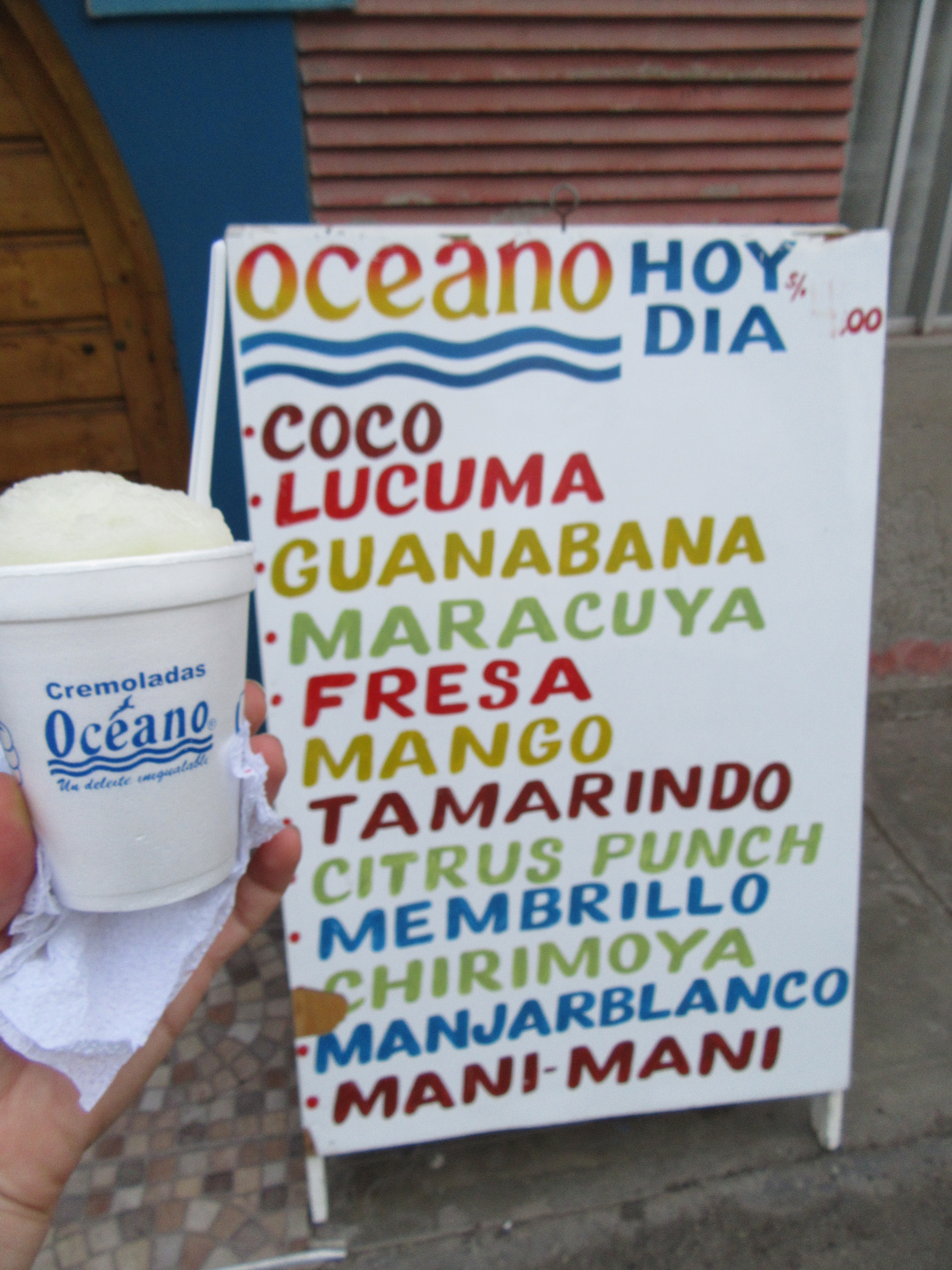 Ceviche
The best known Peruvian dish for a reason. Raw fish quickly cooked in lime juice is light and refreshing in a country known for endless starches. I haven't gotten to eat this as much as I'd like, ceviche not being as popular in the highlands. Some of the best ceviche was from the northern coast where we returned again and again to eat their 10 sole menu ($3 USD).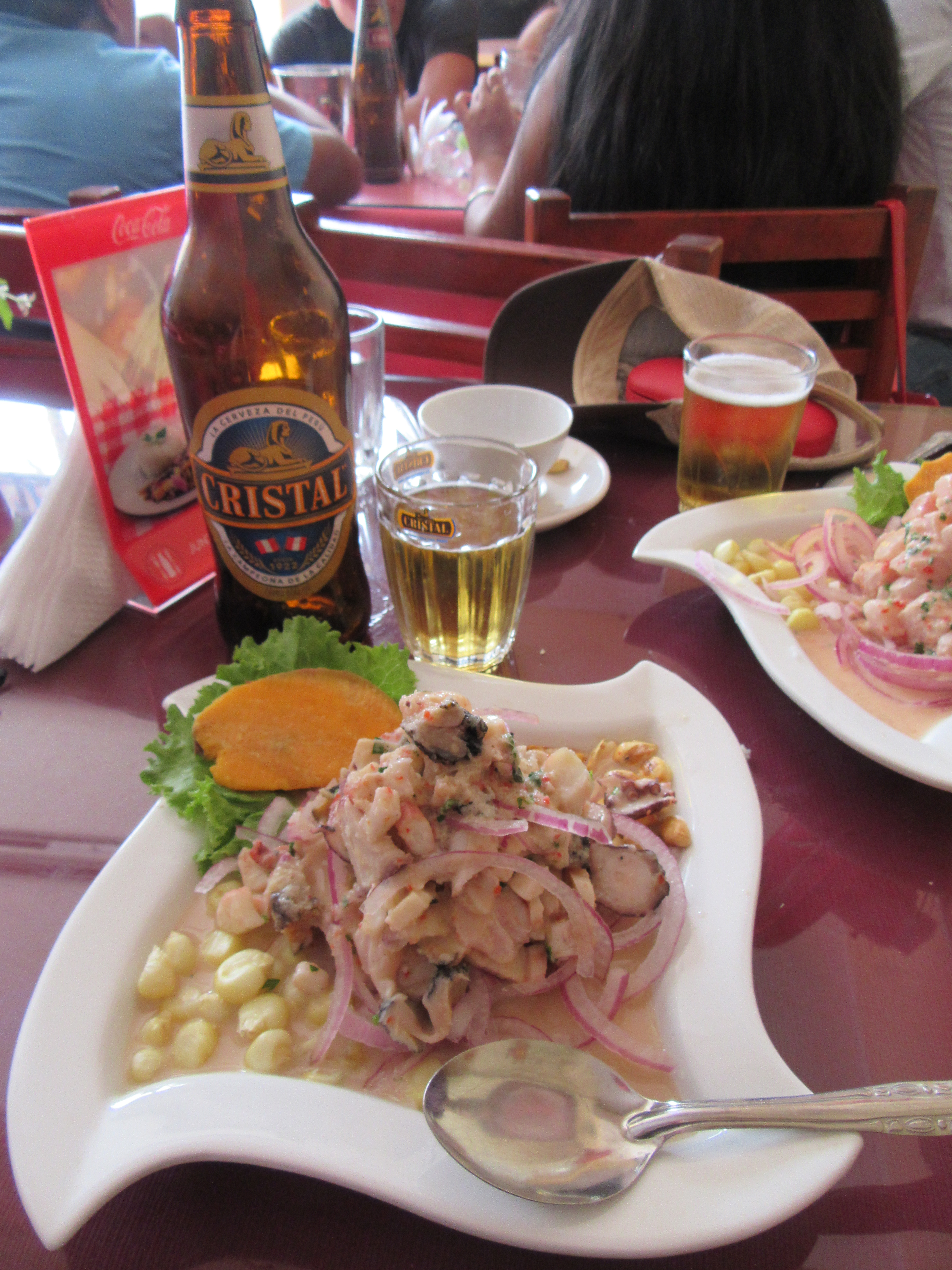 Endless amounts of Trekking Carbs
When Eric and I hiked our four day trek in the Cordillera Blanca, our guide Abel made sure we were well fed, like five meals a day well fed. I love to eat and hiking upped my appetite yet the quantity of food was too much even for me. Breakfast of pancakes, lunch of sandwiches, post-hike snack of pasta soup and of course dinner of potatoes, rice and more pasta. I'm writing this just to let you know that if I come back plus 200 pounds, I'll know what food group (and tour guide) to blame.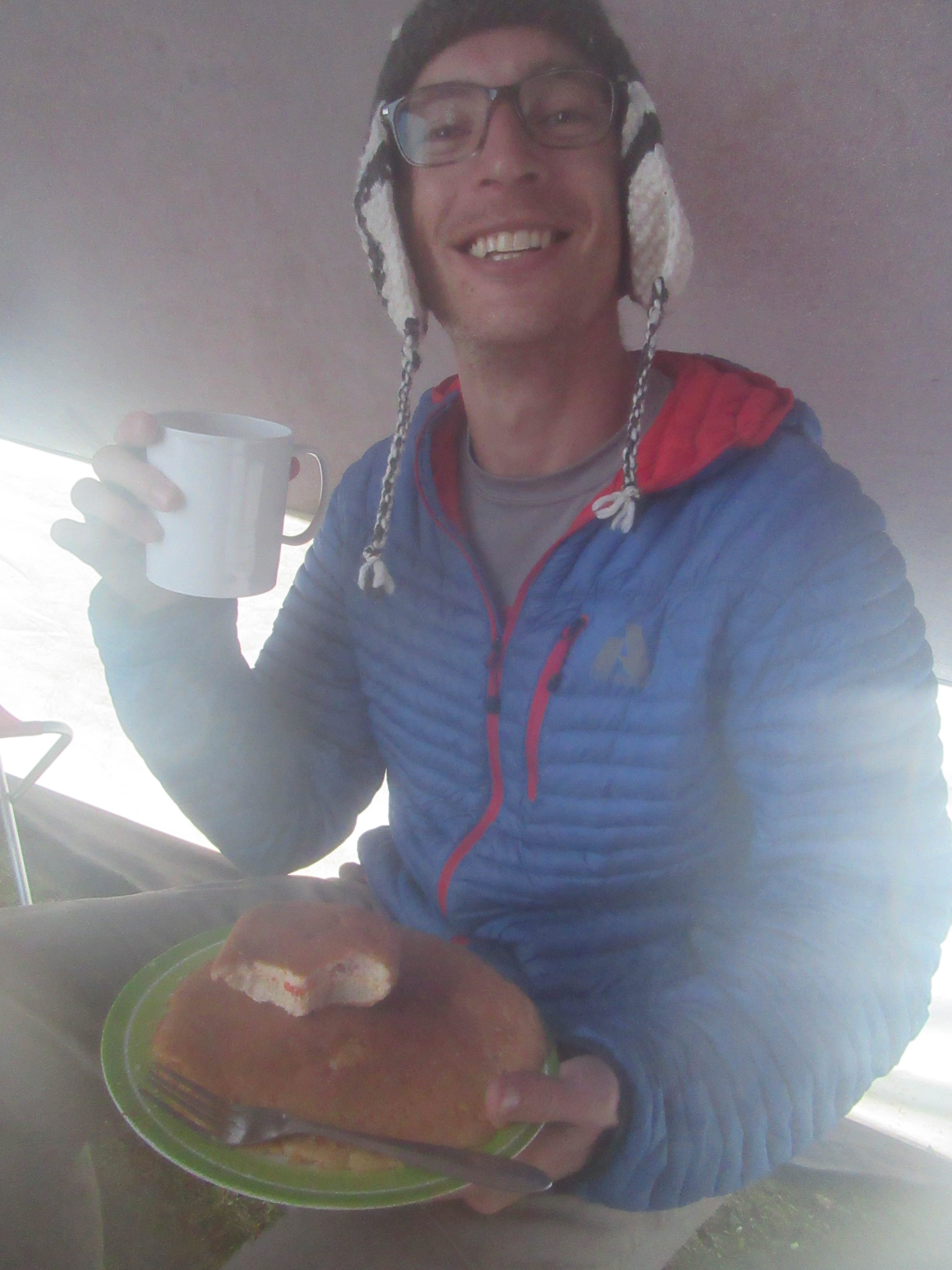 Cuy
Imagine that shivering hairy rodent in every middle school classroom. Anyone hungry? Yeah me neither. Guinea Pig was one of the few domesticated animals available in the highlands. Llama, alpaca and guinea pig were the options at an Incan all-you-can-eat steakhouse. We knew we had to try it. Imagine a tiny quail, all dark meat with very little meat on it's bones. Now cover it with fur, give it teeth and throw it in a deep fryer. Voila! You now have the experience of eating cuy.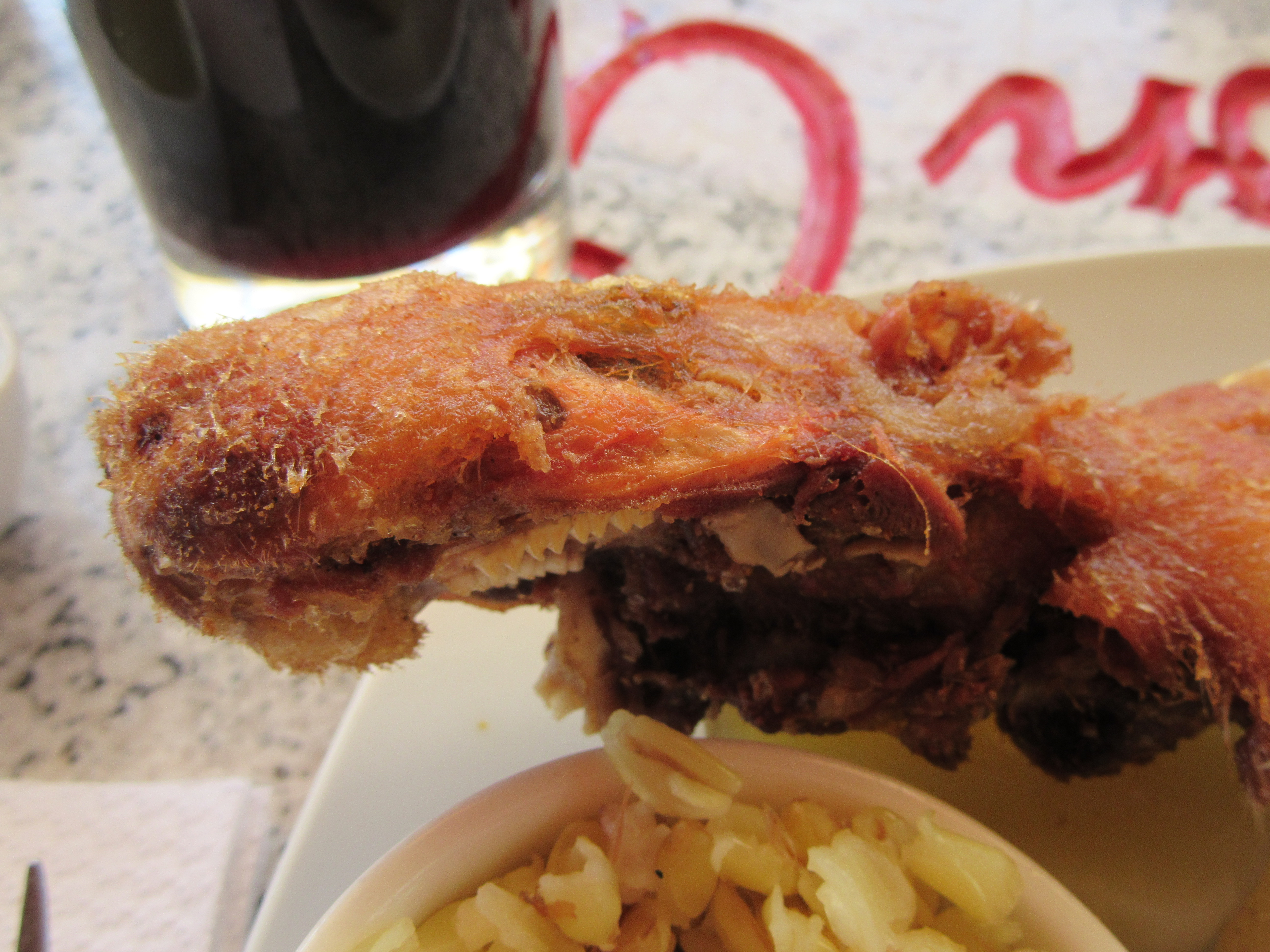 Mondongo
I didn't expect to like mondongo but we were stuck in Huancayo with nothing to do. Many of the menu signs* around town mentioned that they had a Sunday-only dish called Mondongo. Eric asked what it was and we learned that it was mote and beef tongue. Eric being a tongue fanatic had to try so we each ordered a bowl and sat down. What came out was a hearty broth with small chunks of tongue for flavor and large amounts of floating mote. Mote is a boiled corn, also known as hominy. I have no idea if it was the state of my hunger after days trapped in the Andes but this dish was a treat. Great broth and plenty of yummy corn without a potato in sight.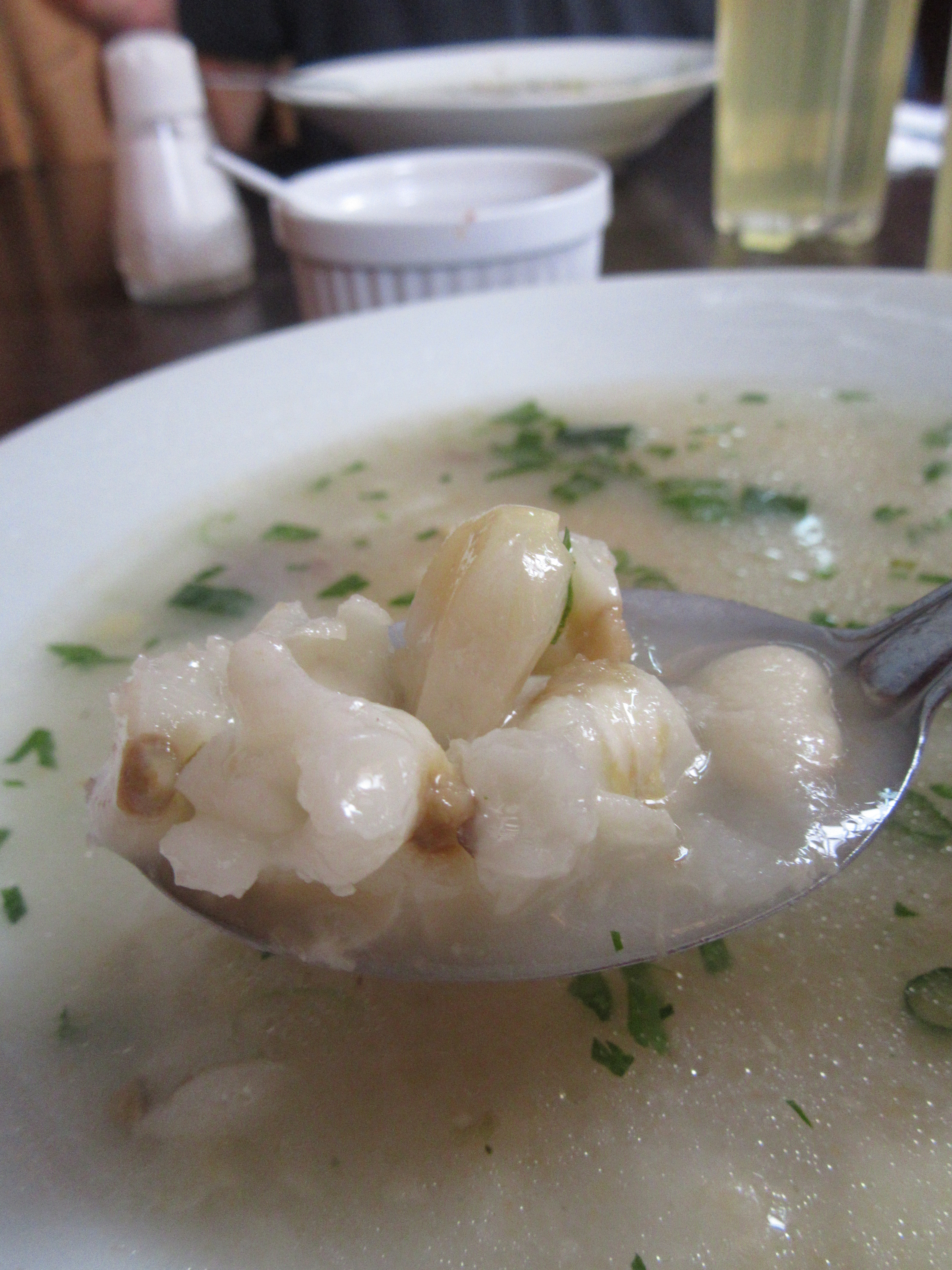 Quinoa Breakfast Drink
You see this quick and easy breakfast drink sold on every street corner in the Andes. It's a warm cup of sugary grains, mostly quinoa but often oats or rice, served like drinkable oatmeal. It is a consistent choice for a meal on the go although I couldn't take the calorie bomb that made it such a hit with laborers and other busy workers.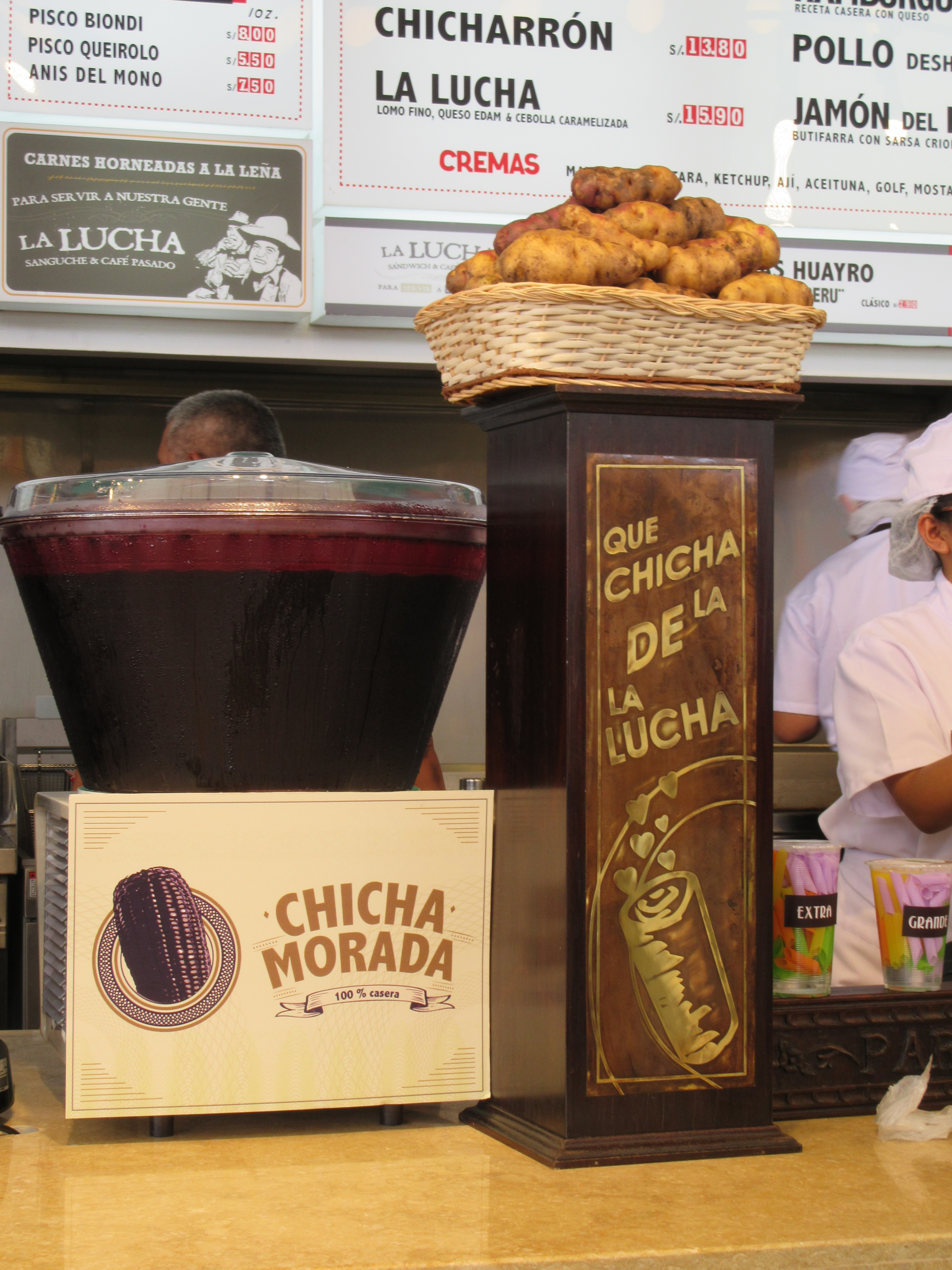 Llama Lomo Saltado
Cheers to East Asia for its immigrants giving Peru all of its best dishes. Japanese immigrants created ceviche and the Chinese brought the ingredients and cooking style for Lomo Saltado. Despite this Peru, and South American in general, should stop trying to make Chinese food as it always goes horribly wrong (see Chifas below). Lomo Saltado was one of the dishes we learned to cook in out cooking class in Arequipa. Lean cuts of beef (or in this case llama) is cut into cubes, stir fried with pisco, onion, pepper and soy sauce before being served on a bed of, you guessed it, fried potatoes. It was a simple recipe and having it with llama was a good twist. I rarely eat meat and I found it lean and tender. I don't think I'll be seeking out more at home however; they are much too cute to eat.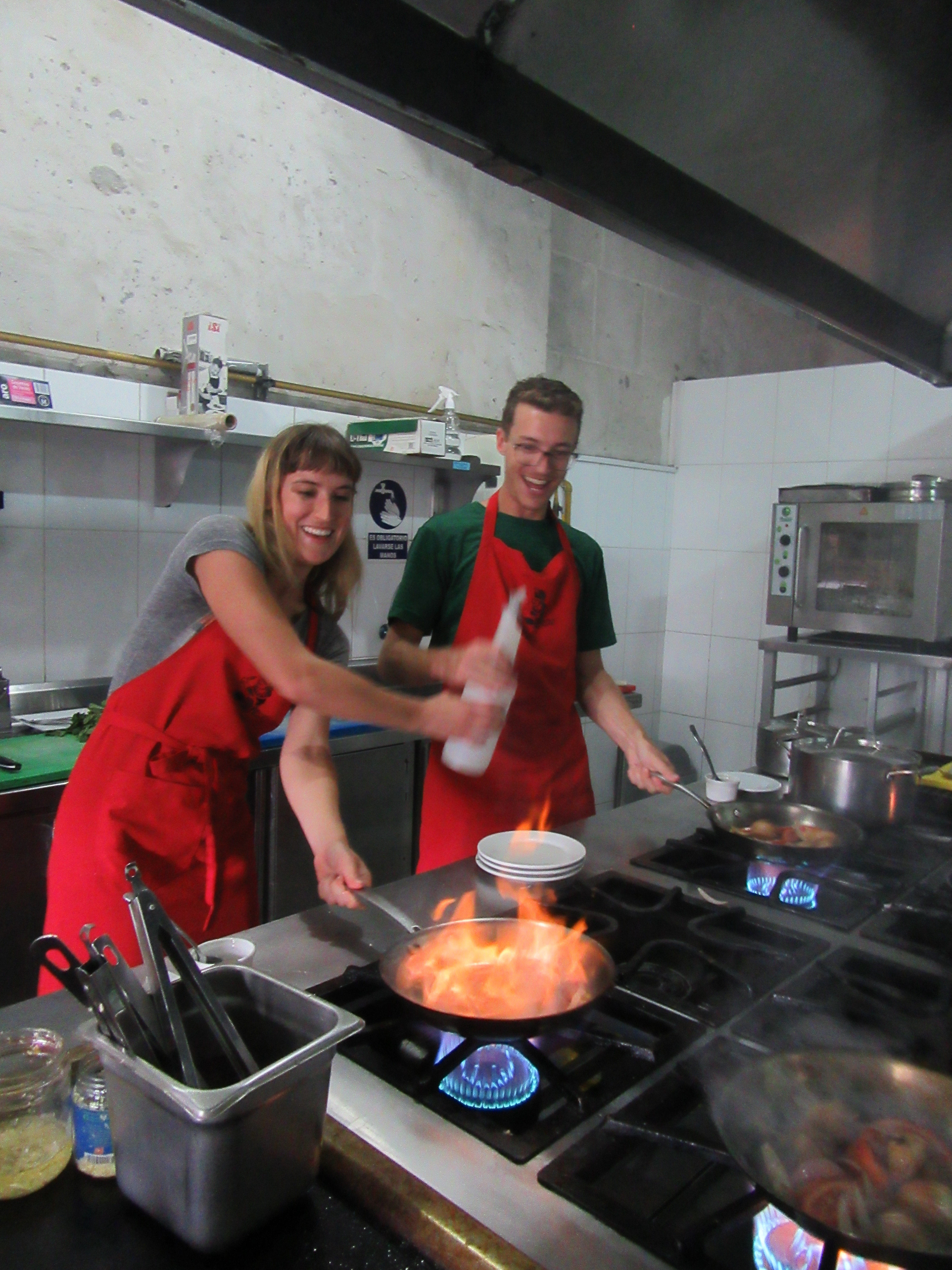 Chifas
Peru loves Chifas, as I found out being trapped in the miserable center of the country for weeks longer than I had planed. Towns like Huanuco don't have anything resembling tourist restaurants and sometimes you can't get any set menus. This is when Eric and I would make the continued mistake of ordering Chifas. Chifas can be found in Ecuador, Peru and Bolivia. The Peruvians love it with a certain type of adoration that terrifies me. Chifas is "Chinese", aka massive mounds of extra greasy fried rice. Occasionally I've seen noodles but mostly rice (at least four cups of white rice) fried with chicken. No vegetables other than a speck of orange carrot here and there. We would desperately turn to these places, trying something other than rice from the menu but alway being repulsed by the amount of grease. These places are always packed with celebrating happy families downing liters of Inca Cola. As for me, I would have killed for a vegetable.
Inca Cola
The eponymous neon yellow soda sold everywhere in this country. I had seen it in Ecuador as well, but decided to wait until entering Peru to try it. I wasn't missing out.
---
Inca Cola by Coca Cola Inc
Soda / 0 % / 0 IBUs
A sickly sweet bubble gum / cream soda flavor doesn't pair well with anything other than hypertension. I like to drink them to cut the coastal heat as it is one of the very few drinks you can find in a "diet" version.
*Menu or almuerzo is the largest meal of the day for Peruvians. It's the mid-day meal and local restaurants sell set menus where you can pick from five to ten options and includes a drink and a soup or potato appetizer.