As an avid food blog reader and eater, I would be remiss to not cover the highs and lows of food we ate during our four month trip. Although foods commonly varied from town to town and region to region, I broke it up into countries. Hold on to your Papas!
The Good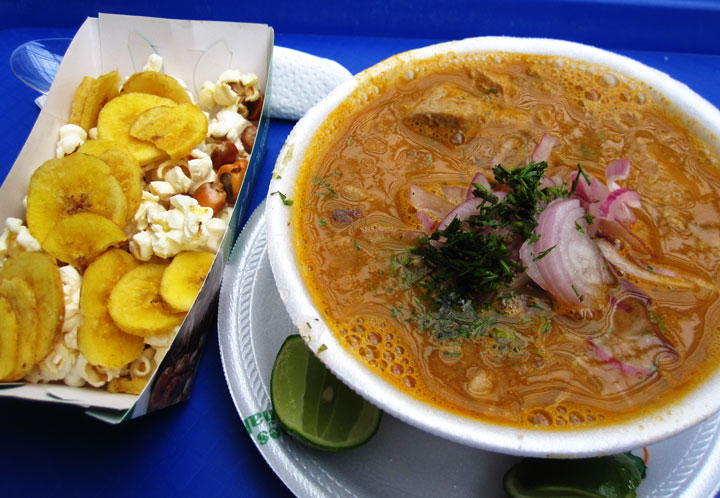 This dish might be the one thing I continue to crave long after this trip is done. A tomato and fish soup made with canned tuna and pickled red onions, this staple food is usually served tepid with popcorn, banana chips and mote on top. It can be eaten for breakfast or lunch and is a hearty meal thanks to the included potatoes and yuca. It's a great option at traditional restaurants when I wanted something other than chicken and rice.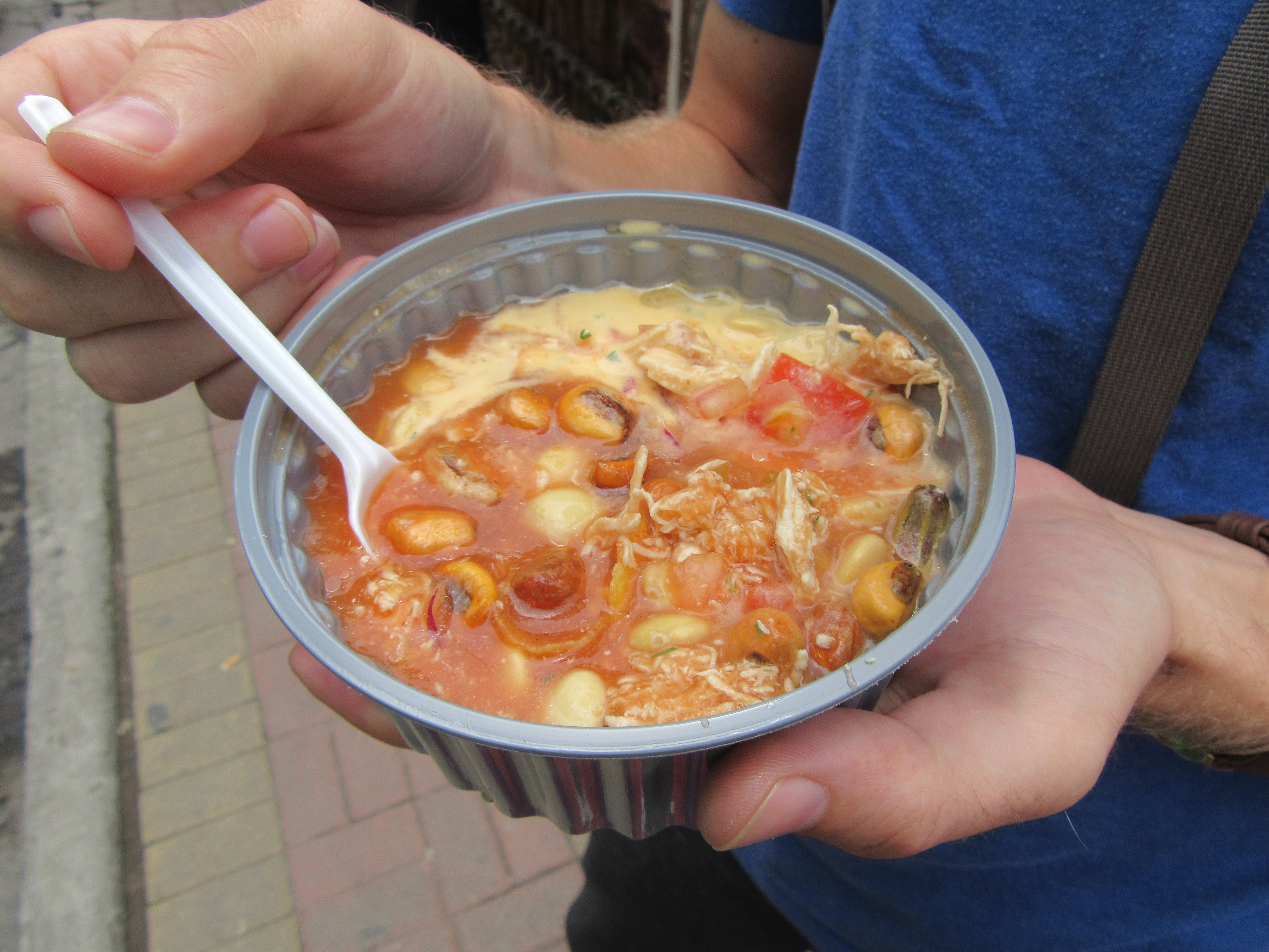 When I first heard about this dish it sounded too good to be true. Vegan ceviche? It turns out it was a little too good to be true. Ceviche de Chochos (or Cevichochos as it's known on the streetz) is commonly sold from street vendors and included mystery pork pieces. We would ask for it meatless, much to the dismay of the vendors. Ceviche de Chochos is a refreshing, vingery mix of multiple types of corn, beans, onions, tomato sauce and banana chips. Found all over the country, the dish is Andean in origin and salty magic in your mouth.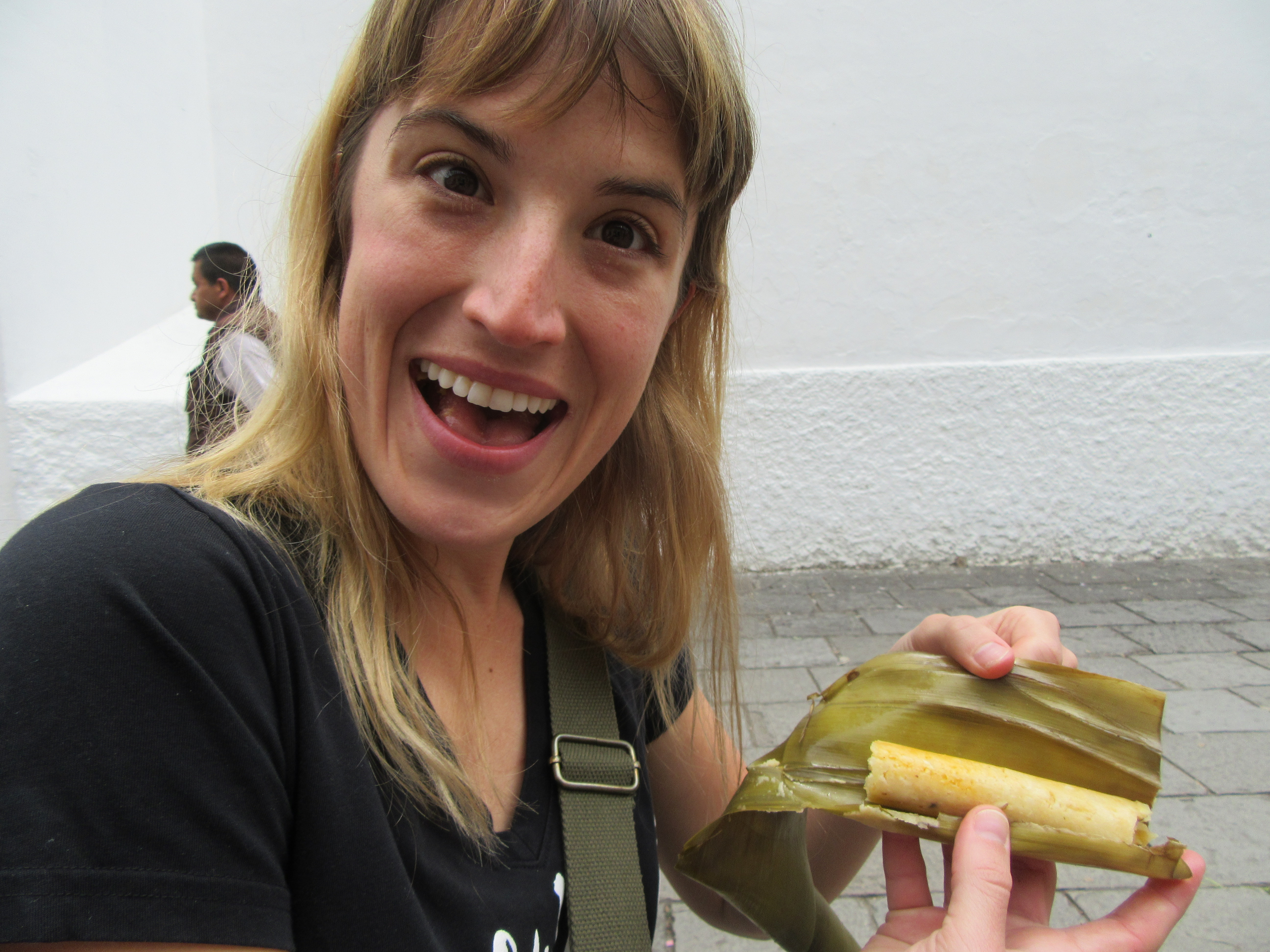 Street/Bus snacks
Eric and I have a bad habit of eating a large breakfast around nine then walking around all day until we realize that we are starving at four pm. This means we miss the main meal of the day and are stranded until dinner places open around seven. This meant that we had to try different street snacks to tide us over. Ice Cream was a popular choice but we had a few other stand out snacks including queso tamales, sliced green mango with salt and moist fresh banana breads which were sold to us by a vendor on a bus and was so hot that we had to let it cool before eating.
Pasta de Mani
Yes, that just means peanut butter. Travel in South America can be tricky for me as I try not to eat meat. Also the endless succession of bus rides means that we need something portable to eat (sadly banana bread isn't always available). Enter peanut paste: this peanut butter clone can be found in the refrigerated sauces and marinades aisle in large supermarkets. Don't fall for the nine dollar jars of imported Jif! Pair with your favorite salt crackers, chocolate if you're feeling indulgent, and enjoy!
Breakfast / Desayuno
A handful of times this could be an incredible meal. Anytime breakfast included fruit or drip coffee, it was the highlight of the day food-wise. However, the majority of breakfasts in Ecuador were white bread rolls with salty cheese – which I quite liked- eggs, and juice. Neither great or horrible, breakfast would fill us up for the majority of the day. What I miss the most about breakfast at home is real coffee.
Fruit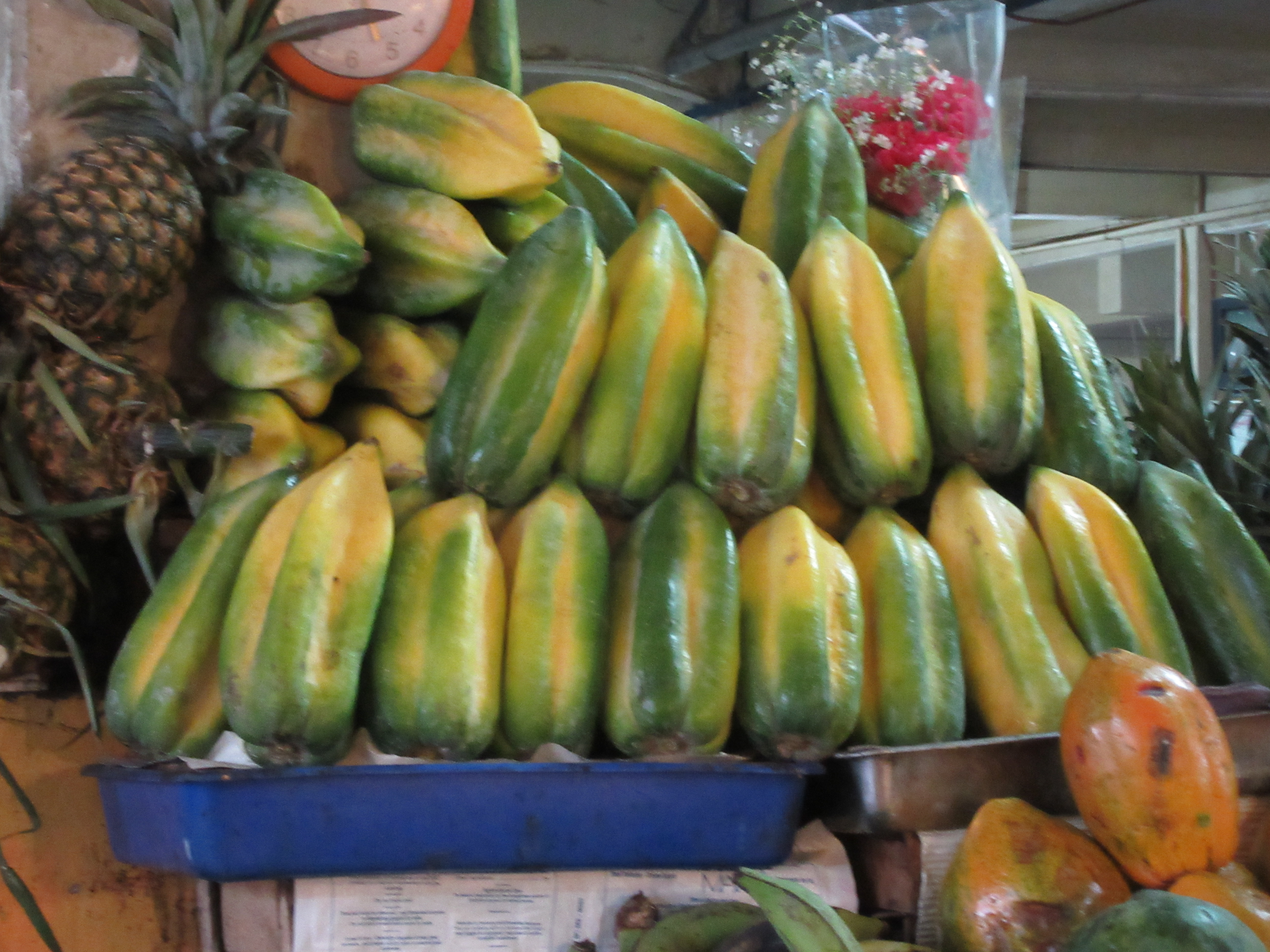 Oh the joy of fresh fruit in this country! We were able to pick up a juicy dragon fruit to split for breakfast for under a dollar. The pineapple, mango and bananas have all been great but the really exciting part of Ecuadorian fruits are the ones I have never tried before.
Tomate de Arbol or Tree Tomato: Imagine a tomato mixed with a basil plant. That is what this lightly sweet, massively herbal fruit tastes like. I am an admitted tomato hater but I grew addicted to this fruit especially blended into a juice at breakfast.
Babaco– A huge fruit that turns from green to yellow when ripe, the babaco is a native cross between a mountain papaya and another unknown plant called a toronche. It tastes light and tart, like a refreshing melon without acidity.
Yogurt
Ecuadorians are mad about drinkable yogurt. They devote the entire refrigerated section of the grocery store to it, kicking out eggs and milk. Eric and I commonly found ourselves slurping on handheld yogurt like grade schoolers. The yogurts are sold in all sizes from single serving to two liters. The most common yogurt "mix-ins" are chocolate M&M's but you can also find frosted flakes or, on occasion, low-fat flavors.
The Bad and Sometimes Ugly
Coffee
You might think that Ecuador would have good coffee. It shares a border with Colombia after all. Unfortunately coffee is a luxury product and therefor it's all exported leaving the local population to make do with cheap, shelf-safe instant coffee. When your order a café, you have no way of knowing how it will come out. It could be a large carafe of pre-made instant, a cup of hot water or milk with a jar of dehydrated powder, or a cup of hot water served with a small pot of highly concentrated instant. The one consistent factor is at all tastes awful.
Set Lunch / Almuerzo
An almuerzo is a set lunch. Lunch is the biggest meal in Ecuador and the restaurants will fill with people between one and three. They offer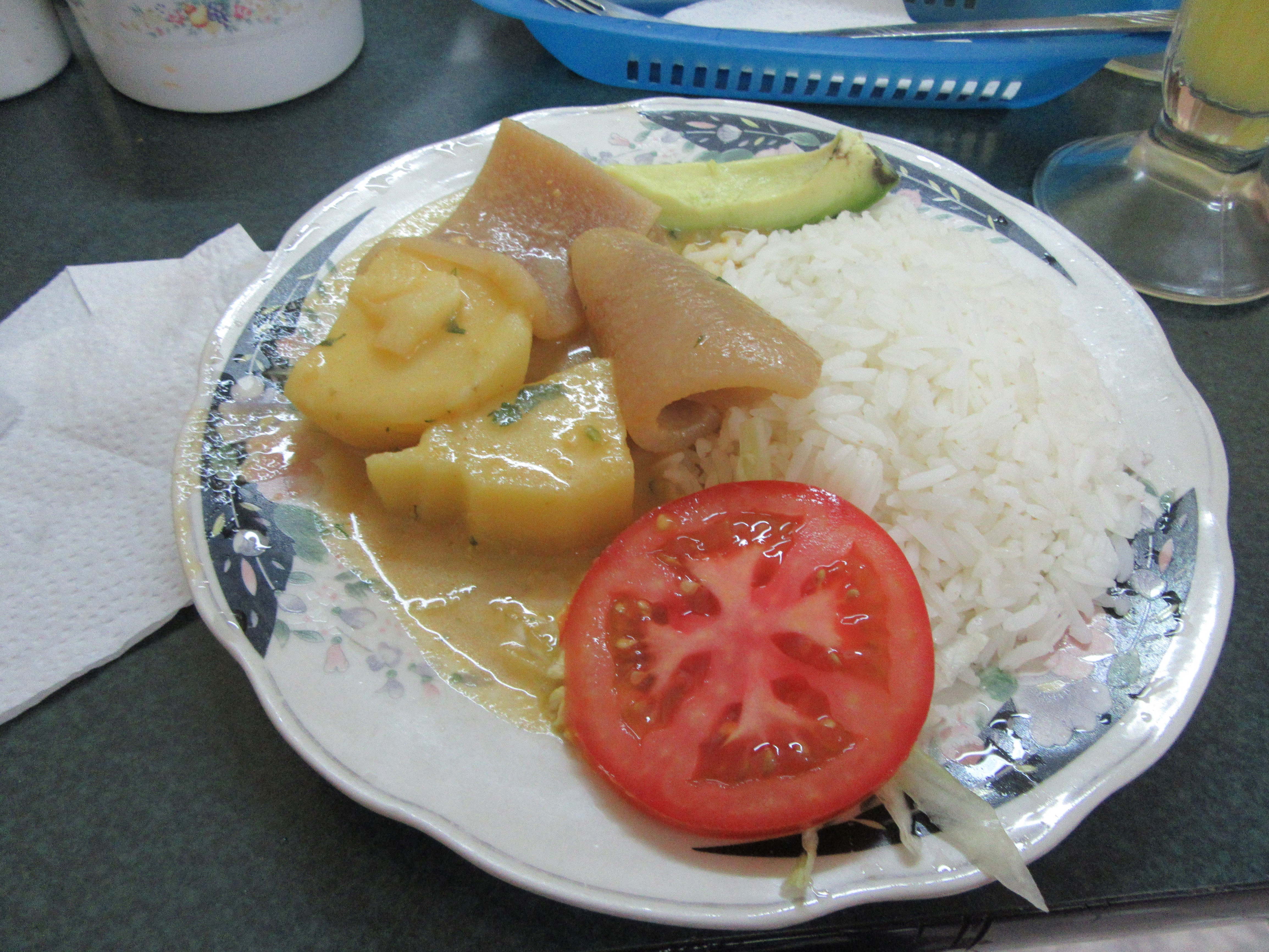 a small selection of mains and cost anywhere from $2.50 to $5.00. The set lunches include a juice, a soup and a main. The nicer ones will throw in Jello for dessert. This sounds like a great deal and financially it is. However, I quickly got sick of potato soup and the main which consists of a large scoop of white rice with a piece of chicken and potatoes. So much starch! I grew desperate for vegetables pretty fast.
Hot Sauce / Aji
I like to pretend that I am Beyonce and keep hot sauce in my bag, swag. I like food spicy which Ecuadorian food is decidedly not. We sampled many different varieties at restaurants even picking up the most promising looking bottle at a supermarket. Nope. All hot sauces tasted like heartburn inducing vinegar bombs lacking any heat. The house-made sauces in the restaurants were a little better but they were usually sweet with a tree tomato base.
Macro Beers
Read through my previous blogs to learn about the underwhelming world of Ecuadorian macro brews. The "top shelf" of the macro beer scene here is Club which we tracked down in three different varieties and while none of them were great, they were all memorable very much like Ecuadorian cuisine.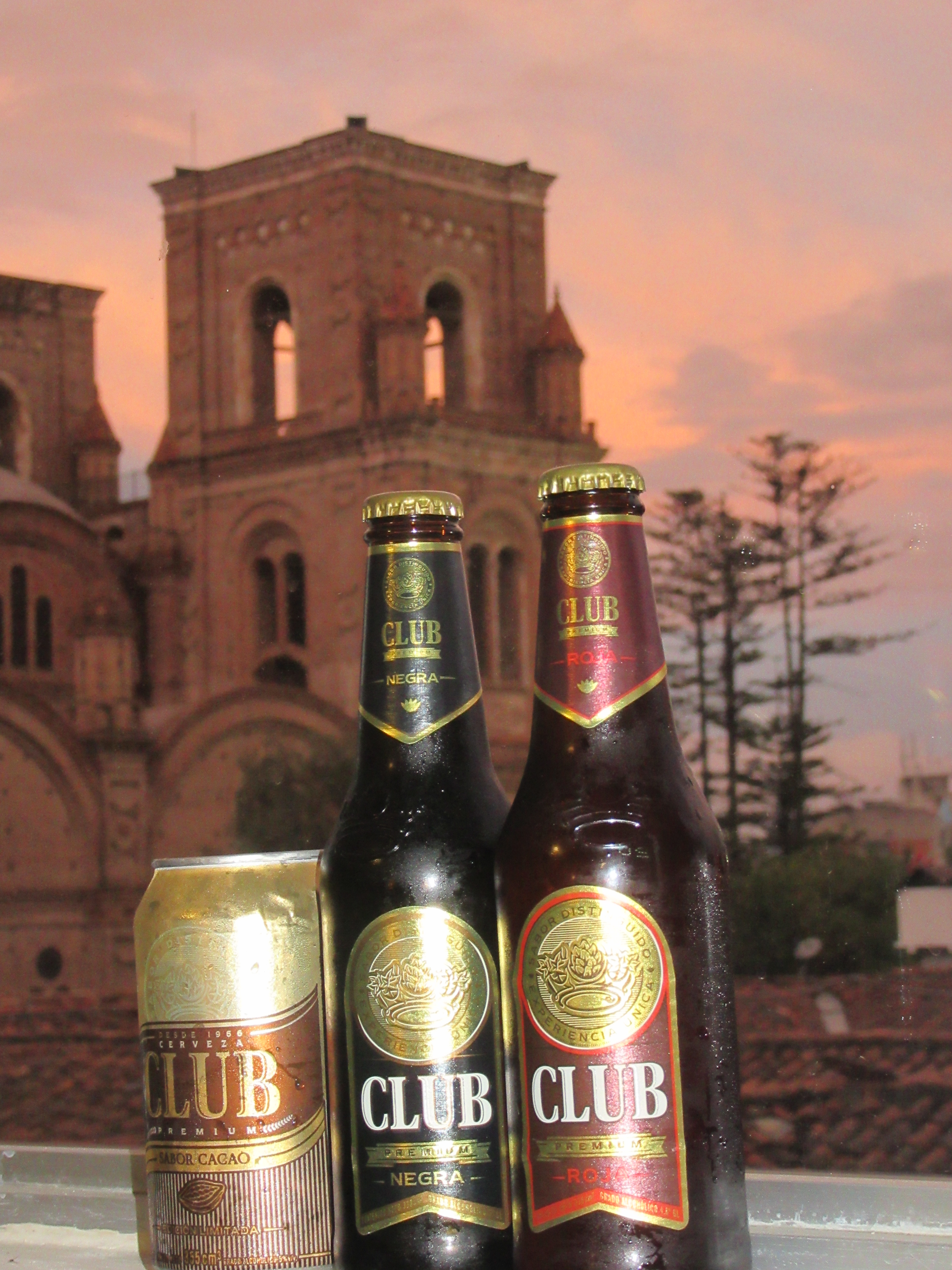 Club Roja by Cerveceria Nacional Ecuador
Lager / 4.8% / ? IBUs
Neither red in color or in style, I was uncertain where this beer got its name from. This beer was too sweet for my tastes. I didn't hate it as much as I should have. It was fizzy, light and effervescent.
Score: Two out of five honking taxis.





Club Negra by Cerveceria Nacional Ecuador
Lager / 5% / ? IBUs
Not much of a scent to this beer. It had a slight roasty caramel taste to it and it stood out from your average lager. Reminded me a bunch of Leon in Mexico.
Score: Three out of five cups of instant.





Club Cacao by Cerveceria Nacional Ecuador
Milk Stout / 5% / ? IBUs
Imagine turning Base Camp Brewing S'more Stout into a lager. A milky chocolate dessert beer that won't knock you out with a sky high ABV. It works, somehow. I'm embarrassed to say that I liked this beer.
Score: Four out of five sweet scoops of espumilla.