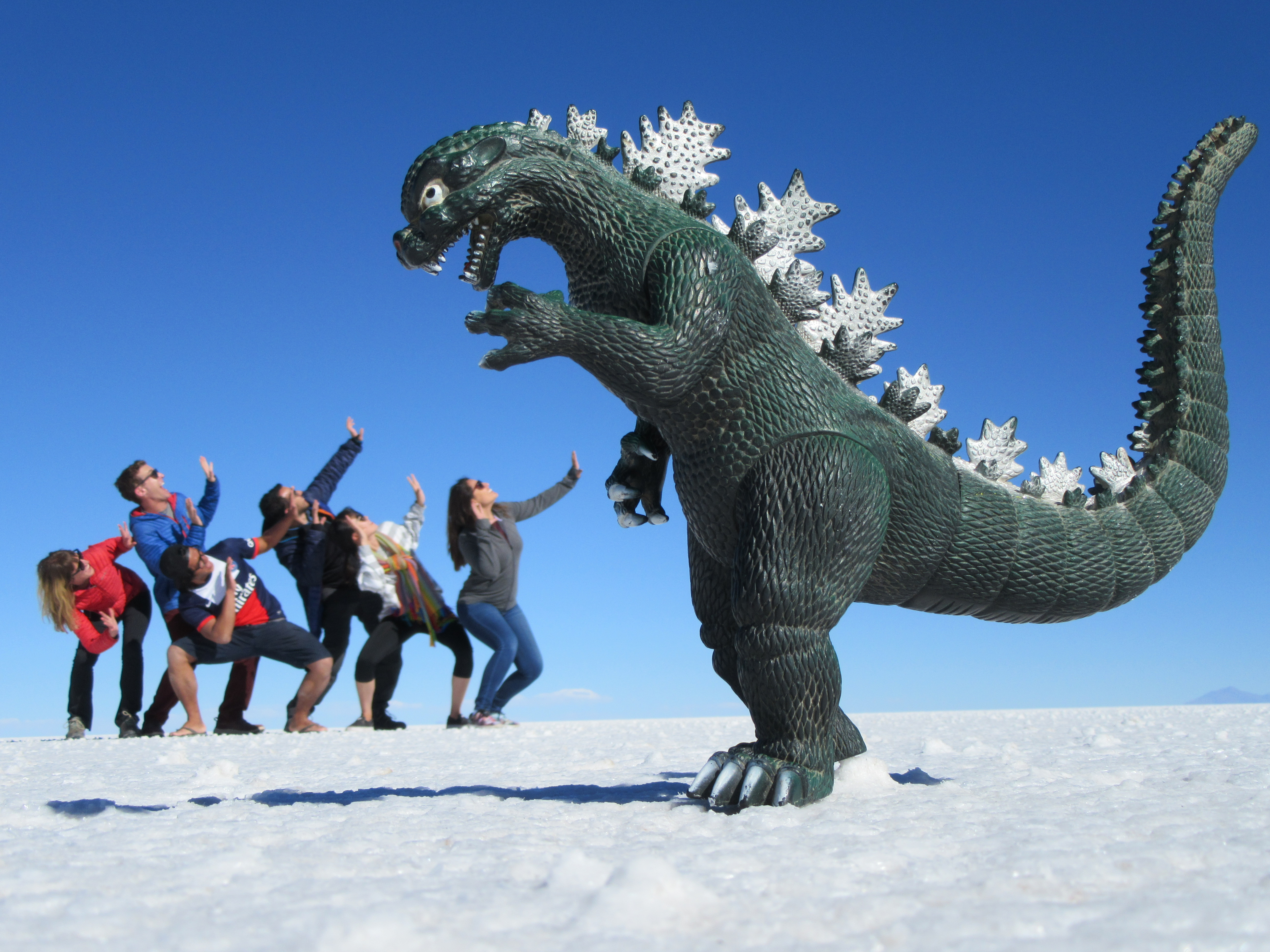 When Eric and I were planning our trip Bolivia made the list for one reason: the famous Salt Flats. It was the only place that I had heard of before my travels, mostly thanks to tacky tourist pictures with forced perspective. Little did I know that Bolivia as a country would enchant me like no other or the fact that the Salt Flats would pale in comparison to the rest of our adventure.
The three day / two night Salt Flats by Jeep tour is on every South American backpackers
checklist. Most backpackers travel to Uyuni from La Paz before using the tour to travel though to Chile. There are over 20 tour guide companies in the tiny town of under 30,000 people, which was honestly one of the most miserable places we stayed our entire trip. My advice for future Salt Flat adventurers is to rush to the agencies first thing in the morning after you arrive and leave the same day. We placed reservations for the following day meaning we had to spend a day in a trash blowing dust storm, in an over-priced town eating nothing but peanuts.
The next day we met our driver and fellow passengers for the next three full days of driving. Eric and I really hit the jackpot in terms of other passengers; we traveled with two guys from France, a girl from Chile and a girl from South Korea. We would spend every waking moment together for the next three days so it was fortunate that everyone was easy to talk to*.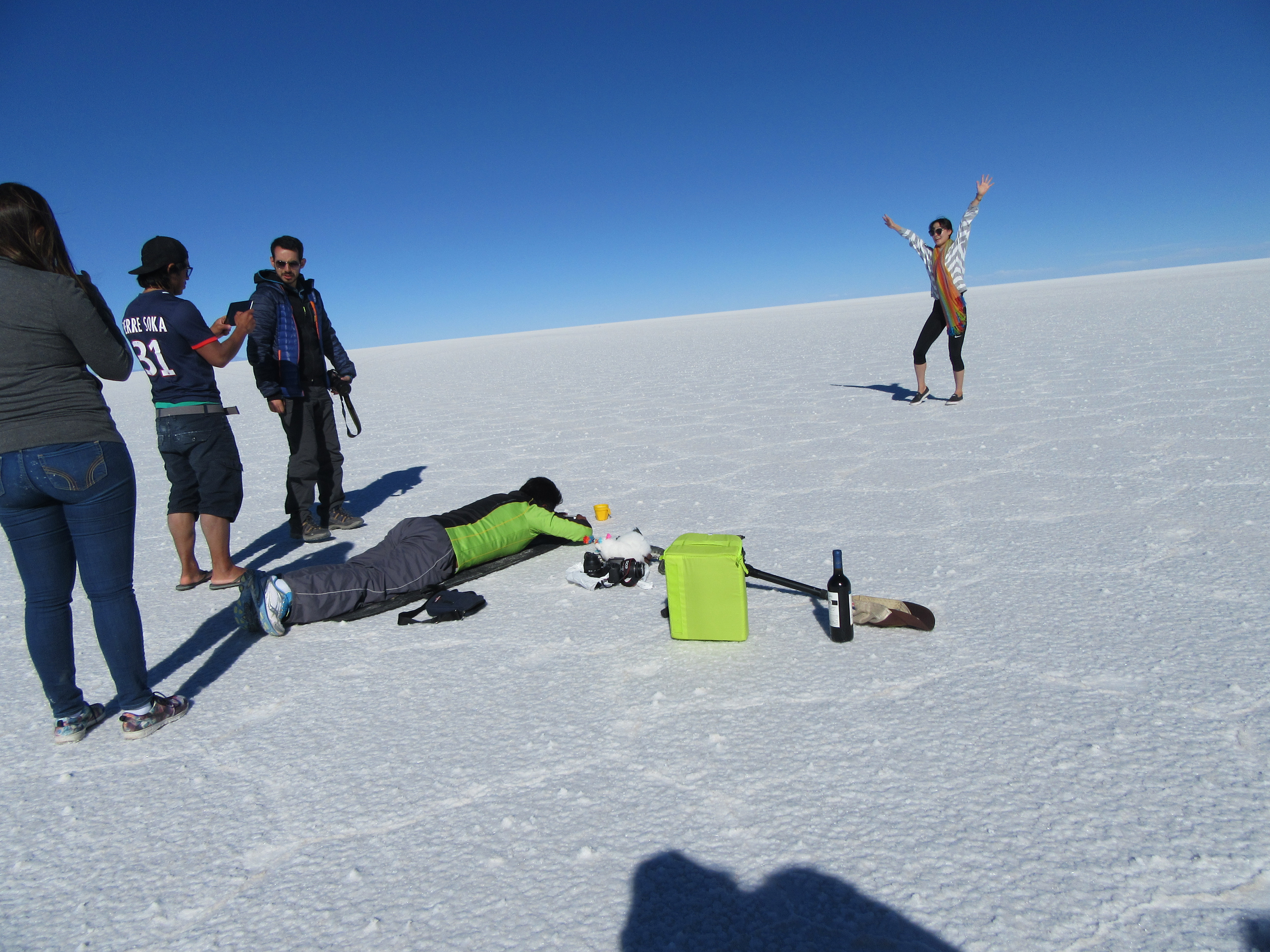 The cars all make the same loop every three days. Our driver/chef/Spanish speaking tour guide told us that he worked either six or nine days straight and had been working for one company or another for a decade. He told us that it pays well, each customer paying $90 for three days, and is a coveted job for local men. The days start early, before six AM and end around twelve hours later. Long days spent in a 4×4 bumping around with stops to eat more rice and potatoes. Some of the mandatory stops are cheesy tourist traps and others are devastatingly beautiful. I would recommend the Salt Flats tour to anyone visiting Bolivia, as long as you take the time to walk around unsupervised at your next location.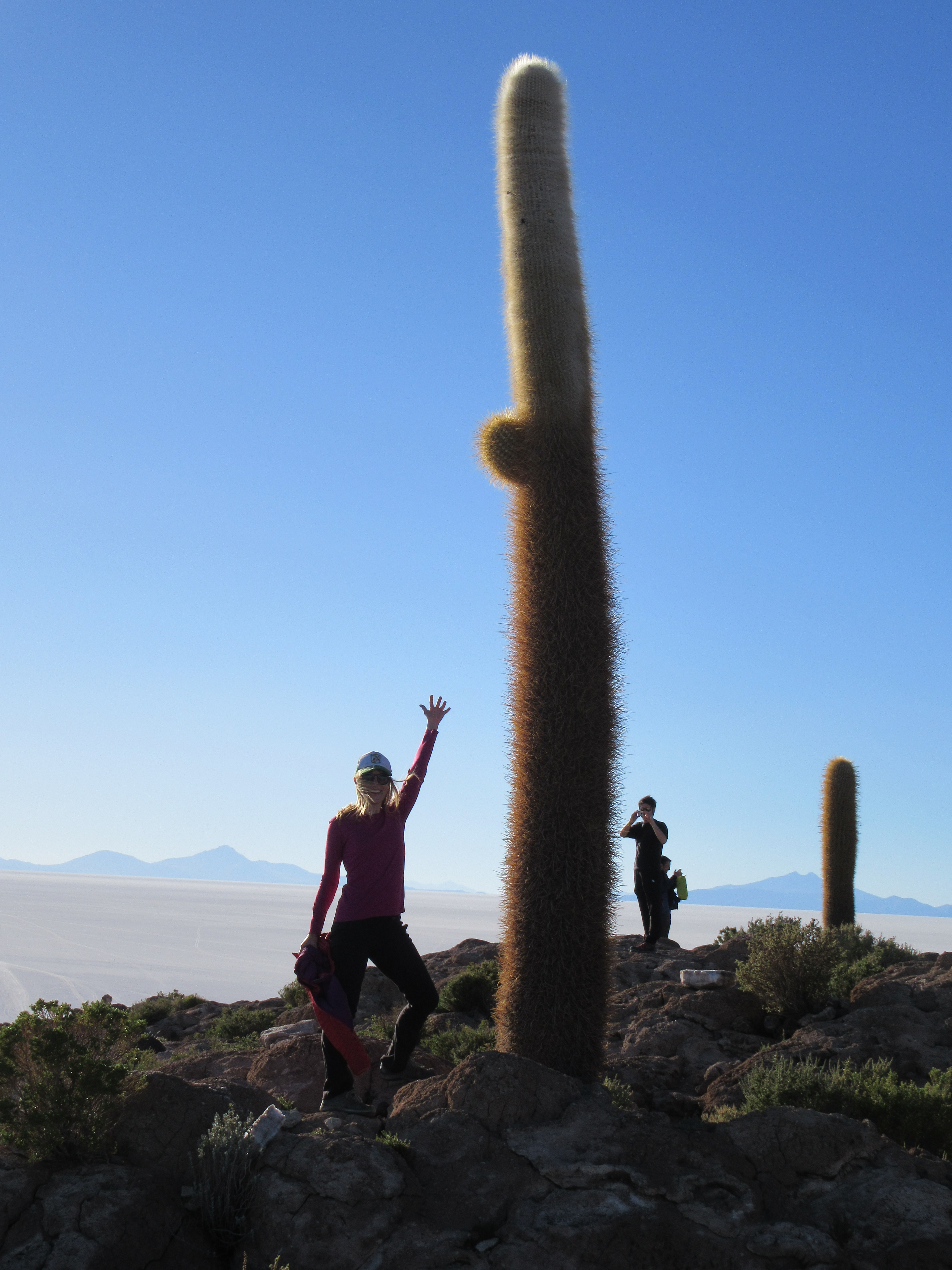 Our first day was spent on the Salar de Uyuni, the largest salt flats in the world clocking in at 4,086 square miles. Formed by a prehistoric lake the salt flat is at very high elevation: 11,995 feet above sea level. It is also extremely valuable, not only in terms of tourism but 50-70% of the world's known lithium can be found there. The bleak white landscape is dotted with sulfur bubbling pits, naturally occurring salt pyramids and of course, plenty of other tourists.
We got our Peter Jackson on, taking shot after shot of jokey pictures where we posed in cups, got chased by dinosaurs and stomped on cars. It was really silly how fun it was for all of us. I am sure our poor driver had taken 1000's of photos of tourist running from Godzilla but he was a great sport and made sure all the pictures lined up just right. After our photo ops we went to a prehistoric island dotted with ancient cactuses. It's called Isla Incahuasi and 40,000 years ago was the peak of a volcano. You need to pay an entrance fee to walk amongst the the cacti but it was worth it to walk around in this completely unique place.  That night we stayed in a hotel made entirely from salt, which sounds really cool until you sleep in a bed full of salty sheets and find salt in your backpack months later.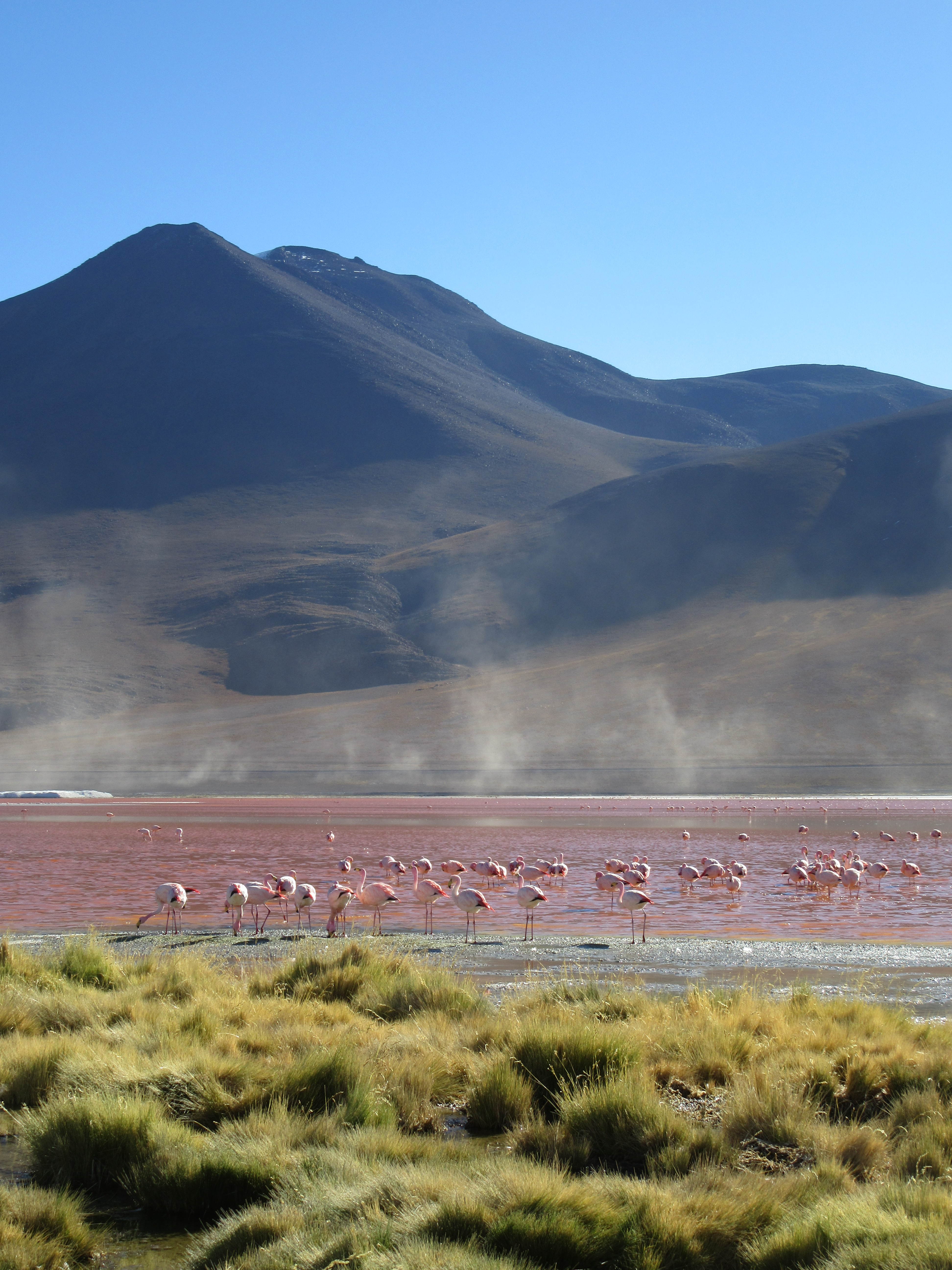 We woke up early the next day to see some more of the spectacular altiplano scenery. Our elevation continued to climb over the day, waking up at under 12,000 feet and going to bed at 16,400 feet. For the altitude ignorant like myself, Mount Whitney the highest mountain in the continental US is only 14,505 feet and Mount Blanc clocks in at only 15,780. No wonder it was an effort just to get out of the car and walk around! The day was full of crystal blue lakes crowded with pink flamingos. Volcanos seem to touch the outer atmosphere through the thinning sky. Different minerals would tint the lakes different colors like red, white or turquoise. Despite feeling like we had crash landed on a martian planet we saw plenty of wildlife like culpeo foxes, chincilla like viscahas, vicuñas and countless flamingos. One of the more striking lakes was Laguna Colorada with its white borax hills and red algae. One of the dangers of long term travel is easily becoming jaded; Peru had me feeling sleepy and blasé. Bolivia made sure to wake me up to the beauty of the weird and wonderful high desert. That night we braved the cold to walk to a natural hot springs at over sixteen thousand feet. Between the elevation and the crystal clear night, I have never seen the stars that clearly. The milky way stretched out across the sky and we could see planets and southern constellations. It was one of the highlights of the trip which I will never forget. Eric and I split a Paceña; one half of a light lager at 16,000 feet in a hot tub was all I could handle. It's a shame such a wonderful night will include a memory of such a horrid beer.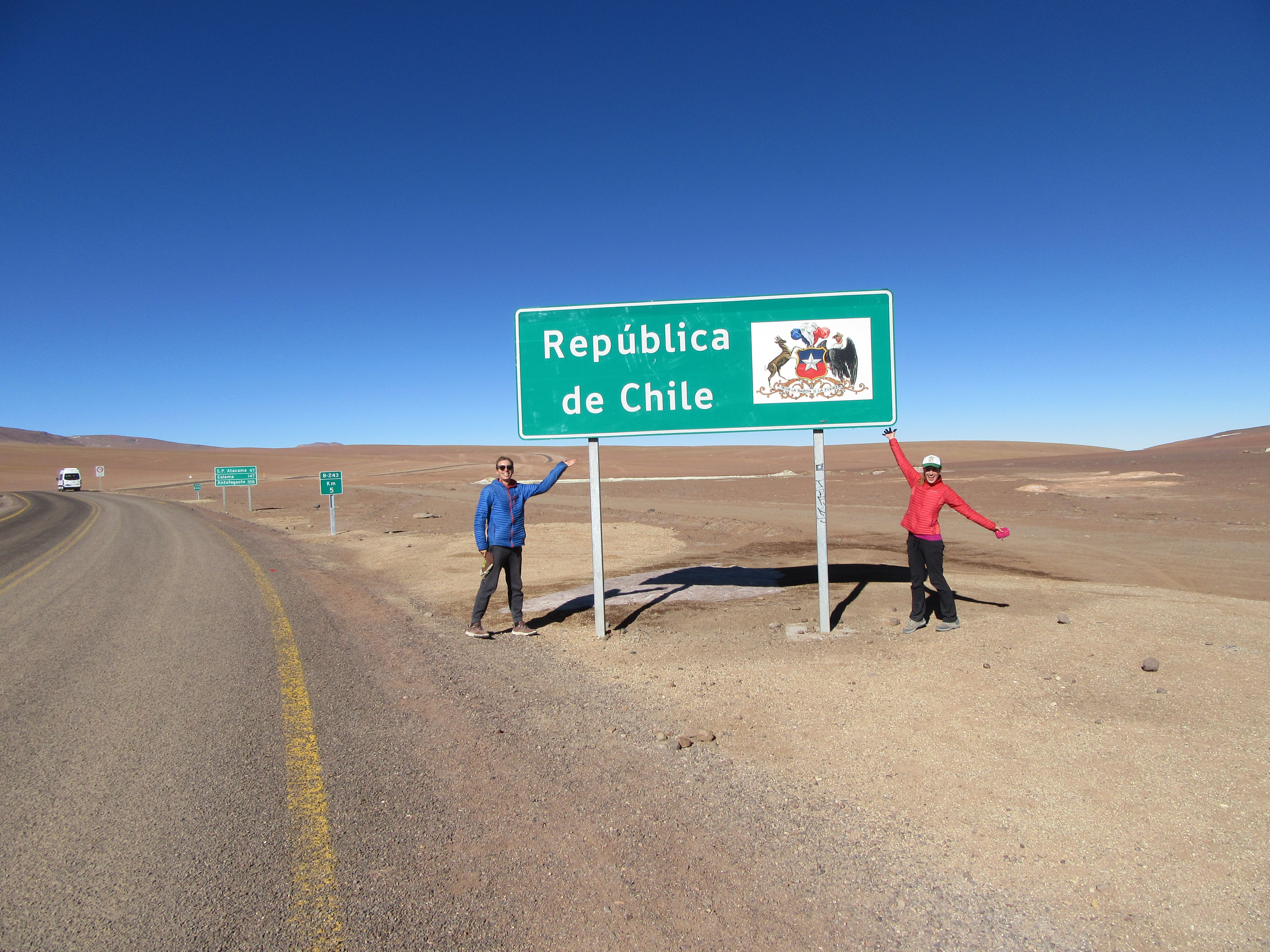 The final day we toured a few more lakes and rock formations before dropping of the girls at the Chilean border. It seemed like a tease not being able to check off my 24th country, but plan on returning with a little more time and money so I can give that country the attention it deserves. After the boarder, it was an eight hour drive back to Uyuni, where we caught a four hour bus to Potosi. I will never forget the beauty of the places we saw but sitting and staring out of a car window isn't my version of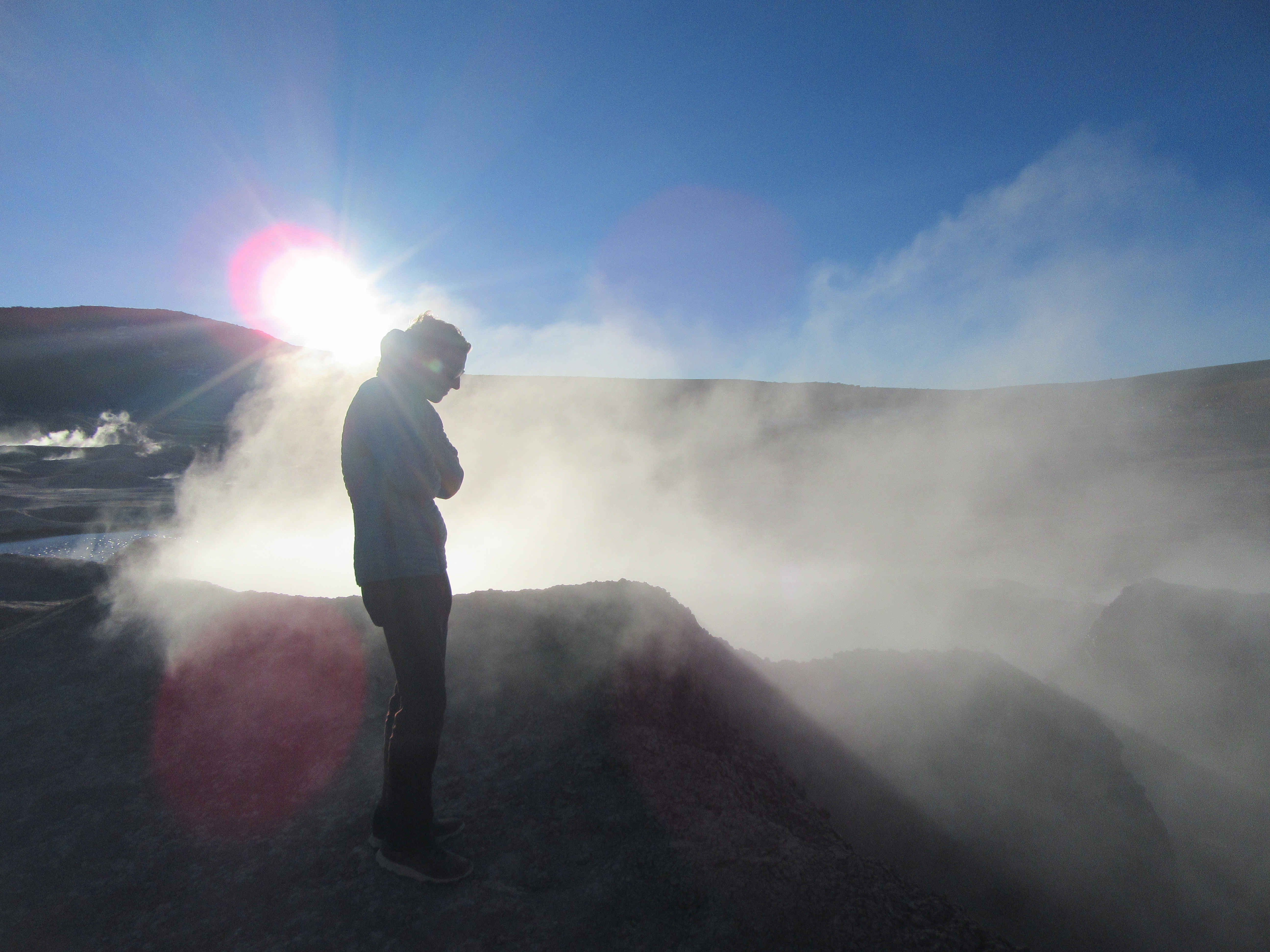 traveling. I was disturbed by the herd of jeeps destroying the landscape and guides luring in wild animals with bait for us tourist. The dark side of tourism was on full display during our trip. Perhaps in the future all the jeeps will use the same path instead of racing through the landscape destroying a wide path. A natural wonder like this deserves to be protected; hopefully the Bolivian government will be more active in it's protection in the future.
*The other groups where either 18 year old Germans bragging about how much they could drink or 60 year old Americans talking about how "people really couldn't have build the pyramids without help from beyond" (actual quote).
---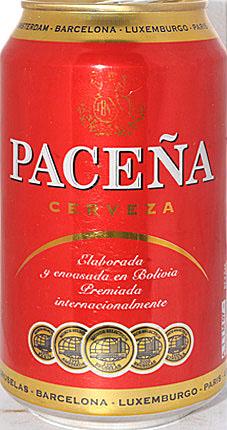 Paceña by Cerveceria Boliviana Nacional S.A. 
Lager / 5% / ? IBUs
Their isn't much positive to be said about Paceña, other than the fact that it isn't brewed by AB Inbev or another monster conglomerate. It's watery, sweet and shockingly bad. It was my least favorite of the Bolivian macro beers and most widely available.
Final Score: One out of five noisy flamingos in flight