As I write this blog post on the offline version of Google Docs, I am trying to remember why I wanted to come to Huaraz. Sure, the Cordilleras are some of the most beautiful mountains in the world and coming here was a great way to break up out trip to Lima. We are currently on our ninth* day in the city and I am so grateful we stayed here as long as we did. We could have easily been in Lima, the massive city of 10 million which has suffered terribly from storms and flooding. The storms happened on Tuesday and we have been trapped in Huaraz with no internet, cell service or route out for the last week. Nevertheless we have been lucky as we are in a safe place with plenty of clean drinking water. While I am very aware of how lucky I am, it has also been frustrating and boring to be trapped here. The lack of internet means that the only way to get any information on the roads is walk into the various bus stations, all of which say "no news". Only one of the ATM's here is working so we have to wait our turn with the majority of the town to make sure we can pay our hostel.** Huaraz is known for its unbeatable hiking and trekking but we are nervous to leave town. Not only because we just completed the Santa Cruz trek, but we don't want to miss our chance to get tickets when they do open up. So, without future ado, here's how to kill time in the Andes.
People Watch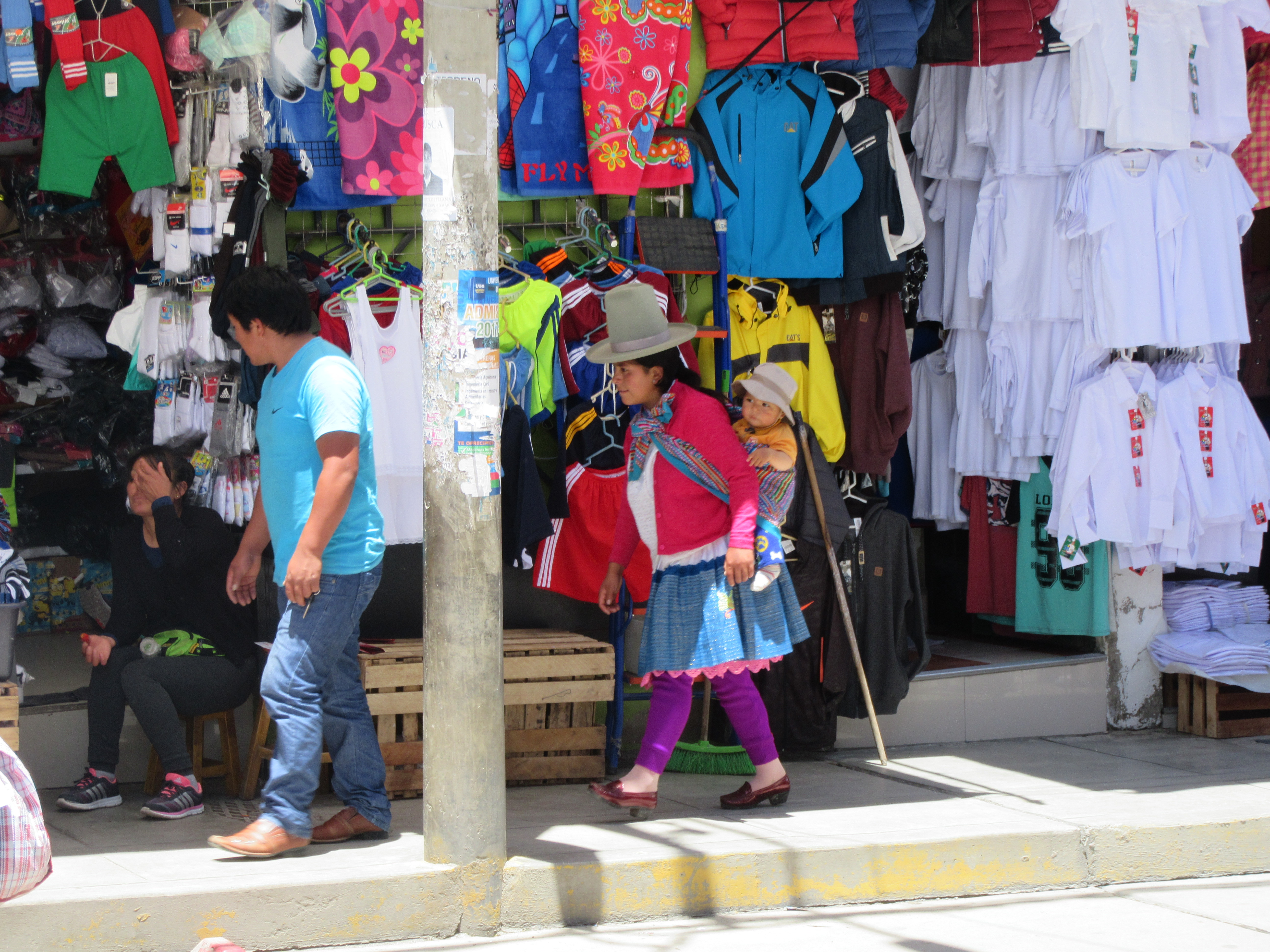 There isn't much to see in Huaraz; the town is drab and the best views are looking out toward the mountains. The city is livened up by its local people who come in from the surrounding villages wearing their best to shop and socialize. Andean women have a different style of traditional dress here than they do in Ecuador. Women in Ecuador wear fedoras in black or brown with a sweater and an ornate, tightly pleated skirt. The women in Huaraz wear tall felt hats, decorated with ribbons declaring their marital status and village, with cardigans, leggings, and flat buttoned skirts with elaborate lace peaking out underneath. I am lustful of the bright colored fabric squares these women uses as backpacks filled with everything from fresh mountain greens to babies I anxiously watch to make sure don't tumble out. I'm not sure I could rock their styles at home, but I can admire them. It's not easy to look good in those hats!
Get a Haircut
Between walking up and down every street in town and munching on cactus fruit, you might catch a glimpse of yourself in a shop window. Woof, we need haircuts. It is a strangely stressful experience but 12 soles later ($4 USD) we both had fresh trims and felt like ourselves again.
Eat Cuy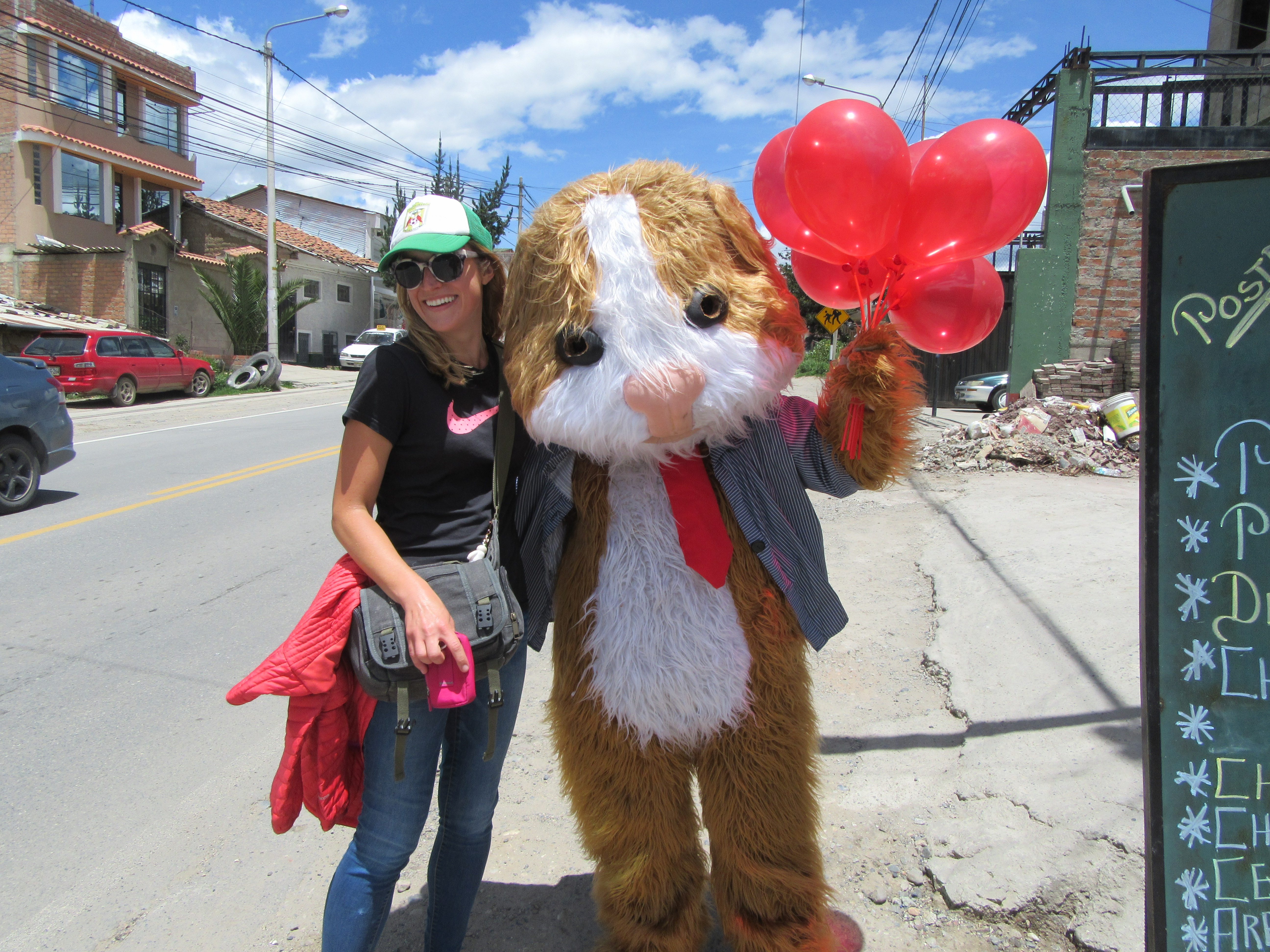 On our way back in from town after our trek, I noticed that we drove by a restaurant with a man in a guinea pig costume on the side of the road. The restaurant was "Don Cuy" and looked thoroughly ridiculous. We had both been postponing eating rodent since Banos, but this Chuckie Cheese of Peru seemed like the perfect opportunity. The restaurant is located in a fairly shady part of town so we were shocked to discover that Don Cuy was actually fancy. Like, the nicest restaurant so far in Peru fancy.
The waitress sat us down and took our order. We decided to only order one cuy special, spliting that and a scrumptious mixed tamale plate. The restaurant provided appetizers – potatoes with a bit of cheese on top – and we waited for our cuy to arrive. I imagined that cuy would look like fried chicken, breaded and indistinguishable from the real animal. When an entire deep-fried Buster Beans (RIP) arrived, complete with hairs on it's back. I couldn't help my shocked expression. The cuy was served with all the traditional sides, i.e. starches: boiled potatoes, white rice and barley. Eric's meal came with four full potatoes and corn. All together there were nine potatoes on our table. As for the cuy, it tasted like dark meat fried chicken. I had a little bit of a leg nibble before I got too creeped out by its intact toes. Eric was much bolder than I, rooting around in its head for a few more bites. I think I'll stick to my fish and carb diet from now on.
Visit All the Breweries in Town
There are two breweries in Huaraz, the small brewpub Los 13 Buhos and the much larger Sierra Andina which distributes all over the country. I know we have been at altitude for a long time as we are now able to finish a beer without it knocking us over. I can't wait to return to sea level! Here's what we had: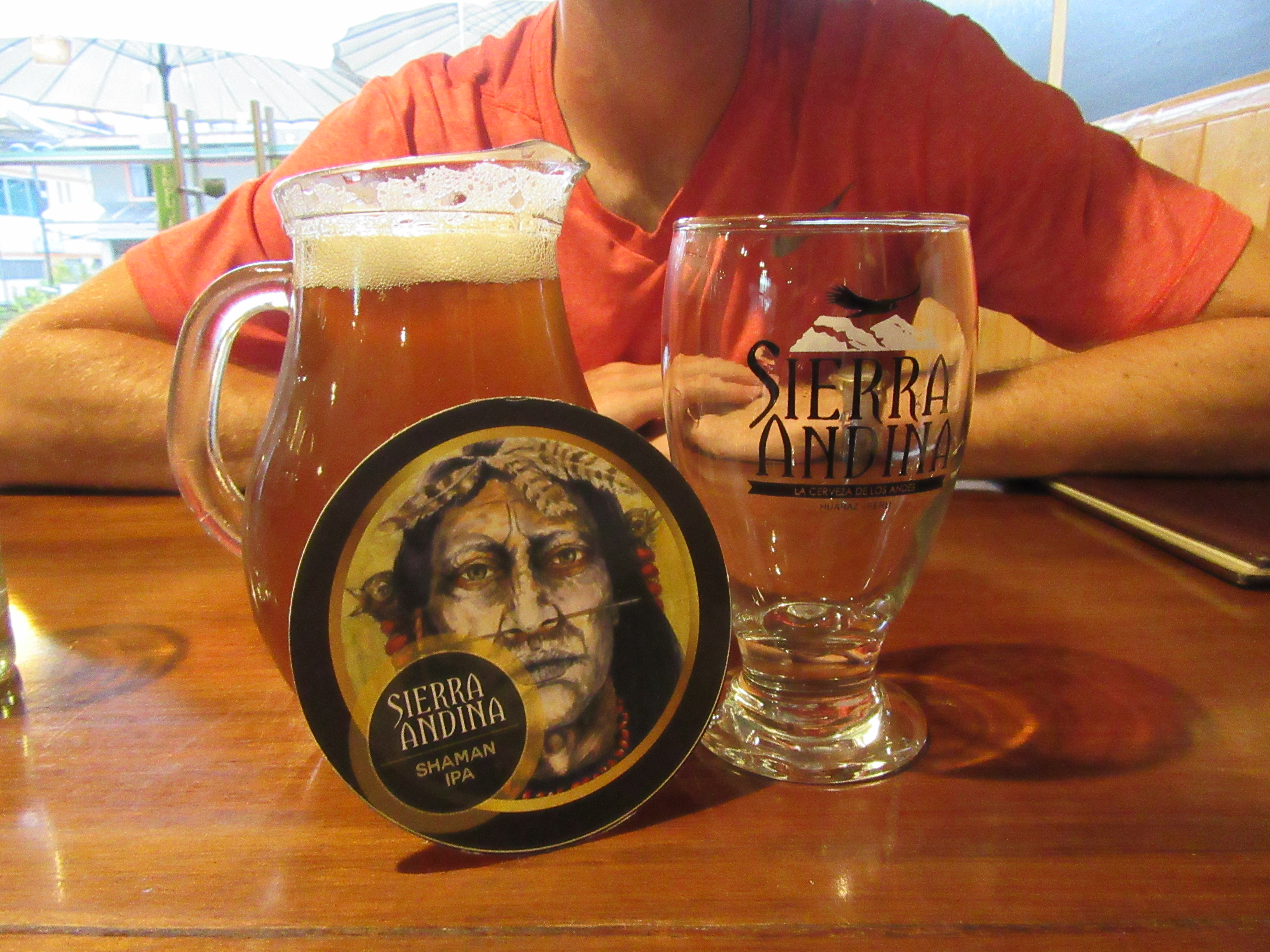 Alpamayo Amber Ale by Sierra Andina
Amber / 5.8% / 25 IBUs
I was in the mood for a good amber after the amazing amber by Zarza Brewing. This one disappointed us; it was super metallic like a poorly made Fat Tire clone. Mediocre but not terrible.
Final score: Three out of five stray dogs fighting.





Shaman IPA by Sierra Andina
IPA / 8% / 88 IBUs
IPA's have been a tricky style to find on this side of the equator. Hops are rare ingredients! This IPA is made in the dry hopped style. It is heavy on the fruit flavors, especially pineapple. This was the best IPA I've had so far in South America, not heavy on the hops but I can still taste them.
Final Score: Four out of five set menú lunches





Ale Black by Los 13 Buhos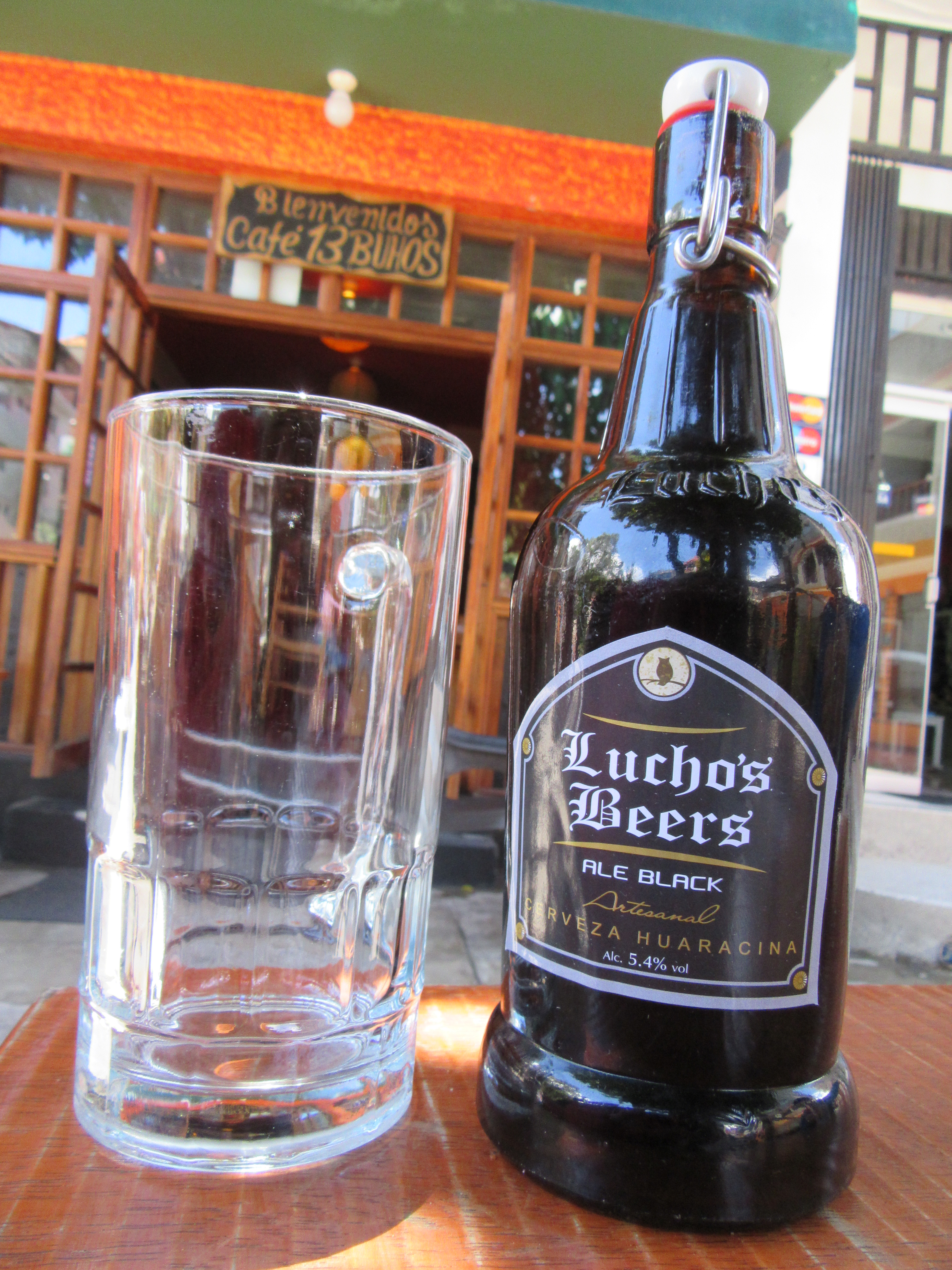 Black Ale / ? % / ? IBUs
This adorable brewpub bottle conditions all of its five beer line-up. Although it's really more of a three beer line-up; a blonde, a red, a black and variations of the red and black made with coca. Coca is the high Andes plant brewed into tea to help with altitude sickness. Although when I tried it I thought it tasted like hot plant.
Los 13 Buhos black ale proved to be another example of why I shouldn't order dark beers in South America. I think Los 13 Buhos uses the same yeast, hops and malt for every beer- this one just uses burnt grains for a darker color. It has a sickly sweet flavor with a metallic aftertaste.
Final score; Two out of five honking motortaxis.





Roja de Coca by Los 13 Buhos
Red Ale / ?% / ? IBUs
Imagine the black ale but with slightly less burnt hops. That was exactly how this red ale tastes. I can't taste the coca, not that it has a strong flavor. On a positive note, this beer was actually red in color!
Final score: Two out of five spectacular hats.   





*We ended up staying 14 days in total.
**A lovely place with on-demand hot water and a great included breakfast for $30 a night. Olaza's – highly recommended.