Life in the Galapagos Islands can make you feel like a character in a Disney movie—surrounded by friendly exotic animals.  On the flip side life in the Galapagos can make you feel like a character in an art house film—everyone looks gross, sweaty and half starved. Between those highs and lows was our trip to the Galapagos Islands, paradise on Earth for those who can afford it. I will write another post soon about doing the Galapagos on a budget but this post is mostly about our adventures on the islands. A tourist traveling independently (not on a cruise) can visit just four of the Galapagos Islands. Eric and I traveled to the three largest of these islands: Isla Isabela, Isla Santa Cruz and Isla San Cristóbal.
Isla Isabela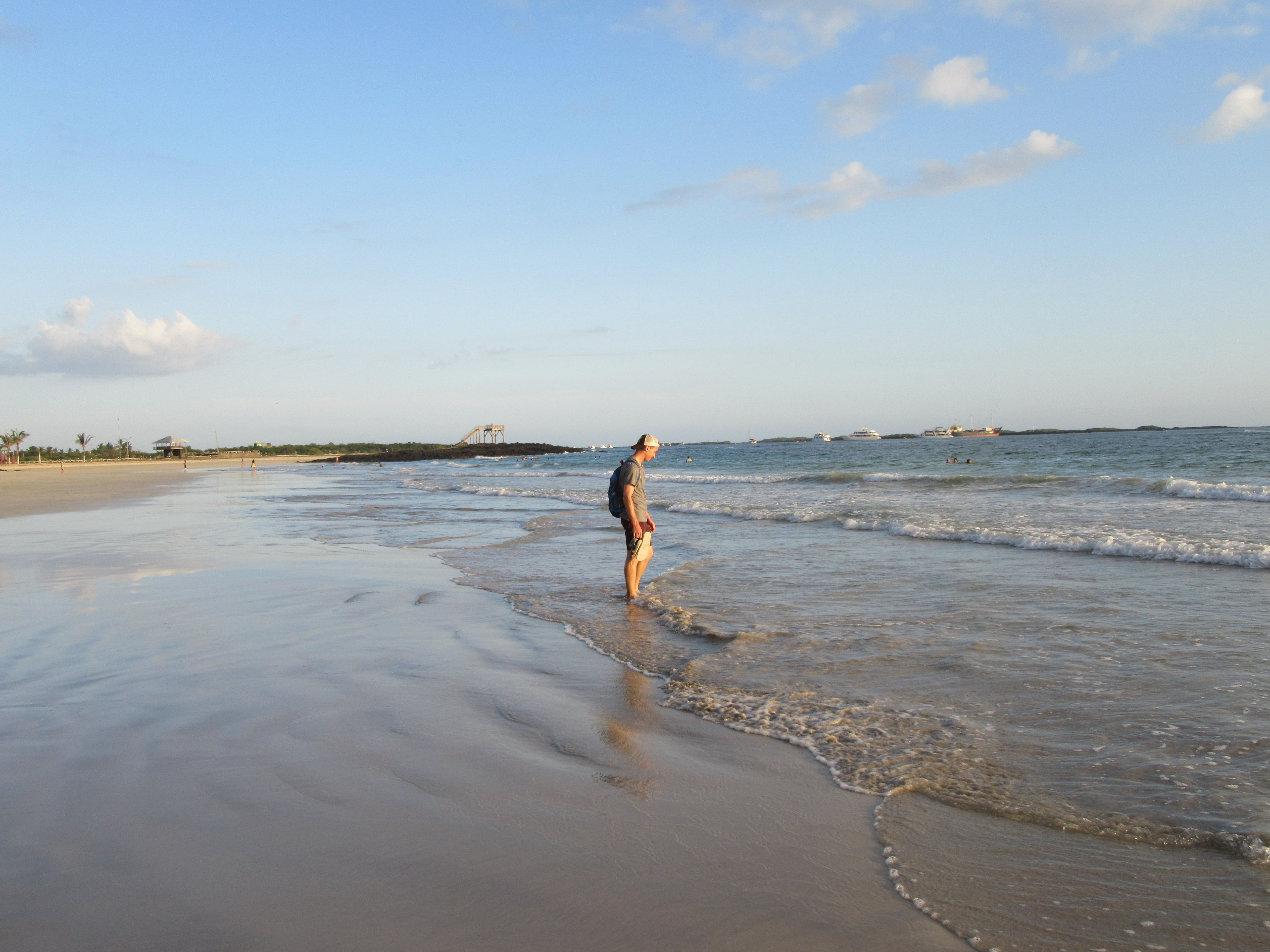 Isla Isabela was our first stop in the Galapagos. It's four times larger than the second largest island in the Galapagos but the largest town on the island Puerto Villamil is home to just over 2,000 people. There is no source of fresh water on Isabela; all food needs to be imported and the unpaved roads are covered with volcanic pebbles. Isabela is hot, the roads bake in the mid-day sun and their is no vegetation to provide shade. We stayed in a simple guest house on the edge of town and a three minute walk to the beach. The beach is Isabela's crowning glory. White sand as fine as flour as far as the eye can see with lazy marine iguanas basking in the surf. The best part about this beach is that we didn't have to share it with more than a handful of people at any one time. It felt like a deserted tropical island just for us.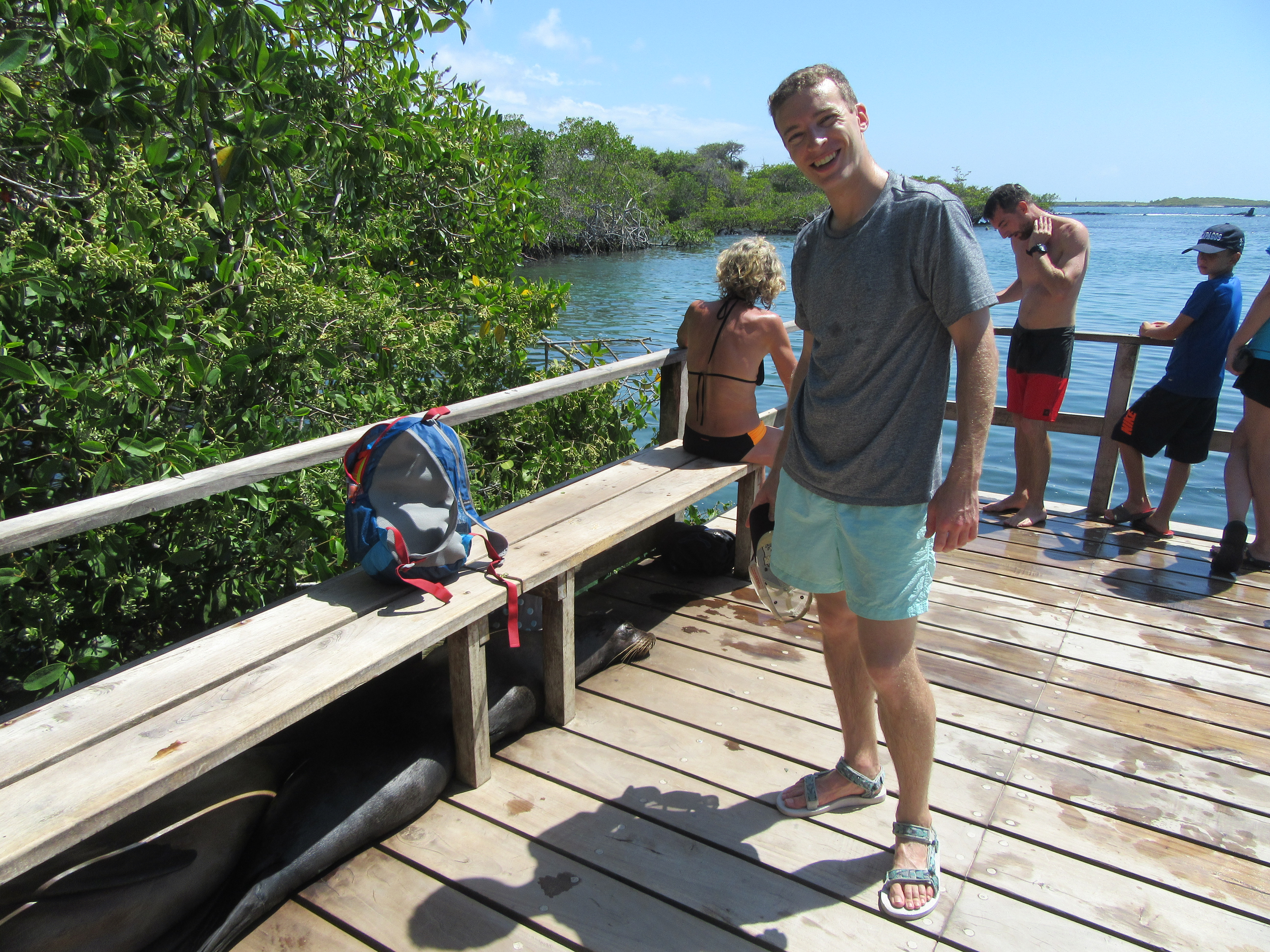 Another highlight of Isla Isabela was Concha de Perla, a small islet around the corner from the port. It's a wonderful place for snorkeling and best of all, it's free! Eric and I went snorkeling here twice during which we saw: sea lions, huge green sea turtles about five feet long, rainbow wrasse fish, puffer fish, parrotfish and the super colorful mexican hogfish. Snorkeling is the greatest thing you can do in the Galapagos budget or not budget; it's a magical experience which was sought out everyday we could.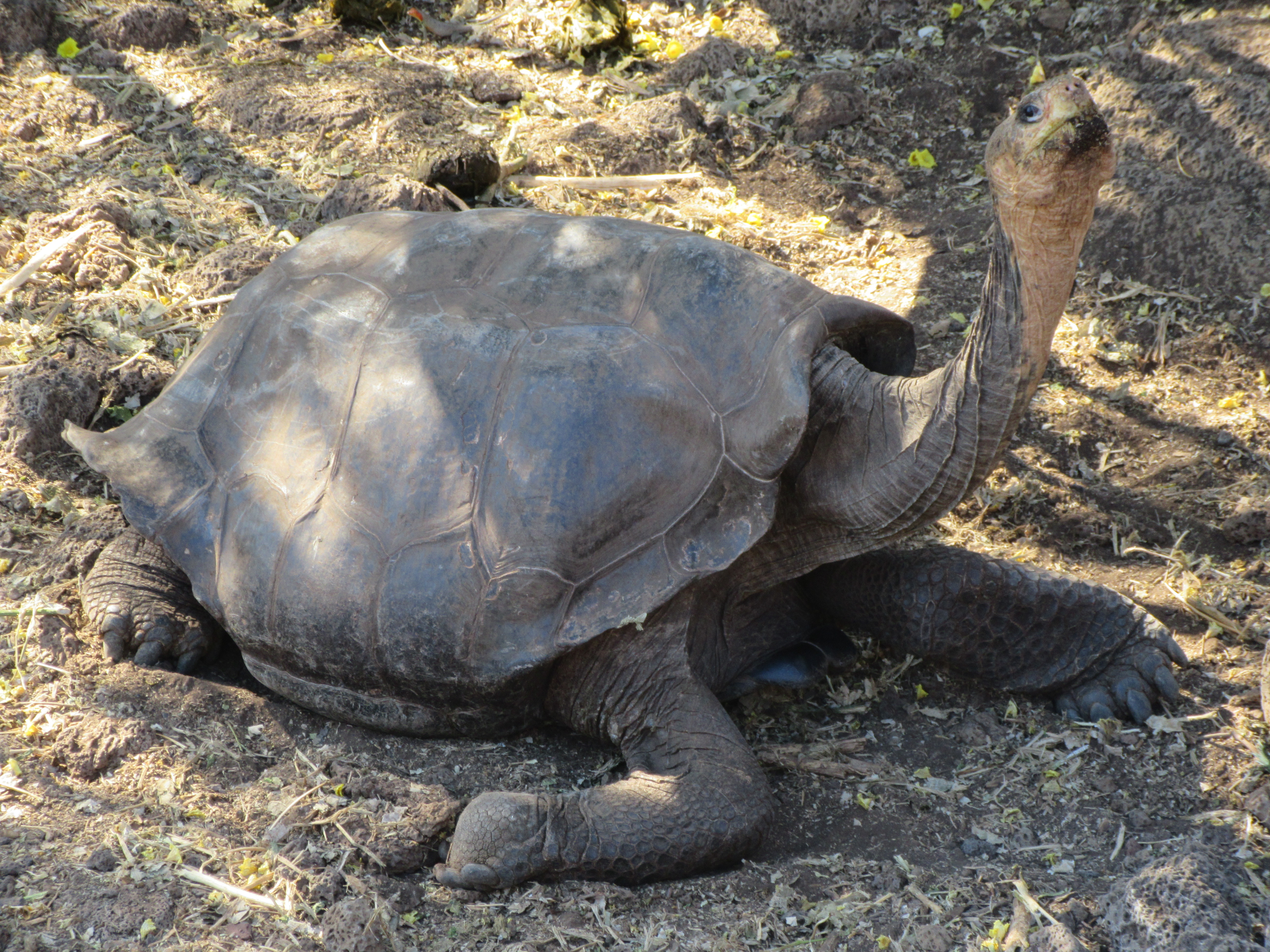 In addition to its dreamlike beaches, Isla Isabela had a Giant Turtle Breeding Center, a lagoon filled with feeding flamingos and a wooden boardwalk where you would walk through the mangroves spying on hermit crabs, iguanas, herons and other wildlife. While Isabela might have been the best for wildlife it was the worst for food. The cheapest dinners on the island where $7 set meals which included rice, overcooked fish and juice made with tap water. In an attempt to stay on budget, Eric and I only ate one meal a day from one of these places. A choice which might have lead to the my experience in the next island.
 Isla Santa Cruz
I had 38 hours of room-entrapping food poisoning on this island. It was awful. Let us never speak of it again.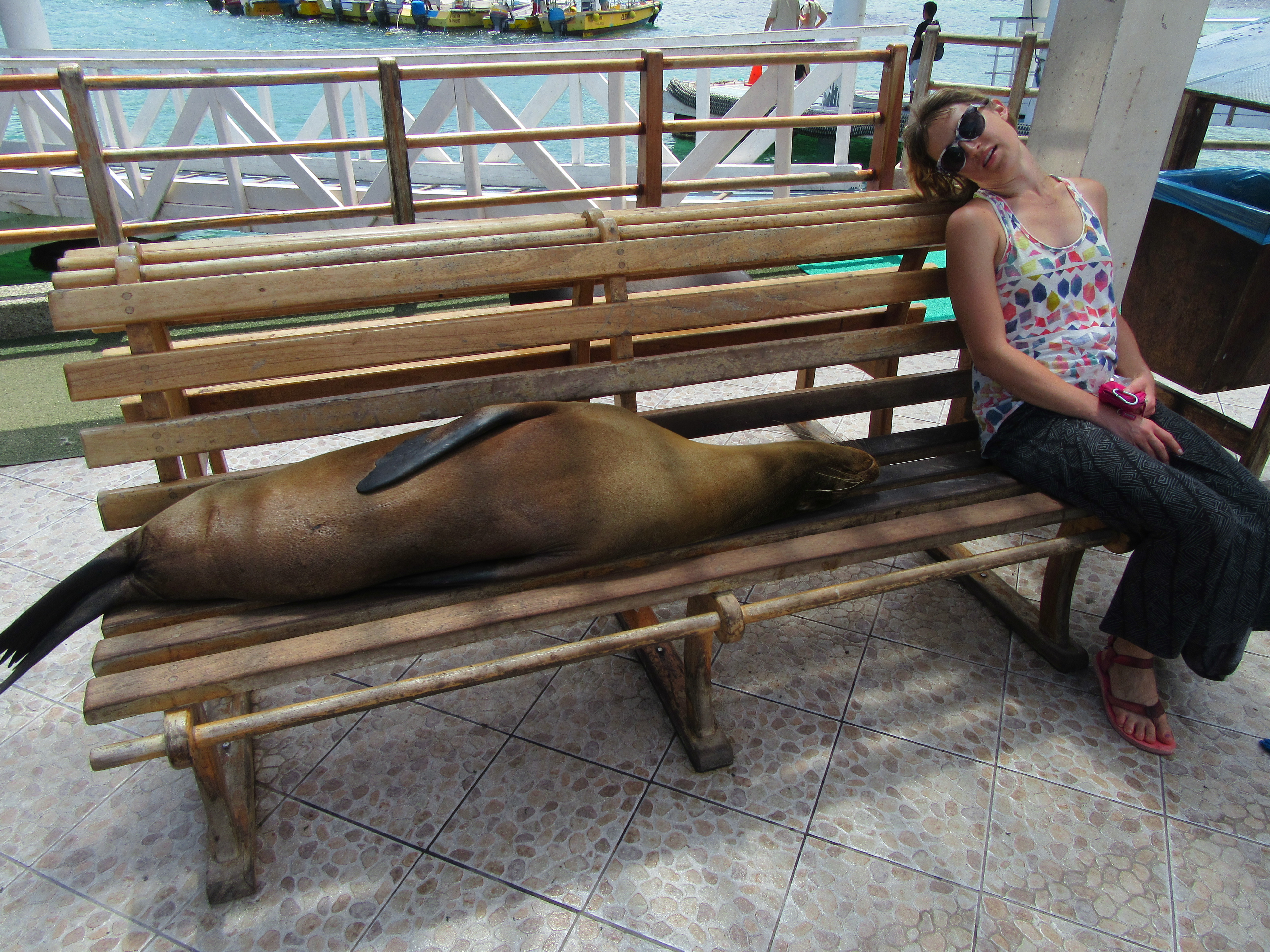 Isla San Cristóbal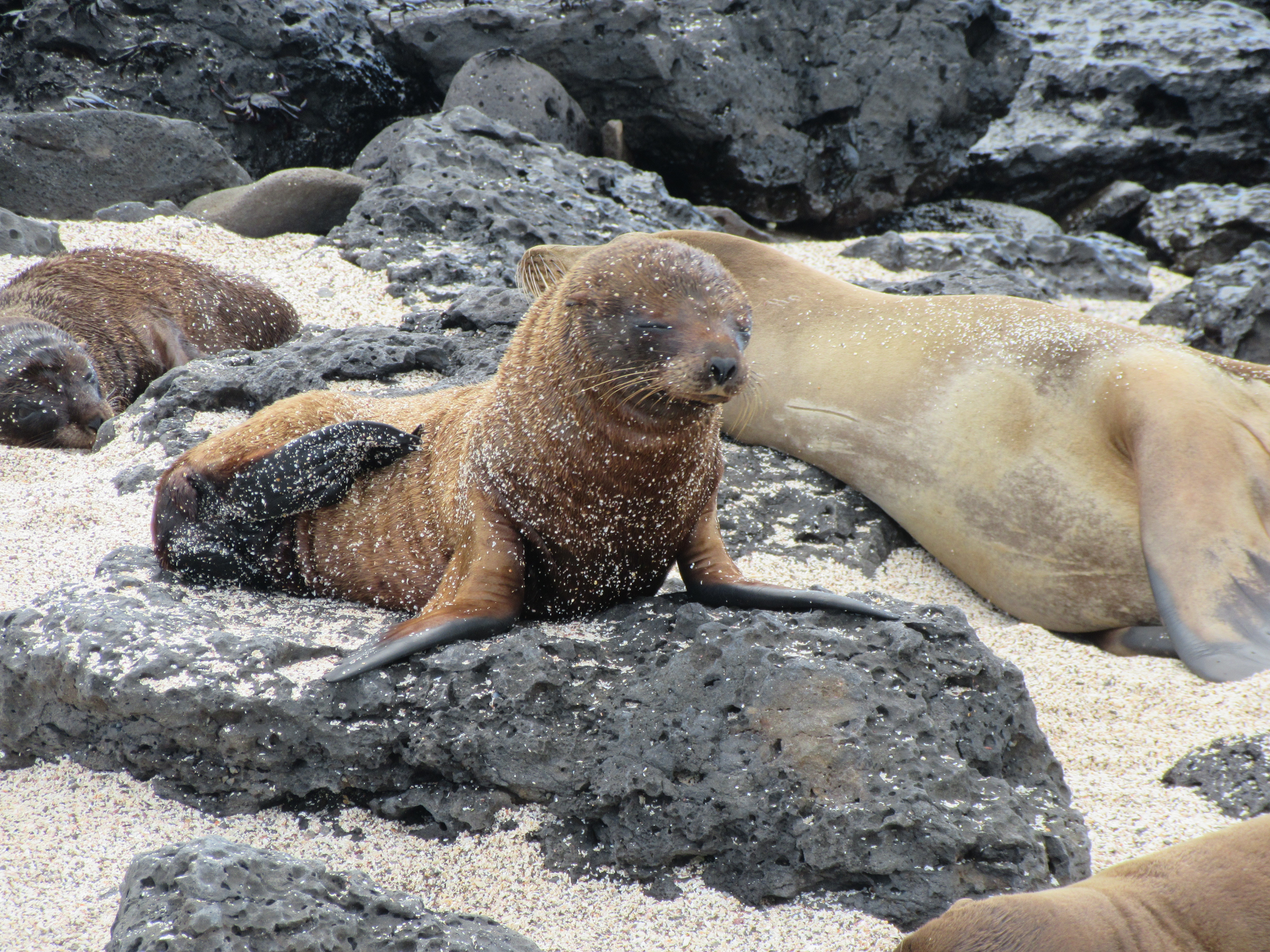 It was here on Isla San Cristóbal that Charles Darwin landed in 1835. He was perhaps the first man to believe the island had something to teach us and wasn't just an unlimited giant turtle snack bar for sailors. Eric and I were here for only two nights but the island still presented us with some of our most memorable experiences. Isla San Cristóbal is home to a large colony of Galapagos sea lions. Our first day on the island we went to La Loberia, a beach known for its surfing and sea lions. Despite strong currents, the water was crystal clear and we were able to swim with more turtles and a few large sting rays. I had to remind myself that the rays are harmless and common, not UFO-like creatures sent to haunt my dreams. After we where worn out swimming in the surf, we took a break resting and watching the sea lions. These animals completely ignored us, allowing us to closely watch their behavior. We watched a lost, confused pup try to nurse from every other sea lion on the beach including other pups. It was quite amusing to watch a 150 pound male run away from this pup who would chase them down and then bite their non-existent nipples. I'd like to think that the pups mother was out hunting and would be back ASAP. The sea lions and the sun bathers existed in harmony most of the time with the exception of one woman who kept trying to lie down and read her book, only to have a sea lion waddle across her beach towel over and over. I think the guy thought it was a game.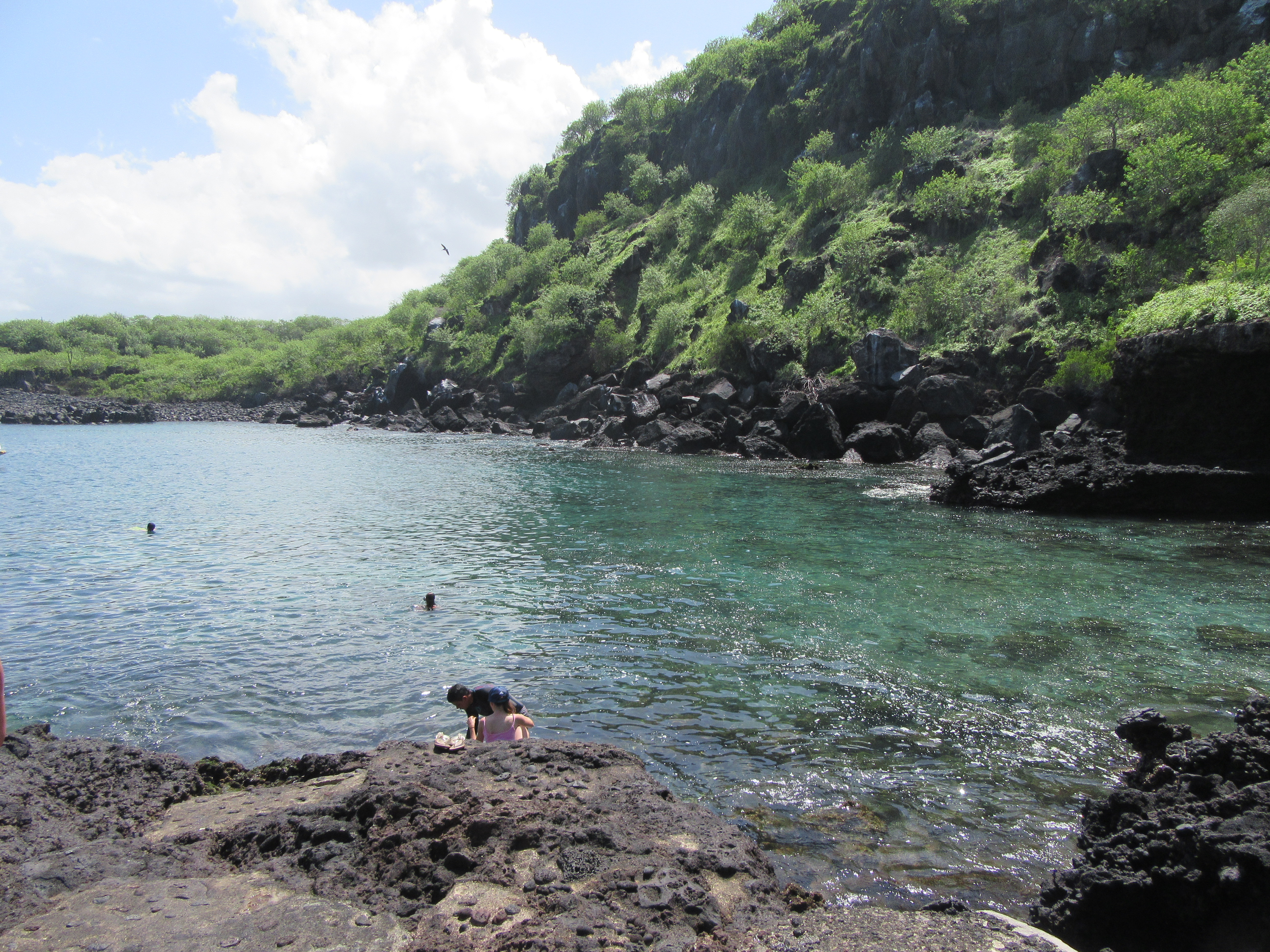 On our final full day on the Galapagos, Eric and I woke up early so we could get in one last round of snorkeling. We hiked up behind the Interpretation Center to the cove behind Las Tijeretas. Getting into the water was tricky, requiring stepping on sharp lava rocks covered in crabs and nibbling fish. The tricky entry was worth it as the cove had the clearest water we had seen yet. There were huge rocks covered in life we could swim between as well as the mangrove trees filled with stern looking pelicans. Then out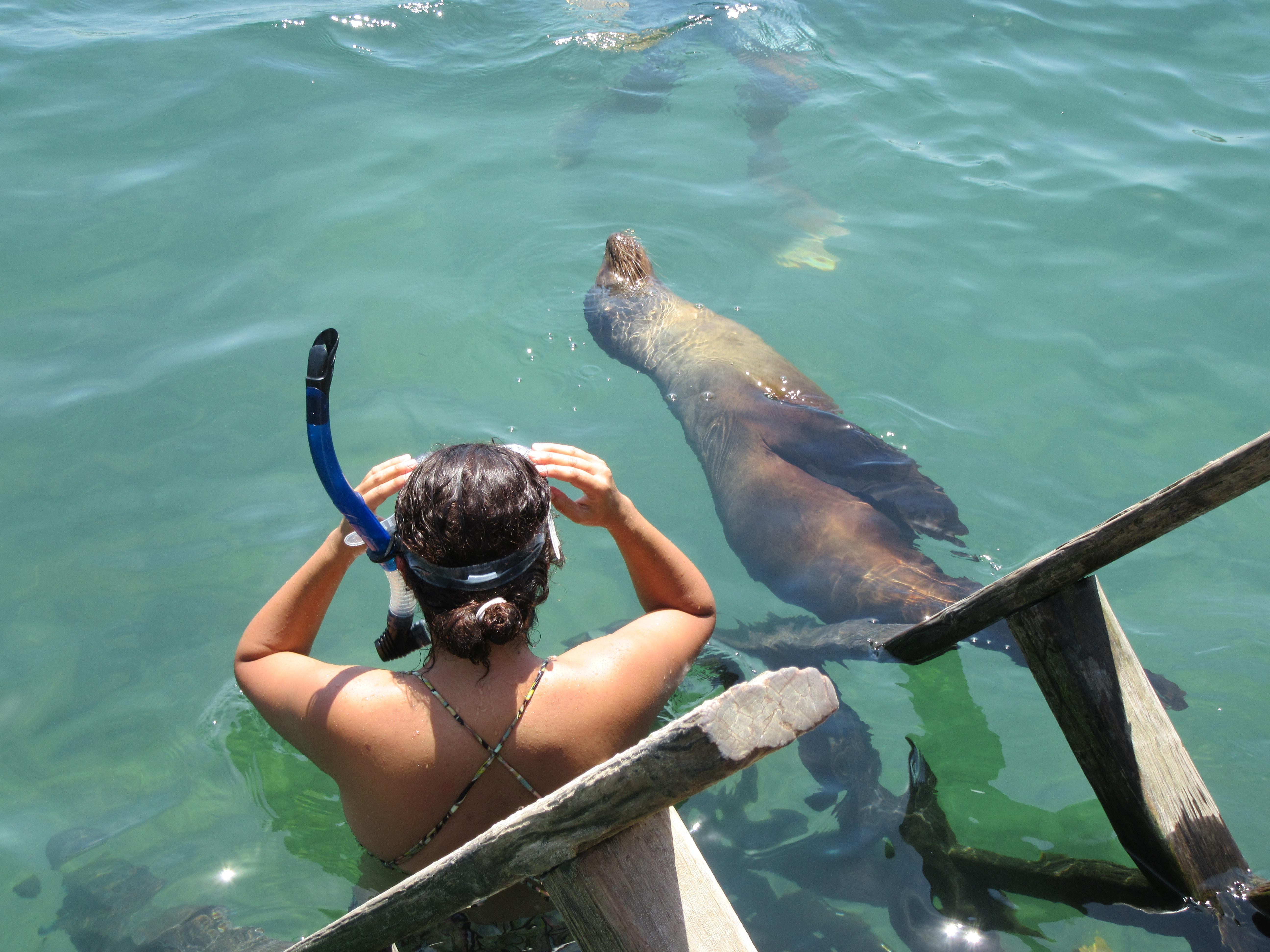 of the blue zoomed by a sea lion; it stared at us from no more than three feet away and then sped off. Moments later the sea lion returned with a much larger sea lion and a juvenile. The three of them swam circles around us, speeding at us and then driving underneath at the last possible second. One of them bumped into me and it was safe to say that my adrenaline was a 50/50 mix of joy and fear. Eric keep laughing so hard that his mask filled up with water. Eventually the sea lions grew tried of us and we returned to land.
Our time on the land in the Galapagos was full of stunning beaches and exotic animals. However, it was our exceptional time in the ocean which made the expense and effort of the trip worth it. My advice for the traveling the Galapagos independently? Bring lots of sunscreen and never leave the water.
---
Pilsener by Cervezas Nacionals
Lager / 4.2% / ? IBU
Occasionally after a long, hot and dusty day you deserve a beer. Even if that beer is a Miller High Life clone. Enter Pilsener, the most popular beer in the nation; it's a crisp watery beer without much to it and sometimes that's all you can ask.
Final Score: Two out of Five lazy sea lions ocean puppies.