There are big changes afoot here at No Keg To Stand On. My partner Eric and I will be leaving this city I have grown to love so much. I hate to leave Atlanta with its wonderful weather, vibrant culture and the best group of friends I could imagine.  Not to mention all the Tropicalia I will be unable to drink.
Recently Eric leveled up to Dr. Eric and with that came a lot of change. New opportunities are taking us out of Atlanta and into a scary strange new world called Austin, Texas. I am leaving my job eager to pursue new opportunities, but don't worry! Craft Beer isn't going anywhere and I'll have my work cut out for me with all the breweries in Austin.
In more exciting news, Eric and I will be traveling to South America for the next few months. After flying into Quito, we plan on exploring Ecuador, Peru and Bolivia. I am excited and nervous for our biggest adventure yet. I'll be sure to keep the blog up and running with tales of our trip, reviews of cheap lagers and tips for planning your own trip one day!
How better to see us off then to review a beer from Eric's home state, Espresso Oak Aged Yeti from Great Divide Brewing.  This was a gift from a friend in honor of his graduation. Not only is this an incredible beer but it had been bottle aging* since its release in 2014. Cheers everyone! See you in South America.
*I get a lot of questions about bottle aging beers. Generally, the best beers to age are high alcohol beers with strong, rich flavors. Barleywines, Belgians, and Imperial Stouts are a safe place to begin experimenting with aging beers. Beer should be aged upright and kept between 50-55 degrees. Don't store your beer in the fridge! Remember it's like aging wine except a lot more fun. While you can hang on to your cans of Miller Light as long as you'd like, I wouldn't recommend drinking it.  When a high alcohol beer is bottle aged, it results in a mellow, smoother flavor.
---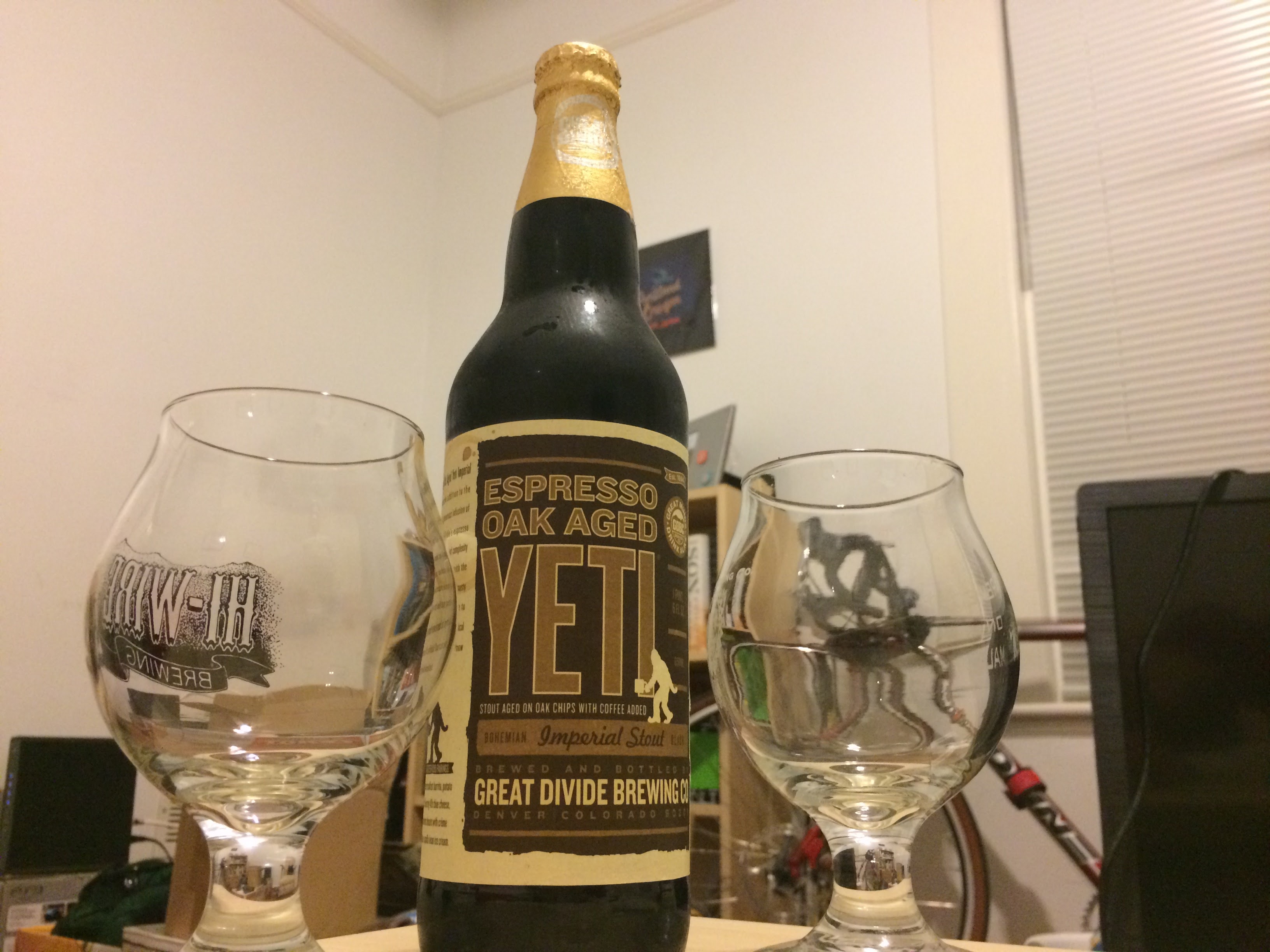 2014 Expresso Oak Aged Yeti
Imperial Stout / 9.5% / 70 IBU 
The aging mellowed out this already silky smooth beer. The expresso flavor was a little faded but the oak flavor had increased. This beer had a decadent thick mouthfeel, with hints of chocolate and vanilla.
Score: Five out of five. A perfect beer to celebrate a new adventure!