It's officially fall here in the South. The temperatures are more likely to be in the 70's than the 80's, the pumpkin products are out, and college football is in full swing. While I can never seem to get into the NFL, I am a passionate college football fan. Relocating to the heart of SEC football from the Northwest has honed my smack talk skills and I have learned to cling close to my beloved (and underrated) PAC-12.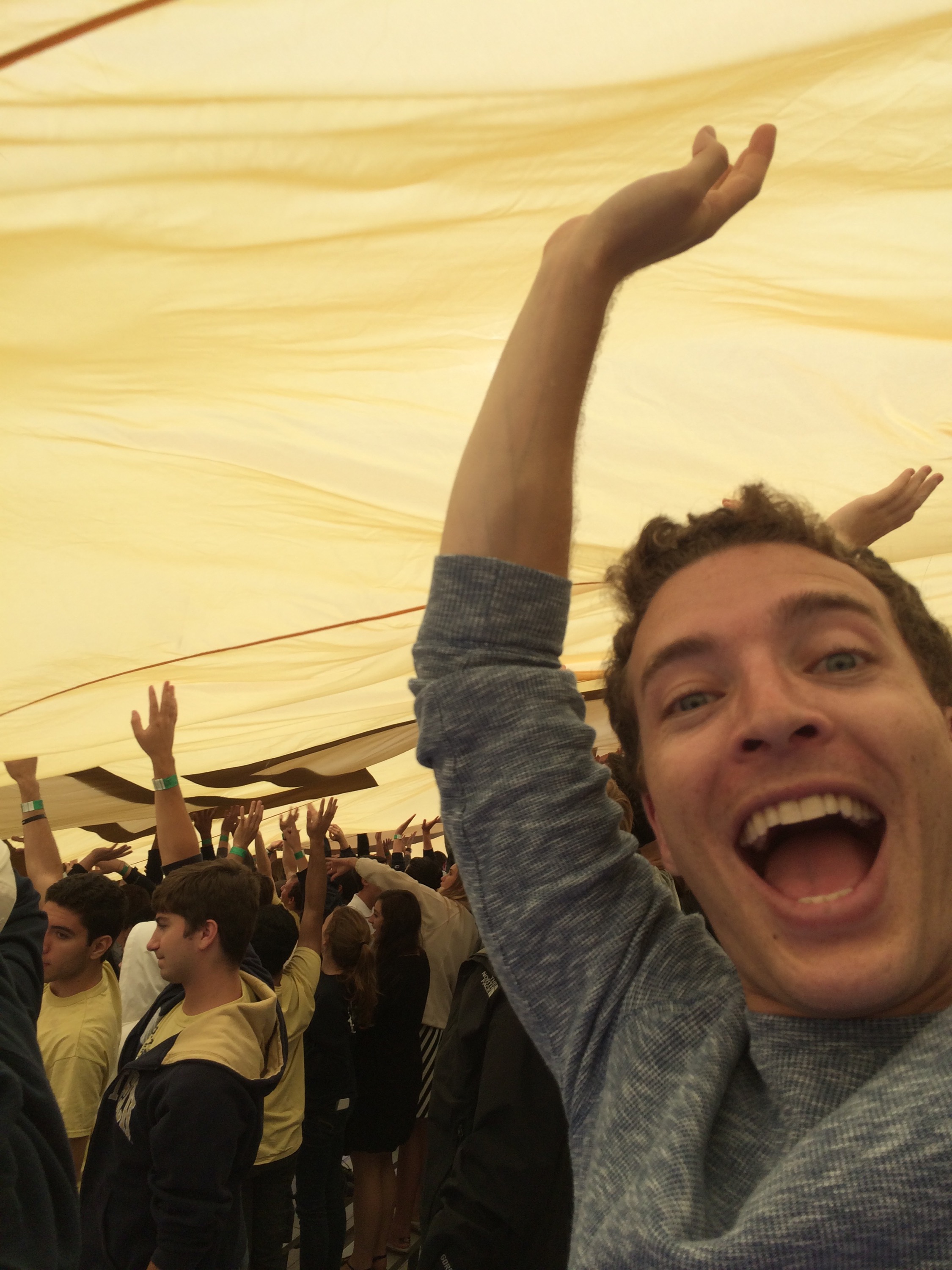 Last weekend, I braved the rain to watch Georgia Tech play University of North Carolina. Eric is a graduate student at Tech, which makes him the perfect enabler to my football addiction. Georgia Tech is in the Atlantic Coast Conference which means tailgating is a shade tamer than the SEC chaos I have yet to experience. Nevertheless, Bobby Dodd Stadium is the oldest continuously-used field in the South East and can fit 55,000 fans. Like many universities, open liquor laws disappear on game days, allowing me to stroll around campus drinking and people watching. I am exceptionally skilled at both, if I do say so myself.
For what Georgia Tech lacks in rowdiness, they make up in adorable traditions. Admit it Tech, you're a bunch of nerds! Along with Buzz the yellow jacket, the official mascot of Georgia Tech is The Ramblin' Wreck, a 1930 Ford Model A. The classic car is maintained by students. There are replicas around the country but no back-ups. In addition to having a collectible as a mascot, there are student cheers with buzzing noises, baton twirlers, and other examples of good old fashioned fun. Not that I can mock having a silly mascot, I am an alum of Oregon State University, a.k.a. the Beavers.
Last but not least: Georgia Tech has the best fight song in college football. Go head, read this and then disagree with me
I'm a Ramblin' Wreck from Georgia Tech, and a hell of an engineer—
A helluva, helluva, helluva, helluva, hell of an engineer.
Like all the jolly good fellows, I drink my whiskey clear.
I'm a Ramblin' Wreck from Georgia Tech and a hell of an engineer.

Oh! If I had a daughter, sir, I'd dress her in White and Gold,
And put her on the campus to cheer the brave and bold.
But if I had a son, sir, I'll tell you what he'd do—
He would yell, 'To hell with Georgia!' like his daddy used to do.

Oh, I wish I had a barrel of rum and sugar three thousand pounds,
A college bell to put it in and a clapper to stir it round.
I'd drink to all the good fellows who come from far and near.
I'm a ramblin', gamblin', hell of an engineer!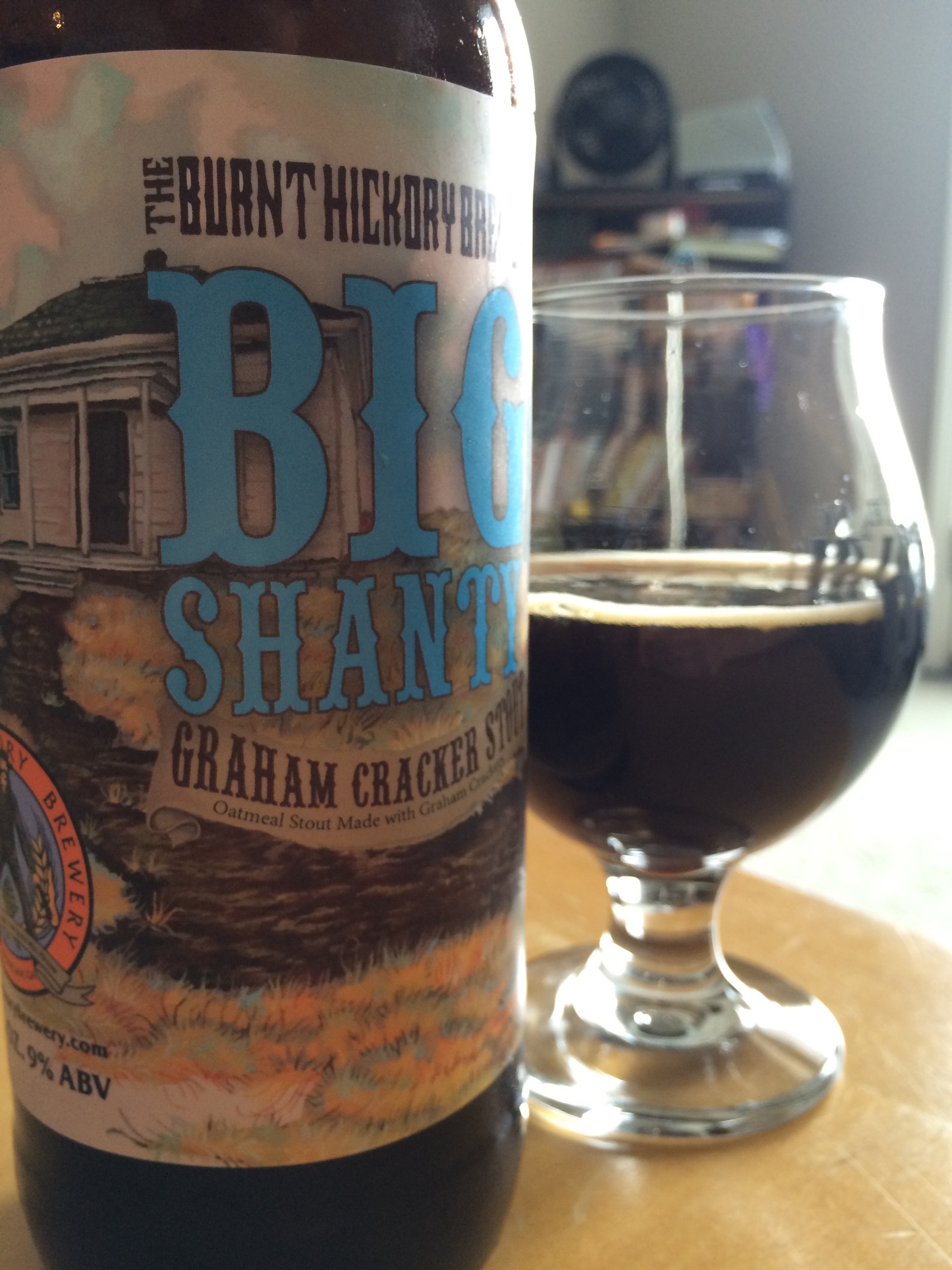 In end, Georgia Tech lost 31 to 38, but that didn't keep us from enjoying an exceptional local brew. Before heading out to campus, we treated ourselves to a cold weather treat, a graham cracker stout from Burnt Hickory Brewery. It seems like months since I have craved something other than a wit, saison, or session IPA. The rain and overcast sky had me hankering for something a little darker. A change in seasons also pushed me to try a new (to me) brewery. Burnt Hickory is located in Kennesaw, which is about 30 miles northwest of Atlanta. While I have never been to their taproom in person, I have heard nothing but praise from the greatest beer snobs I know. They have recently made the move to 'micro" from "nano" (under 2000 barrels a year) and have created such a cult following that over 100 people stayed up late for a midnight beer release. If this stout is representative of the rest of their offerings, I think I am overdue for the drive up to Kennesaw.
---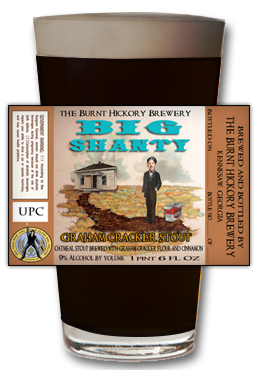 Big Shanty Graham Cracker Stout by Burnt Hickory Brewing
Imperial Stout / 9% / 20 IBUs
This was a fun beer to drink. It started off tasting like brown sugar with a great graham cracker kick in the middle and ending with the bite from the alcohol. The beer lacked the flour-like mouth feel that some stouts possess, which made the drinking experience smoother. This beer is a great choice to brush up your stout chops before the weather starts to turn.
Final score, four out of five buzzed Tech fans.