Welcome back dear readers to the second act of my Asheville Adventures.  Last time you left our brave heroes, they had just finished a "difficult" five mile hike.  What adventures will they get up to next?
---
Even if you decide to skip out on the Biltmore there are plenty of activities to fill a weekend in Asheville. One place I was chomping at the bit to visit is the Asheville Pinball Museum. Located a five minute walk from the center of town, the Pinball Museum is a must see for anyone who has flipped a flipper. (Or perhaps like me, you logged countless hours on your Gameboy playing Pokémon Pinball.)  Not a Pinball Wizard? Then you should still visit as the museum costs ten dollars for all you can play pinball. Yeah, you read that right, for ten bucks you can play the 30 games which date from 1947 to 2003. You can also buy a beer right there in the museum to drink as you play. One word of warning about the pinball museum is that you need to get there early or risk having to put your name on the list. Eric and I arrived around 2:30 and were greeted by a kindly Pinball Bouncer (first time for everything) who put our names on the waitlist. We ended up waiting 90 minutes to get in. This was not all bad news as it meant that we got to check out the most adorable bookstore, Battery Park Book Exchange. The store is part wine bar, part rare book store, part coffee shop and part Dog Park. It was really fun to people watch while sinking into their antique couches and admiring the décor.  Then the moment of truth, pinball time.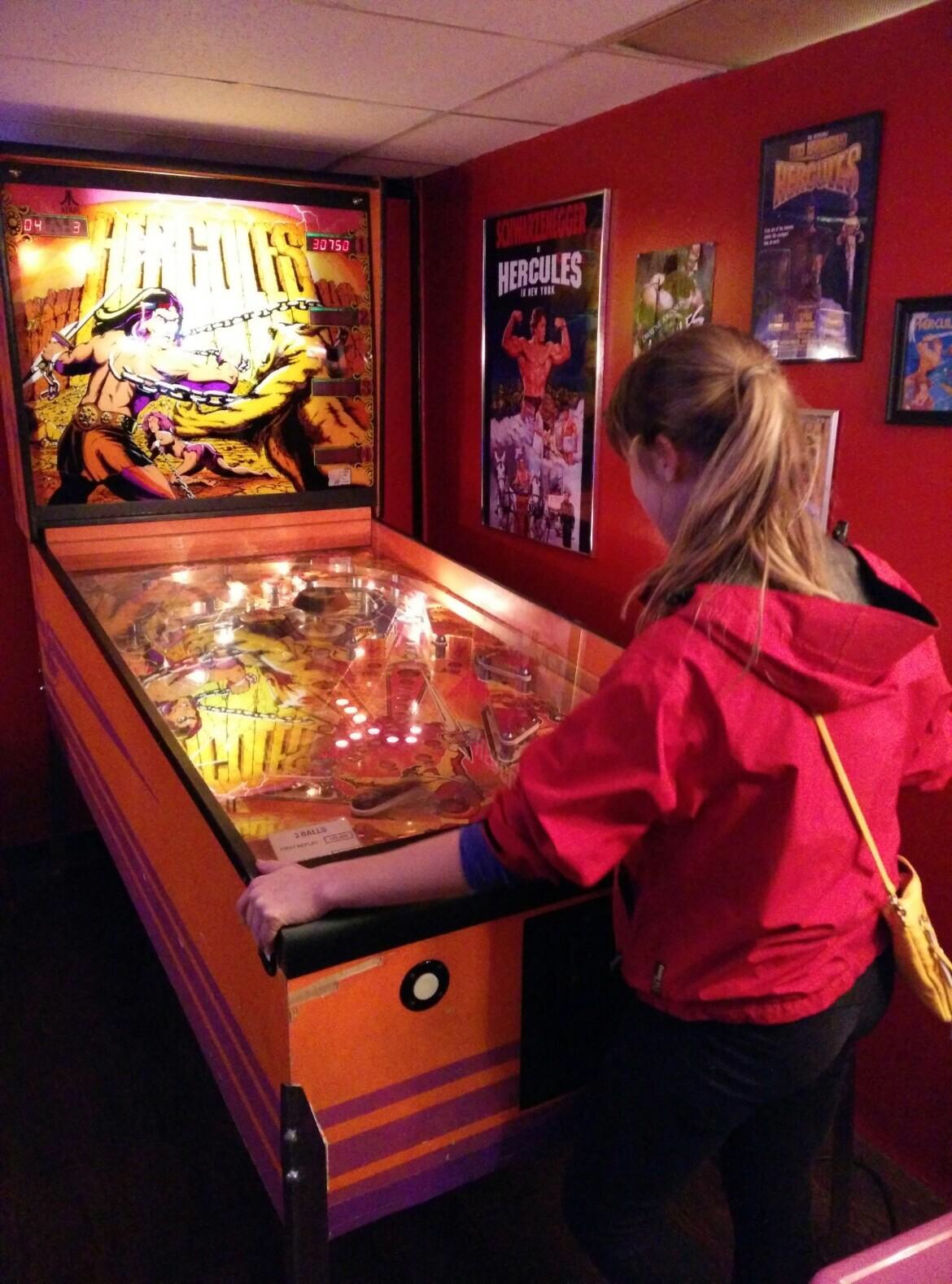 We only had an hour in the Pinball Museum (which is tragically closed on Mondays) so we needed to make it count. Thanks to the fact that it only takes me a few minutes to lose a game of pinball, I managed to try out almost every machine. Some of my personal highlights included; a 1979 original Star Trek cabinet, an amazing Shaq cabinet complete with spinning hoops, and a nifty machine called Haunted House where your ball could roll into upper or lower levels.The Pinball Museum is home to one of the 280 Hercules games produced worldwide. This is the largest pinball machine ever produced and the cabinet uses pool balls instead of pinballs. You have to utilize your full wing span to play this sucker! I can't stress enough how much fun I had here. I wish I would have had more than an hour but I still managed to play most of the machines. If you find yourself in Asheville, check this place out!
While I wanted to stay and continue to play pinball, at least until I hit an infamous Shaq basket, we had to leave when the museum cleared out for a private party at five. You didn't come to this blog to read about pinball (but if you did, welcome), you want to hear about craft beer!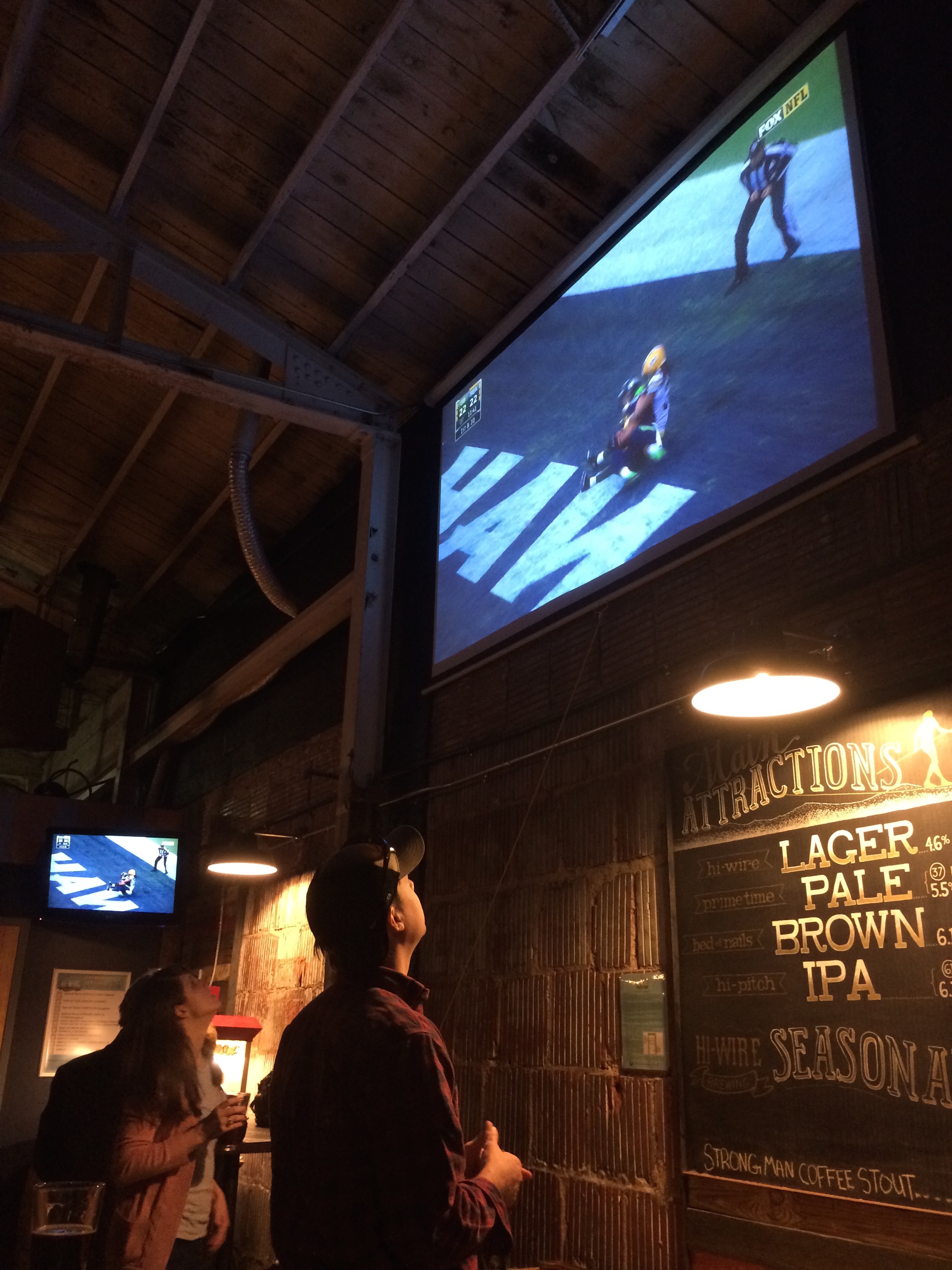 We decided to visit Hi-wire Brewery as the semifinals of some not-college football team was on and the place seemed to be buzzing from the streets. We sampled their Primetime Pale and their red ale, Happy New Beer. The pale was had a simple classic flavor and was a great warmup for the much stronger flavors to come. Hi-wire Brewery has bare-bones décor which works with the industrial vibe of a brewery. Dogs are allowed in this large space which includes goodies such as; free popcorn, projected athletic endeavors, shuffleboard and my personal favorite, an N64 all queued up with Goldeneye. After finishing our beers, Eric and I decided to check out Green Man Brewing as our next stop of the night.
Green Man Brewing is located just a few blocks from Hi-wire. It's one of the older breweries in Asheville as it's been in operation since 1997. Green Man had a similar industrial feel to Hi-Wire's tasting room. The crowd was older and the place was packed. This tight fit of people and pooches lead to me accidently kick a three legged dog which I am pretty sure is a mortal sin. Green Man is famous for their English style ales.  We decided to try the ESB and a triple IPA. Neither of which are my favorite styles. Eric and I where both underwhelmed with the crowds and the beers, so we decided to return to Hi-Wire.
After fleeing Green Man, we swung by Ben's Tune Up for a bite to eat. I had the kimchi veggie burger which was one of the greatest veggie burgers I have ever scarfed. Even my meat eating companion loved it and confessed to major food envy. We finished up the night with a final pint and round of Goldeneye (I won) at Hi-Wire.
---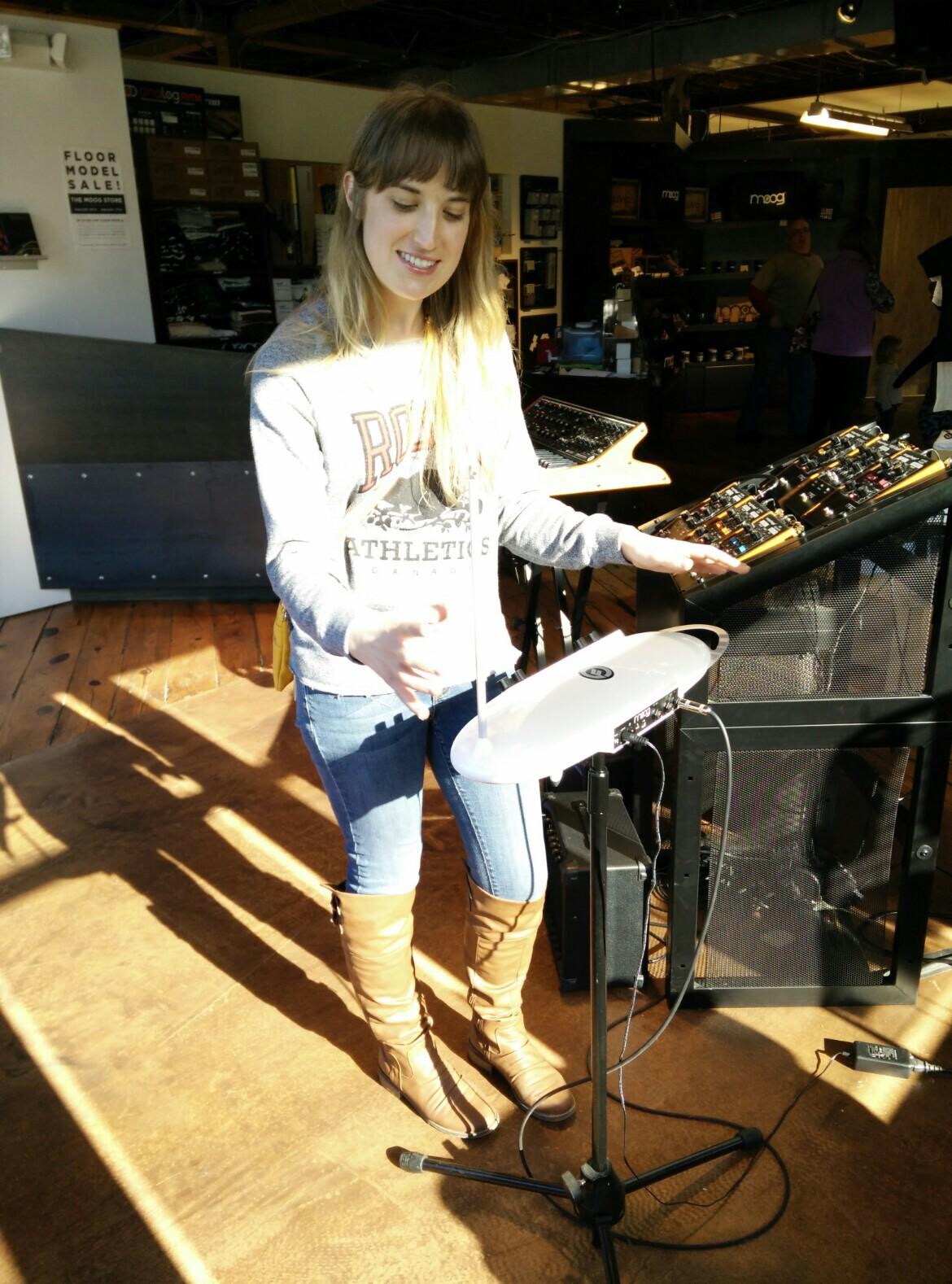 Our last day in Asheville was as educational as it was delectable. We began with a tour of the world famous MOOG factory. For those who don't know what MOOG is, it's a brand of electronic instruments. MOOG is famous for their synthesizers and theremins.  The height of MOOG Music was the 1970's but the brand is still known as the gold standard for electronic instruments. Each MOOG is made by hand at the Asheville factory. The tour included a behind the scenes look where I learned great MOOG tidbits including how Kanye ordered one that was "fully murdered out". Following the tour, it was a musical playtime as we got to mess around with the instruments. I really wanted to walk out with my own auto-tuning theremin.
After my ELO audition and some amazing tacos,  it was time to return to Atlanta. Asheville was such a blast to visit. I highly recommend it to anyone looking for good food, great drink, and a bunch of fun games and activities.
---
ESB by Green Man Brewing
5.5% / 32 IBUs / English Style Amber Ale
This was a very traditional beer with a heavily malted flavor. It has that essential caramel flavor of an Amber which I can find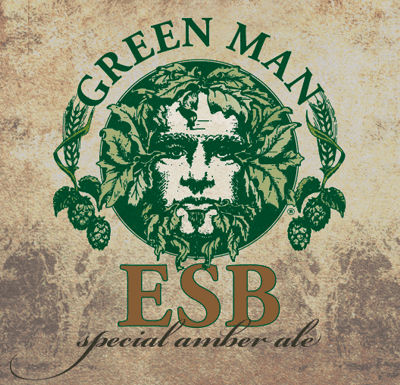 overpowering. This is award-winning beer is a great example of the traditional bitters style. However, I didn't find the drinking experience enjoyable.
Two out of five cold ones.
---
Happy New Beer by Hi-Wire Brewing
7.9% / ? IBUs / Honey Red Ale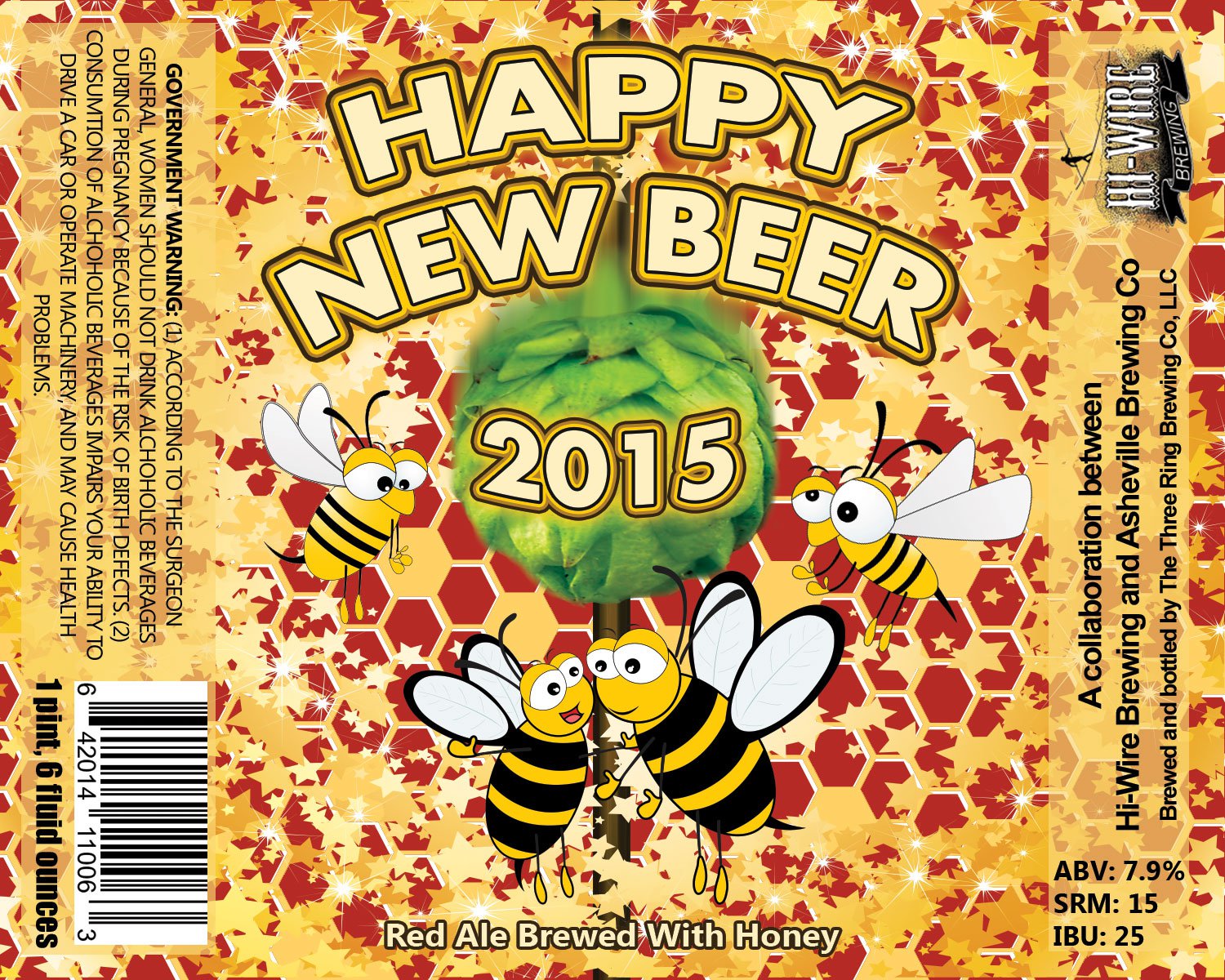 This is a limited edition release that I was grateful to try. It was sweet with a perceptible honey flavor which reminded me of sweet tea. Sometimes red ales can have a coppery aftertaste but I didn't detect that with this beer. This beer had a wonderful aroma and was the best beer I tried from Hi-Wire.
Final score,  three out of five cold ones.