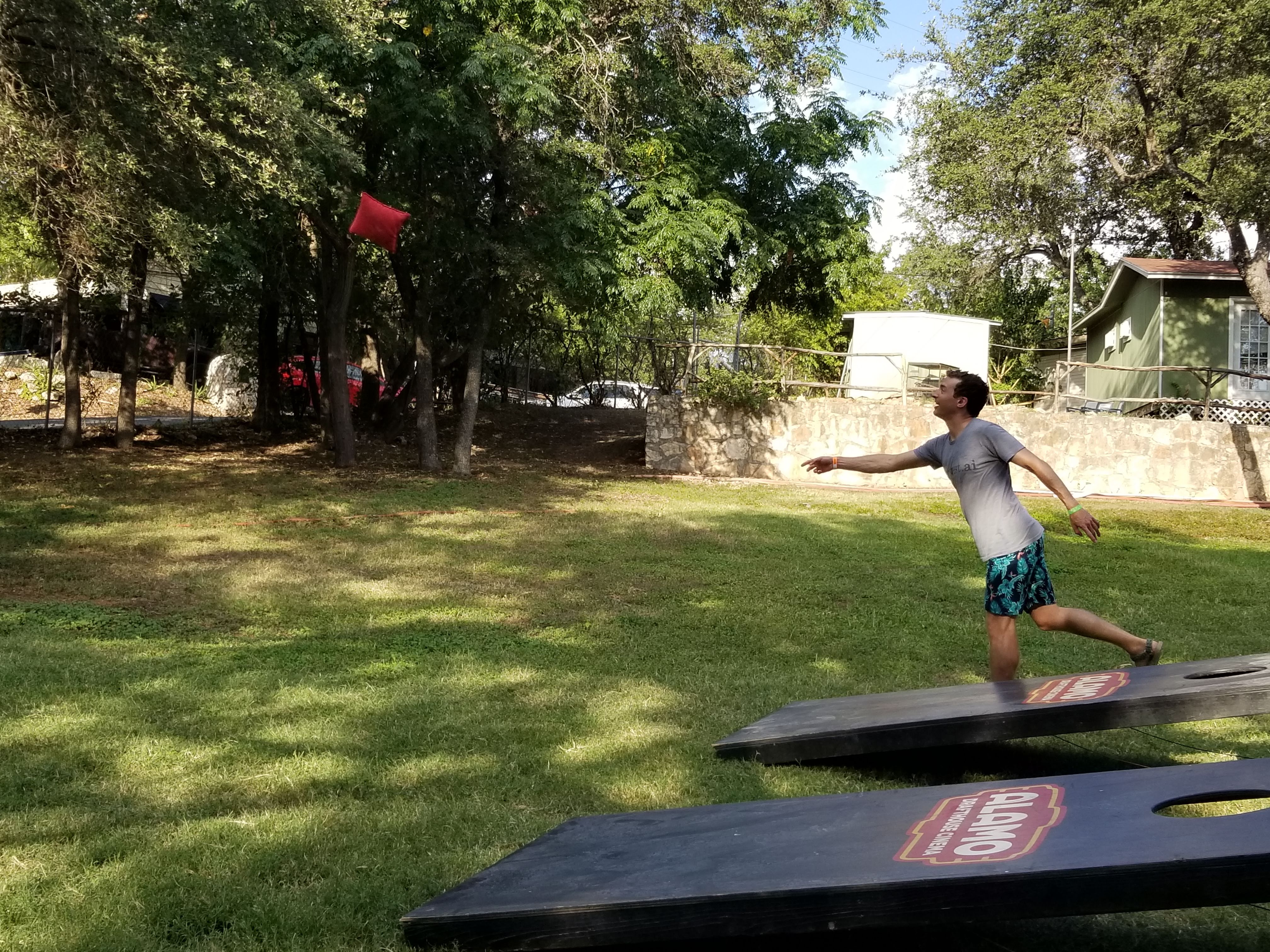 I hate the phrase "bucket list"; it seems morbid and implies that you only have one chance at each item. At the same time, I value creating so called bucket lists. They are the gentle nudge I need to get off of the couch and experience the city I happen to find myself in. Jaws on the Water was one of those "bucket list" items.
In what has become an Austin tradition the Alamo Draft House teams up with a local water park to show the 1975 classic movie Jaws. Outside. At night. On the water. Oh and did I mention the fact that scuba divers are swimming underneath to tickle you will bubbles and yank on your feet?  I'd worry about spoiling it but the event has been so hyped online that even non-Austinites know all about it.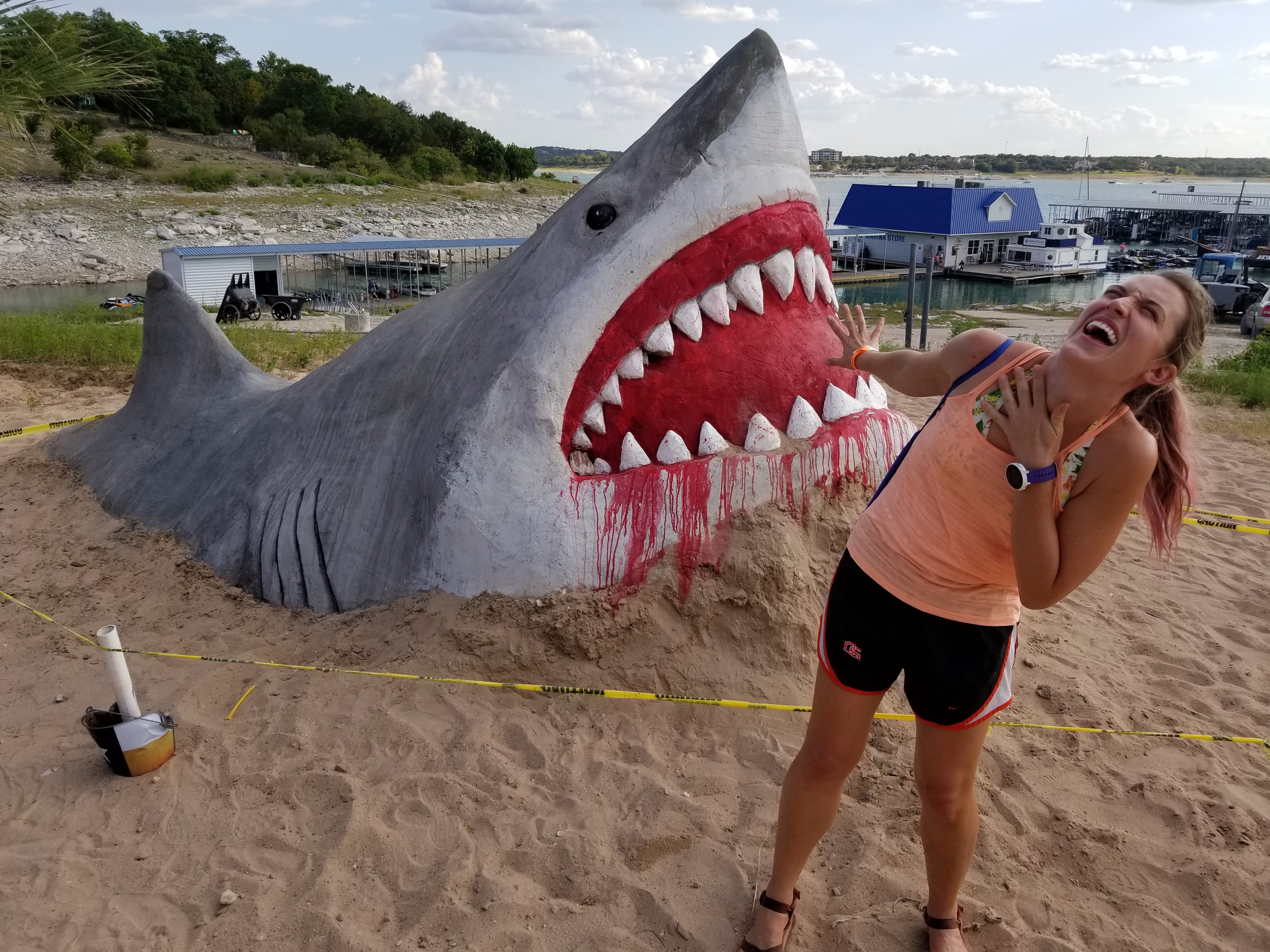 Things to Know
Get there early if you need a locker. The water park had less than 100 lockers which fill up fast between a sold out show and families finishing up a day at the water park. We had to walk back to our car to deposit our snacks, phones and keys.
Arrive between 7:00 and 8:00. The Jaws on the Water ticket includes two hours of entrance to Volente Beach water park. I was concerned that two hours in the park wouldn't be enough and we arrived right at 6:00. The water park was much smaller than I expected with four slides and no place to sit. We rode each slide at least twice: I have a nasty scab on my elbow to prove it.  Two full hours in Volente Beach and then another hour before the movie starts without access to my things meant that I was freezing and pruny long before opening credits.
Rent an apartment with an inner-tube closet. These things seem to multiple on their own in Texas.
Eat beforehand. Only one overpriced food truck was on site.
Save your drink bracelets for the movie. Helpful bartenders run up and down the dock all movie passing out drinks and the "telephone" method of  passing your order around really worked!
You don't have to sit in the mosh pit. Our showing was sold out. This meant floating around in bumper-to-bumper tube traffic during the movie. Outside of the docked off area people had a bit more space to float around, which came with the risk of drifting off! Once the movie started all the crowds melted away and I lost myself to a movie without any (non-shark) distractions.
BYOSRB – Bring Your Own Shark Repellent Batman.
We caught the last show of the year so you'll have to wait for next summer when the sharks migrate back to Lake Travis.
---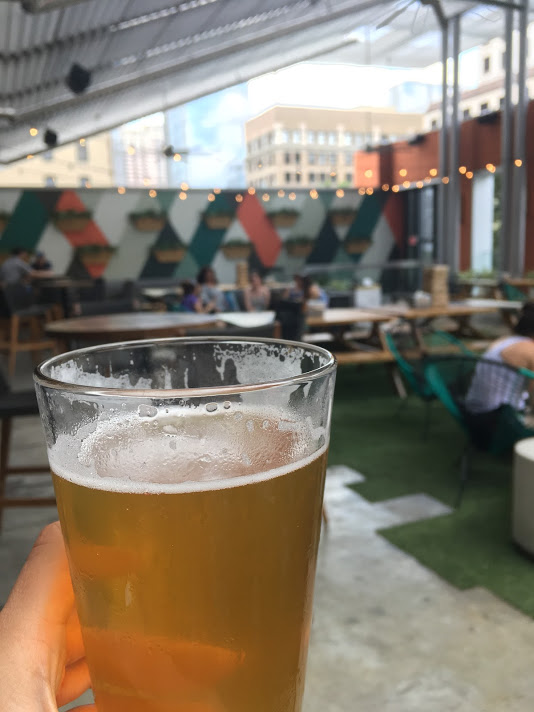 When you need a beer that is refreshing but you'll stay afloat after finishing them, sessions, shandies and Berliner Weisse's are all good options. Look for a future post all about the Berliner Weisse, my favorite choice for Texas Summers.  If you're looking for something hoppy, Friends and Allies session IPA is a refreshing option under five percent.
Noisy Cricket by Friends and Allies
Session IPA / 4.7% / ? IBUs
I am picky about my Session IPAs. The style has so much potential to be my go-to beer. All the IPA flavor I demand, with the added bonus of being able to drink more than one on a weeknight. Noisy Cricket is one of the stable beers at Friends and Allies Brewery. It's my personal favorite of theirs and my first choice bodega beer if I want a West Coast style session. Noisy Cricket is a muted version of an IPA, slightly hoppy with more of a pine fragrance than taste and no dankness. Those hoping for a traditional West Coast IPA will be disappointed, but if you're open to a lighter flavored version of an old standby, Noisy Cricket is a solid choice for your poolside cooler.
Score: Four out of five bigger boats.