Back in 2014, my first few months living in Atlanta felt like the beginning of something exciting. I fell into a wonderful and welcoming group of friends, tried out this new hobby called running, and started dating this Eric fellow. It was a time with so much good stuff happening at once. My first few months in Austin have been the complete opposite.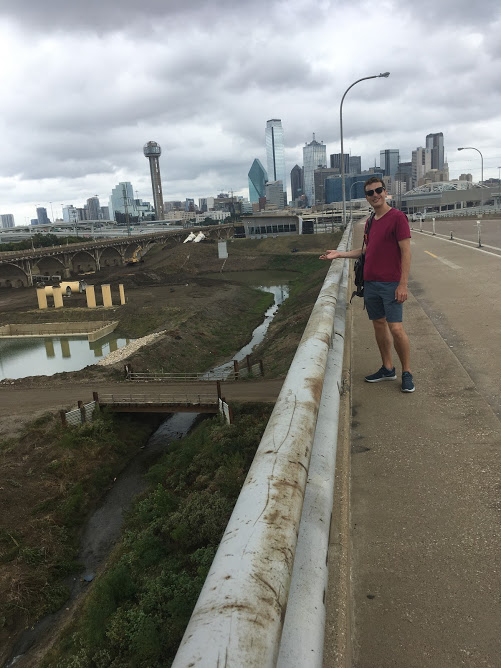 Eric and I moved to Austin, Texas in July, ending our traveling ways by planting in a new city. It took us a month to find an apartment, which left me in an extended stay hotel on the side of the highway, unemployed and without a car. It was a depressing month but eventually we moved into a south Austin apartment, I found a job and my Aunt sold me her car. Life in Austin had improved but the routine I had found in Atlanta was proving hard to recreate. Running right after work is impossible in the summer months with triple digits temperatures and try as I might I couldn't make friends in this hipster mecca. We decided that it was time to get out of town and visit some friends. So we packed up my new 2002 Nissan and drove to the tourist mecca of Dallas.
Yeah, I never thought I would be vacationing in Dallas either. Some friends of ours were in town for a wedding and we decided that we wanted to visit them while simultaneously checking off one of my quirky must do trips: the Texas State Fair.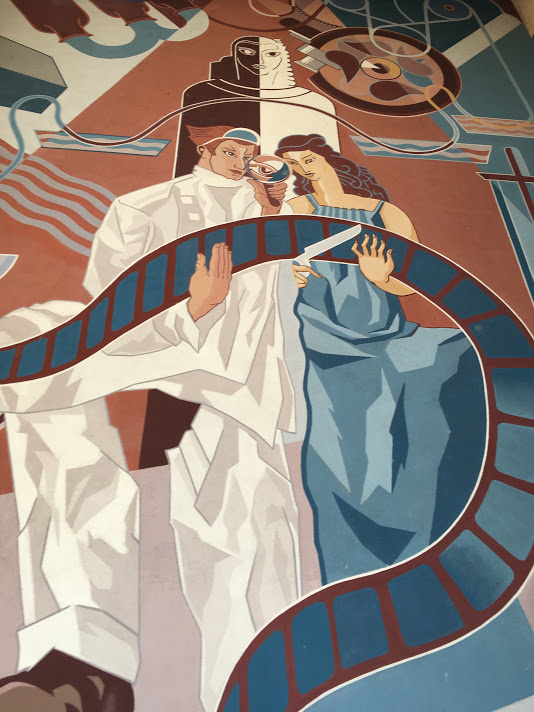 I don't come from a fair family and to be honest, I don't really like state fairs. Quilting and fried food don't do much for me. I am, however, a sucker for seeing the biggest and most extravagant of things.  There is no state fair that can hold a candle to the Texas State Fair.* The State Fair of Texas started in 1886 and is held on a massive 277 acre grounds. I was expecting fatty foods, carnival rides, livestock and weird crafts. What I wasn't expecting was a massive auto show or that the fair grounds would be a stunning display of Art Deco design.
The fair grounds where designed in 1936 and were originally meant to be temporary. The pavilions were built in faux Greco style and each entrance is guarded by a woman representing certain industries like science and health or agriculture. The buildings were preserved and the fair grounds became a National Historic Landmark in 1986. The crowning building of the grounds is the Hall of State. Built for a staggering 1.2 million dollars in 1936, this building was made as a shrine to the State of Texas for its centennial. During the fair it acts as a WWI museum and is the site of the Texas Historical Society the other 11 months of the year. The walls are covered in stylistic murals portraying an idealized version of Texas history. The end of the building has a massive seal of the state, a five pointed star paying homage to the nations that influenced the creation of Texas: France, Spain, Mexico, the US and the Confederate States.**  I hope I don't sound too much like an Art Deco nut when I say that this building alone is worth the entrance to the State Fair. That and the piglets of course.
We meet up with our friends with two goals in mind: watch some pig races and try some infamous fair food. The variety of fried "food" was seemingly endless. The Fair only sells food for tickets (each ticket is worth 50 cents) so you have to be willing to go without or spend at least $10 dollars on food or rides. Eric and I bought one sheet of 20 tickets and considered our options. We had to try the most famous food of the Fair, a Flecher's Corny Dog. Which is, of course, just a larger, extra-fried version of a corndog. Don't get me wrong, it was delicious. For some miraculous and unknown reason Flecher's sold veggie corn dogs, so Eric and I split one behemoth. It filled me up to the point of discomfort, so I didn't get to try any other of the fried madness at the fair.
After leaving the fair, we said goodbye to our friends from Atlanta and walked to the Deep Ellum district. This is one of the hipper, artsy districts in Dallas and home to one of Dallas' most famous breweries—Deep Ellum Brewing. Deep Ellum Brewing is six years old and is one of the major breweries in Texas. We took a load off by sitting in their adorable beer garden deck chairs. We ordered a few of their mainstay IPAs, neither of which were too extraordinary. Supposedly they make some magnificent small batch special releases. We didn't stay too long in the brewery and ended up exploring the neighborhood in a Halloween themed wine crawl. It was a fun night out exploring a vibrant neighborhood. If anyone is traveling to Dallas anytime soon, please eat some Monkey King Noodles for me. I can't stop thinking about them.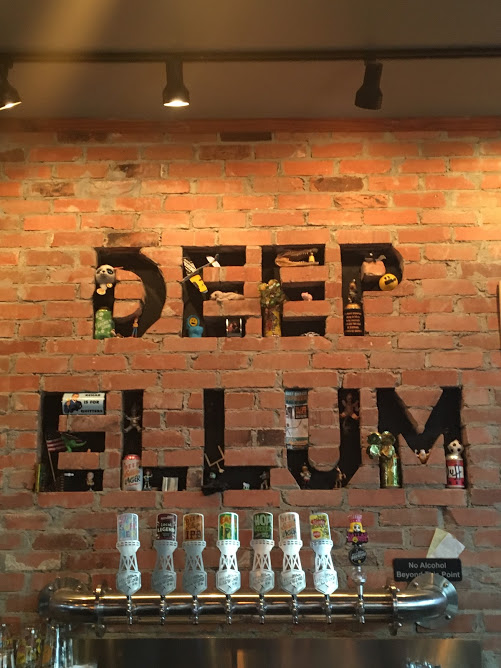 Travel is one of the great loves of my life. And while clearly, a weekend in Dallas isn't as exciting as four months in the Andes. I can still get a little bit of my travel fix by exploring this new part of the world that I find myself living in. For that reason Eric and I rented a room for four nights in the Lake Cliff Park District. Our place was in a shady neighborhood filled with trash covering the streets and stray dogs. It blew my mind as we were less than a mile from the Bishops Arts District, one of the hippest parts of town with access to the street car and cute bungalows. Like most in-town neighborhoods in America, the place is rapidly gentrifying. Eric and I walked to the Bishop Arts District on that Friday as we were both working remote. We chose to work at The Wild Detectives, a coffee shop/independent bookstore. It was a wonderful way to spend a work day, munching on avocado toast and prepping for a full day on Saturday.
Despite staying in Dallas four nights, it felt like Saturday was our one day to site see and fit everything in. We were planning on starting the day with a run but as we found out on our walk from Lake Cliff Park to downtown, Dallas is not a city built for pedestrians. Instead we started off our day off on somber note, we decided to go to the The Sixth Floor Museum in the old Texas State Book Depository.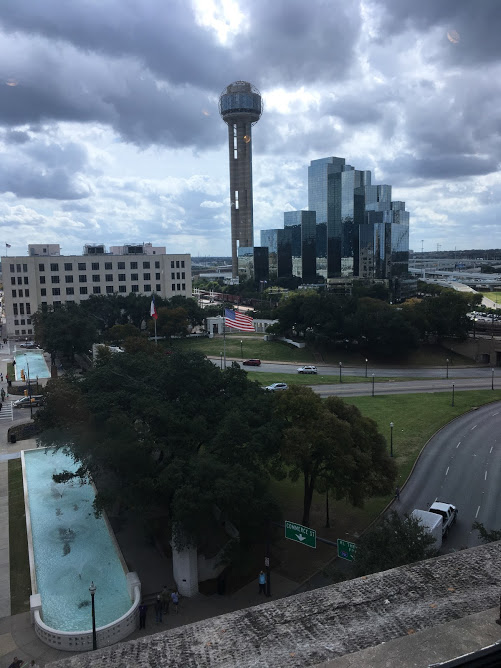 I am not a conspiracy theorist. Studying history and archives have taught me that the answer isn't always out there.  There isn't a hidden box of records which tells the "real story". I was worried that the Sixth Floor Museum would either be devoted to conspiracies or JFK's murderer. I was pleasantly surprised that the museum was more devoted to the President, his life, and why he came to Dallas. The exhibits and layout of the museum could be improved; it's only a bunch of 2D signage and poorly paced audio guides. The museum was packed with visitors, making it nearly impossible to read the signs in some places. Despite some poor design, the museum was still a moving experience. To see the view of Delany Plaza from the sixth floor and stare down at the taped X's on the ground was a tangible reminder of an historic tragedy. Reading the overfilled guest books with personal memories of that day felt as distant to me as 9/11 will feel to anyone under 20 was the most emotional part of the museum. It woke me up to the significance this place. Would our nation unite in sorrow again? Or like the tragic shootings in Las Vegas, would we further entrench ourselves in division?
We left the museum in a somber mood and headed to our next destination, the Dallas Museum of Art. After living in Atlanta and Austin, two cities with poor art museums, I wasn't sure what to expect from the Dallas Art Museum. I was blown away. The museum is a massive, free museum with collections of art from around the world. I recommend the Asian and African galleries. I also recommend arriving before we did at two. The Museum is only open until five and there is so much to see. It was one of my top American art museums. After three blissful hours, Eric and I continued to schlep around town and started heading to the Design District to end out day, sampling a few more breweries. There are at least five breweries located near Riverfront Boulevard, a warehouse district which is as determined as possible not to have you walk from brewery to brewery, despite the fact that there is only a mile or so between each one.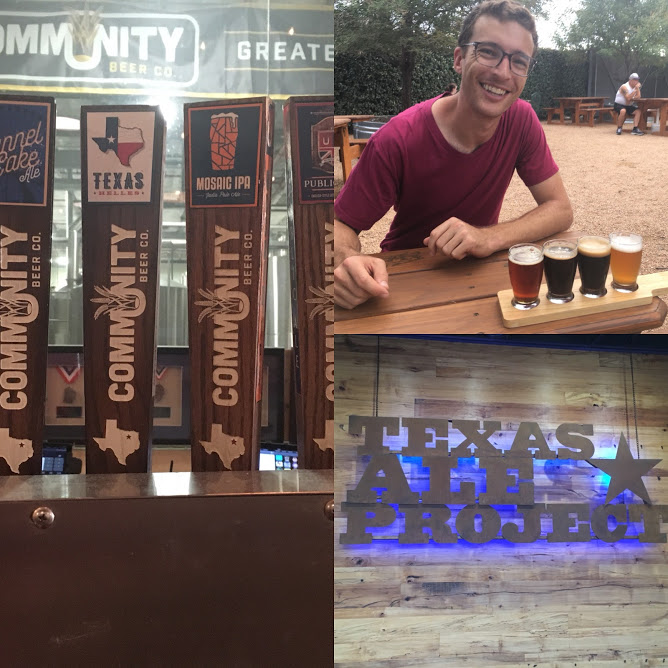 First stop on our Dallas beer crawl was the Texas Ale Project. We ordered a small flight of four tasters from this relatively new brewery and sat in their taproom with a view of the tanks. We tried two different varieties of their Oaty McOatface Stout but the real stand out beer was an imperial spin on their Fire Ant Funeral Amber. We didn't stay for a full pint as we wanted to make it to a few more places that night.
The second brewery was Community Beer Company which had a live band and a much larger tap room than the Texas Ale Project. We knew we had come to a good place as they were projecting the Georgia Tech football game on the wall. We stayed for the game and some grub, all the time looking at the attractive groups of people and wondering how anyone manages to make friends as an adult. Any advice? Eric and I are taking friendship applications for the greater Austin area.
We finished up at Peticolas Brewing Company. This was the most "upscale" of the breweries with a large, multilevel tap house decked out with foosball, darts and other games. They were interested in Atlanta beers and how we were liking our trip. I was honest and told them that I had enjoyed Dallas, a city I never planned on visiting, a lot more than I expected. The city has a lot of potential. A few great neighborhoods pocket a rather deserted downtown which would profit from utilizing their under-highway green space. Still, Dallas has public transportation and a world class art museum. Ever since moving to Austin, I have missed life in a real city. Dallas was huge, a bit dirty and like all cities, seemed to be on the edge of something great.
*Why isn't the State Fair of Texas held in its capital Austin or its most populous city Houston?
**Remember how Texas was an independent "nation" for a while? They don't let you forget about that down here.
---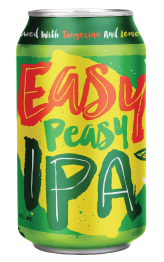 Easy Peasy IPA by Deep Ellum Brewing
Session IPA / 5.2% / 40 IBUs
I found this beer to be lacking. Could be juicer, could be hoppier, could have more flavor of any type! I know this was a session but I was disappointed in its lack of flavor.
Final Score: Two out of five thousand calorie corn dogs.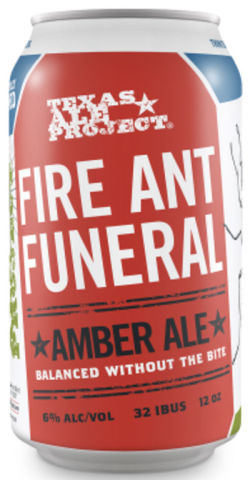 Imperial Fire Ant Funeral by the Texas Ale Project
Imperial Red Ale / 8.5% / 64 IBUs
This took me by surprise. It tasted like an aged double IPA with a great balance between hoppy and bitter. I normally steer clear of Imperials but I am so glad that I tried this one. It might have been my favorite beer of the trip. A slight black tea flavor can found in the aftertaste. Yum!
Final Score: Four out of fifth place in the pig races.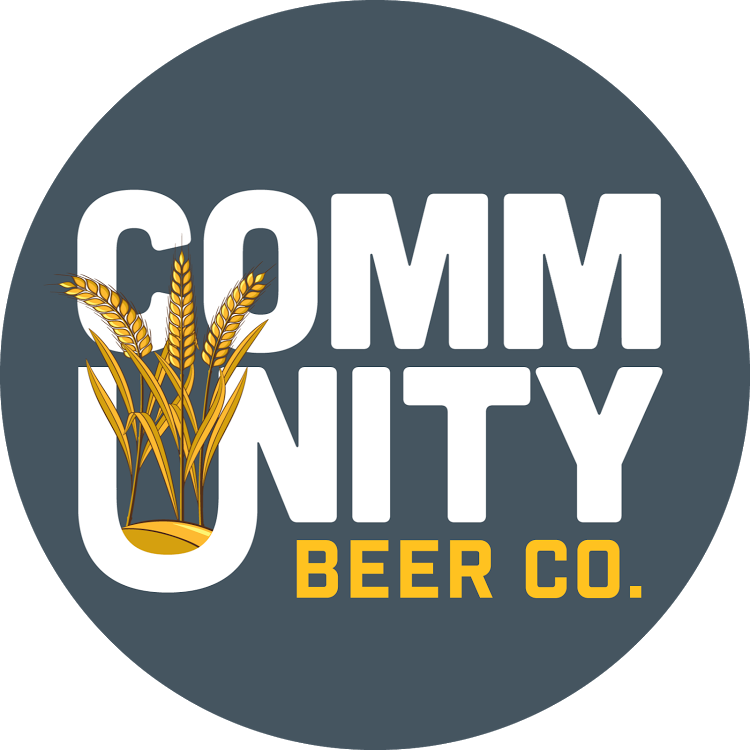 Silly Gose by Community Beer Co.
Gose / 5% / 12IBUs
As summer never seems to end in Texas, neither does gose season. I love these tart, flavorful beers as a style so was disappointed to not love this one by Community. It seemed overly salty with no other flavors. It might fit the bill if I had just finished a run but it didn't work for me when I had it.
Final Score: Two our of five Fat Smooths.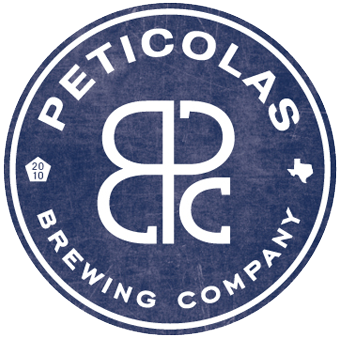 Clandestine by Peticolas Brewing
Pale Ale / 6.5% / 36 IBUs
This beer solved my concerns with the lack of flavor found in the Community gose. It was a nice, balanced pale that would be great for an outdoor BBQ or float. I want to go back and try some more of their varieties as they just took home a silver medal in the Great American Beer Festival.
Final Score : Three out of five times I hated hearing Dallas called "The Big D"