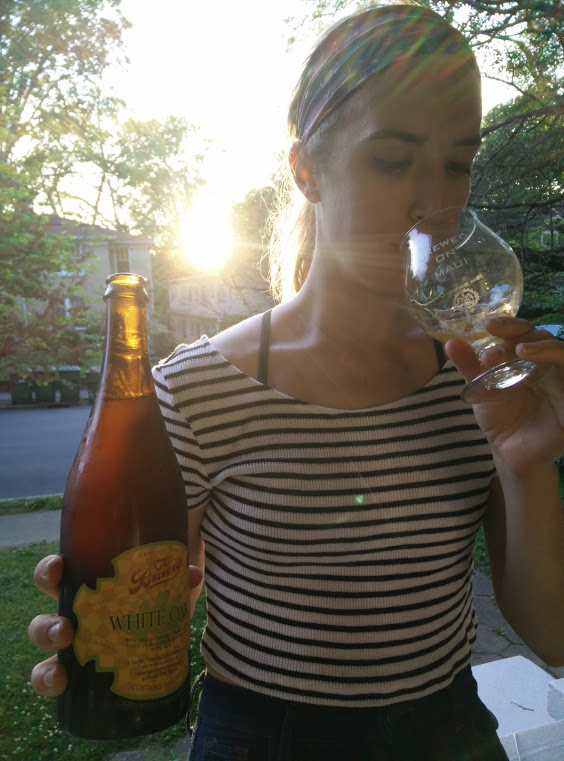 Spring has sprung here in Atlanta. The days are warm, the roach traps are set and the pollen count has finally stopped coating my car with its neon powder. It's also my second time celebrating Passover. As beer is verboten for the week, Eric and I decided it was best to say goodbye to the beverage with a bottle of something special.
Despite months of hunting, I still haven't found a beer from Arkansas.* The next state in the alphabet is California. The state has over 600 breweries, including some of my favorites like Russian River, Lagunitas and Green Flash. Clearly, I was spoiled for choice for this edition of Fifty States of Beer. I have a history of being crippled by the most intimidating of questions — "what do you want to eat?" Picking a California beer to review would have been a similarly terrifying event. Thankfully the time-honored "surprise me" tactic worked just fine.
Eric selected a beer from The Bruery, a well known and highly regarded brewery based out of Orange County. I had never tried any of their creations prior but I knew I was in for a treat the moment I read the bottle.
White Oak is a spring seasonal wheatwine ale. Wheatwines are a mutt of the beverage world. Made from at least 50% wheat and with the alcohol percentage of a wine, wheatwines can have many diverse flavors and are united as a style with strength, not flavor. White Oak is a bourbon barrel aged beer which adds another layer of complexity. Just to give you a hint of the intensity of this beer The Bruery suggests "Seared foie gras with caramelized apples, French toast, pineapple upside down cake" as food pairings. I can't say that I paired this beer with any of the above but I did think it was a perfect sign-off to the creative world of craft beer, at least until the end of Passover that is.
*None of the State's handful of  breweries distribute to Georgia and my recent trip to Alabama didn't result in a bottle either. If anyone would like to trade for a bottle of Arkansas craft, please reach out to me! I'd love to send you something from the Peach State in return.
---

White Oak by The Bruery
Wheatwine / 12.5% ABUs / 20 IBUs
White Oak has a scent of golden raisins and tastes like high quality fruit cake. Like something the Trappist Monks would bake with large chunks of fresh green sour apples inside. This beer has a thick mouthfeel and the taste of the alcohol isn't too overwhelming. Next time you really want to wow someone with heavy beer and a fancy dinner, you could do a lot worse than White Oak.
Final score: Four out of five smug beer snobs.