This Saturday I ran in the second annual Westside 10 hosted by local favorite, Monday Night Brewing. It might be unusual to talk about running to start off a blog which hopes to chronicle my coverage of local southern beers, but I wanted to prove that I have more interests than just drinking. Look, I exercise sometimes! Especially if beer is a post-race bribe award as it was at the Westside 10.
Waking up at 6:45 AM on a Saturday to run ten miles in 34 degrees isn't my dream way of spending my weekend morning, but the race offered beer at the after party and more race swag so I was hooked. The Westside 10 promises a "hilly and challenging" course, and boy did they deliver. It was by far the most difficult course I had ever run. Several times on the race I condemned the decision making process that brought me to that point. The course was hilly, cold, and at times miserable. Nevertheless thanks to my friend Anna not giving up on me during some of the hillier bit, we still managed to finish 10 miles in under 1:38.
In many ways my attitude toward running is like my attitude towards beer, I ignored everyone who told me I would like it until one day I tried it for myself. The difference between drinking beer and running is one only took a few friendly nudges in University and the other took gaining five pounds when I lived in France eating nothing but wine, cheese, and bread. Now that I read that sentence out loud I am really questioning my choice to not move back to Ferney Voltaire instead of Atlanta.
Enough about me, onto the beer! At the end of the race we were treated to music, food, keychain-medal hybrids and of course beer. Monday Night Brewery was packed with runners and volunteers. There weren't enough people pouring so the lines to spend my two drink tickets took a while to get thorough. I decided to drink a Fu Manbrew for my post race beer. I didn't want anything with too high of an alcohol percentage, the banana alone just wasn't cutting it.
In a complete tragedy, I never got to use my second drink ticket. I was lured away by brunch and chocolate bourbon milkshakes. We all have to give into our vices at some time, right?
---
Fu Manbrew by Monday Night Brewing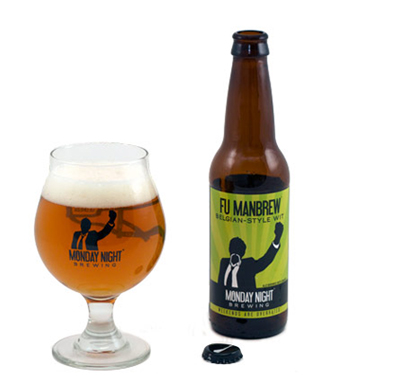 5.2% / 15 IBUs / Belgian WIT
I really enjoy this beer on a warm Atlanta day (or a cold one after a run), it has a ginger citrus favor that is noticeable without going into novelty beer territory. This beer was one of the first local beers I tried when I moved to Atlanta and it gave me hope that I didn't abandon Portland for a beerless waste land.
---
Final score 4 out of 5 cold ones. A light and refreshing Wit which isn't afraid of using ginger instead of standard orange and coriander.